SailGP Throws the Black Flag in British Event
In a weekend that was all things England with the British F1 Grand Prix in Silverstone, golf's British Open at Royal St. Georges, and just a short week after the country's crushing loss to Italy in the Euro Soccer final, SailGP brought their foiling sailing circus to Plymouth for the third event of the 2021 season.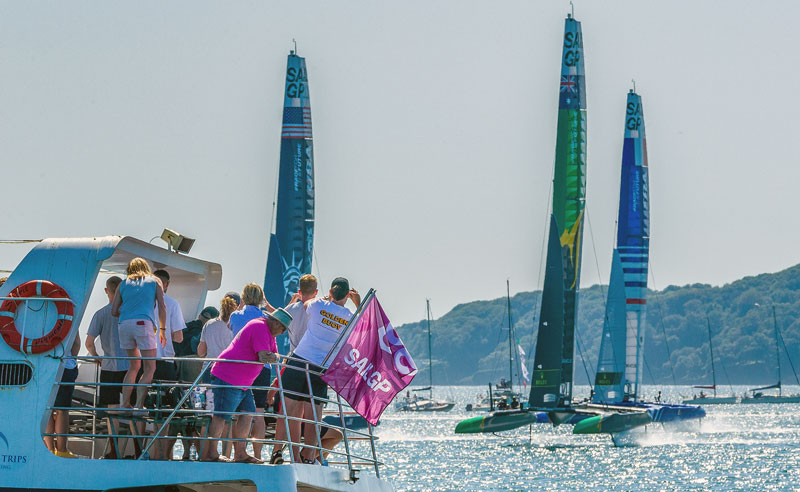 Unfortunately, the Great Britain team was minus their hometown star, the legendary Sir Ben Ainslie — one of the best on the water in any form of sailing or foiling craft — who was taking a break from the series to attend to a long-standing personal commitment.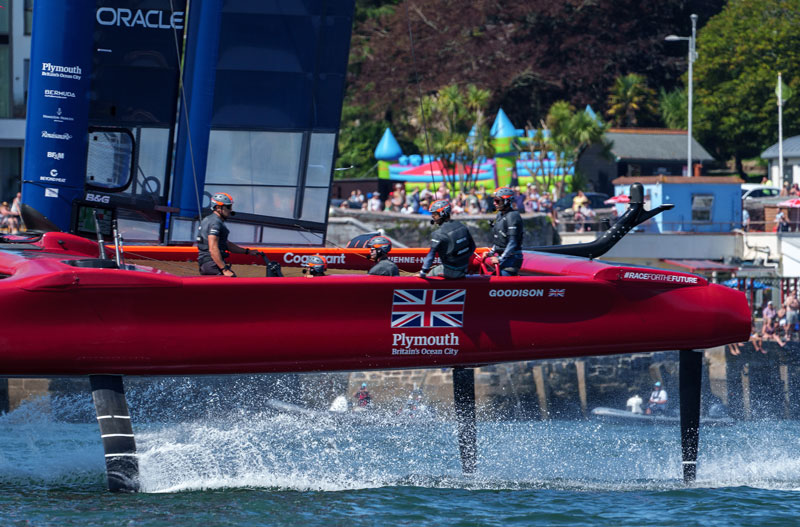 That left the teams that weren't already missing a few of their own to the upcoming Olympic Games in Tokyo to generate excitement for the frenzied throngs who dotted the natural stadium amphitheater in massive numbers.
The weekend provided more than enough drama between the uber-aggressive Spanish and Team USA, the closest thing to our local contingent, with Coronado's Cooper Dressler, the Bay Area's Daniela Moroz, San Diego's Andrew Campbell, and Jimmy Spithill calling California home.
Australia eventually captured the weekend, but the controversy with Spain ruled the day. SailGP's chief umpire, as well as USA's Spithill, felt that Phil Robertson, Spain's Kiwi skipper, had crossed the proverbial line between an amazing starting maneuver and being blatantly dangerous to the rest of the fleet, especially the Americans.
On the first of two days of racing, Spain received a first-ever black flag. Just seconds from the start of the critical third race of the day a last-minute, diving maneuver toward the line by Robertson surprised the fleet with a move that has caused concern among SailGP race officials at previous events, placing Spithill and company once again in the path of a potential unsolicited collision.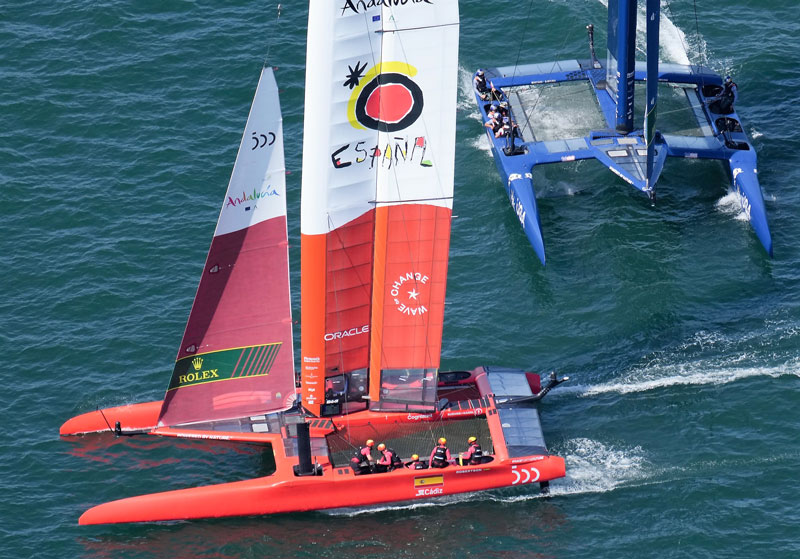 Spithill, with the right of way in leeward position, quickly bore away to avoid contact, while pilot Rome Kirby protested the infringement to race umpires, who disqualified the Spanish team, resulting in the black-flag decision by SailGP.
"How many times do we have to see it?" said Spithill. "It's obvious Phil has done this more than once. It's not his first offense. It's well past three strikes. I'm not at all surprised to see him black-flagged."
The black-flag disqualification was instituted following several racing incidents in this season's Bermuda Sail Grand Prix to deter future contact between teams.
"It's a spectacular move when it when it goes well," said chief umpire Craig Mitchell. "But it's also a very high-tariff maneuver. And when you get it wrong, there can be quite catastrophic consequences. You don't get here unless you're a winner. And winners take risks. This time it just didn't pay off."
"He either was going to crash into the mark and hurt someone on his boat or crash into us and hurt someone on our boat," continued Spithill. "When you see it happen at MotoGP or in F1 [like what happened this weekend between Max Verstappen and Lewis Hamilton] they start fining and penalizing the driver for the very reason that you can hurt other people. The fact that this isn't his first time doing something like that — I think it's justified."
"In the moment we felt it was a rough call," said Robertson. "We didn't really infringe anyone, and we were going twice the speed of everyone else and we got over the top. After reviewing it we thought exactly the same thing. Looking at the video footage it looks like we were well clear, so I'm really interested to hear what the umpires have to say.
"I think, at best, maybe we infringed the Americans, but they were quite low and veering away as well," said Robertson. "It is what it is. We're moving on, forgetting about it. I guess the precedent has been set now for what you can and can't do, and if you get a good start and slightly infringe on someone you're DSQ'd."
Clear of the incident, Spithill accelerated and the American team extended their lead to end the day with a convincing win, ensuring a place for the penultimate podium finale. "Anytime you get to race in the podium race it's a great position to be in. Unfortunately for us, we had a bit of a technical issue with our starboard rudder that deteriorated throughout the day," said Spithill. "This was a good result for the team. Let's face it, we've had technical issues at each event so far, and we've now climbed up to halfway in the field."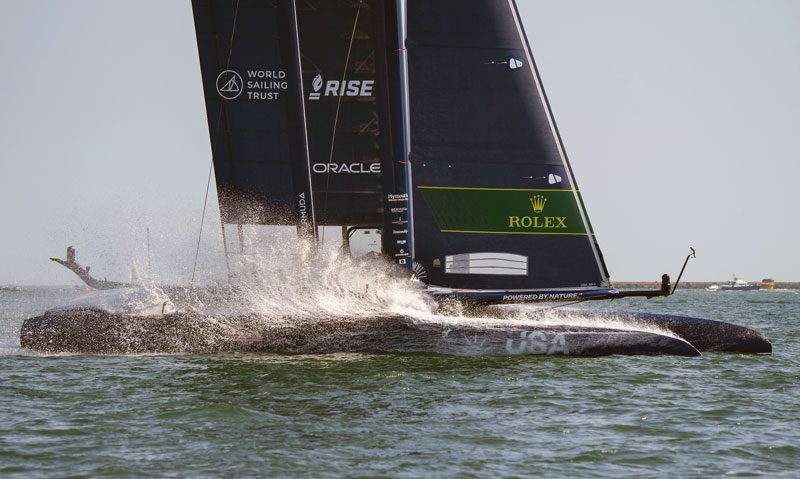 The Aussies, skippered by Tom Slingsby, beat France and the United States in the three-team winner-takes-all final to move into first place in the season standings.
"It's no secret that light air is our biggest weakness, and it's my weakness, but we've been working on it," spoke Australian skipper Tom Slingsby. "The last event in Taranto was a bit embarrassing for our team, and I felt bad for not doing the team justice. So, we've worked on our light air."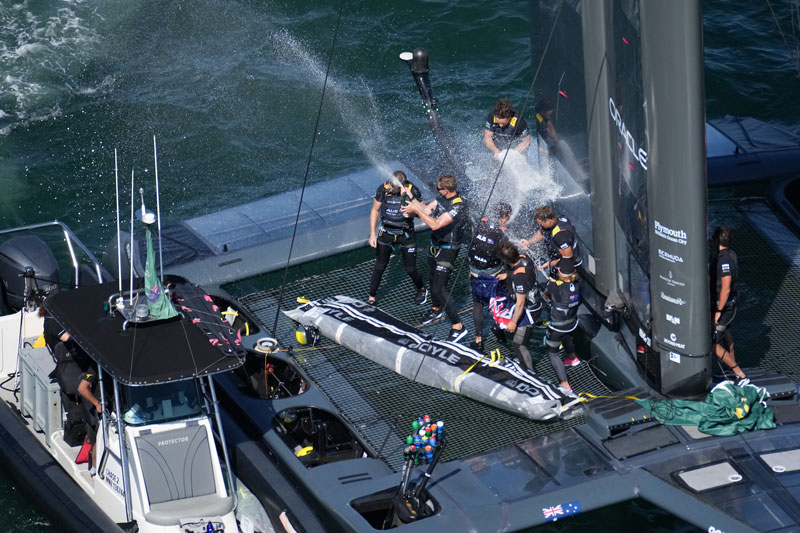 SailGP packs up and heads over to the 'City of Smiles' — Aarhus, Denmark — for the next event on August 20-21.
"To have a shot at the trophy and the $1 million at the end, you need to qualify for as many final races as you can to put yourself in the ultimate final in San Francisco. That's certainly our goal," said Spithill. "We've yet to get through a weekend and finish all the races without something happening to us, so we'll take it day by day. We're always learning!"
Receive emails when 'Lectronic Latitude is updated.
SUBSCRIBE