SailGP Announces New Family Foiling Weekender
SailGP fans heard throughout the championship weekend that the future of sailing is foiling. Following the successful conclusion of Season 2, SailGP has announced plans to expand the adoption of foiling into all aspects of sailing by introducing its new series of Family Foilers in 2023. The family-foiling line will start with a 30-footer, with the goal of expanding the line with 20-, 25-, 35- and 40-ft models; each model will be capable of one knot of speed for each foot of its length. So while the F50s are capable of about 50 knots, the FF30 (Family Foiling 30) will be capable of about 30 knots.
The high speeds are seen as critical in attracting more families to enjoy weekend sailing together.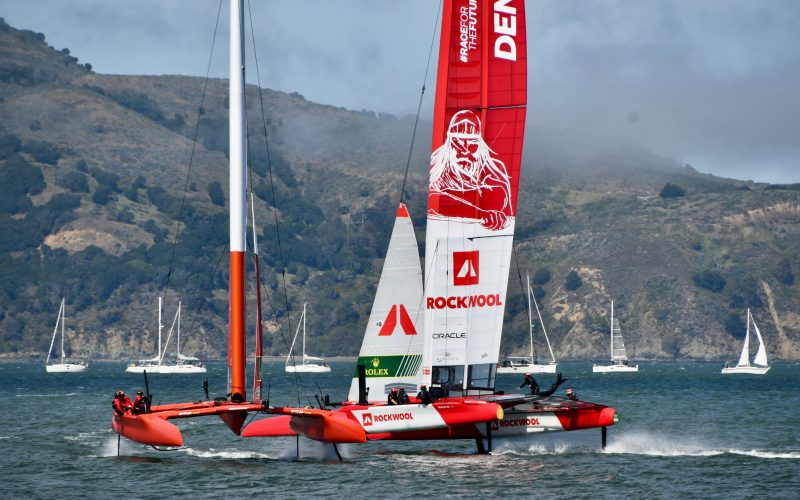 The first models will be delivered in spring 2023, and will be equipped with wing sails, foils, lithium batteries (which power the always-adjusting foils and store enough power for about four hours of sailing), lifejackets, helmets, body armor, oxygen bottles, two follow-along inflatable crash boats, safety knives, and eight hours of safety training for the average family of four. Refined foils of carbon or titanium are available. The ideal total crew weight for the Family Foiler 30 will be a 180-lb male, 110-lb female, and two kids averaging 65-lbs, in the starter package. Wing and foil sizes will be adjustable as the kids grow up and parents mature.
All the data from your family's afternoon sail will be constantly updated in the Cloud, so you can replay your afternoon sail on your big screen at home or share it with friends. Friends will be able to track your every tack and monitor your heart rate and bladder control. Each safety helmet comes with virtual reality goggles and headphones so all data from the sail will be visible in your line of sight, with the natural backdrop of your sailing venue in the background.
If desired, you can select a sailing background of your choice, such as St. Barts, Mallorca or San Francisco, so you could be sailing virtually anywhere, even if you're sailing on Pewaukee Lake in Wisconsin. Family communications will be via microphone and headphones — no need to shout over the wind. Natural sounds such as gulls laughing and seals barking can be selected to give the sail a more natural feel. Steering, trim and flight control can all be managed by the family or done automatically via the new autonomous sailing control package developed in partnership with Tesla.
The Family Foiling line of sailboats is seen as critical to getting fans out of the grandstands and onto the water sailing. Rather than afternoon picnics at the beach, youth softball, or walks in the park, a new generation of families will connect to one another, the Cloud and nature at 20-40 knots as the SailGP line of Family Foilers brings the future of sailing to life. The FF30 intro package starts at $650,000. Batteries, as we mentioned, are included.
Receive emails when 'Lectronic Latitude is updated.
SUBSCRIBE