Route du Rhum Start Postponed Until Wednesday
For the first time in Route du Rhum race history, the organizers have made the difficult decision to delay the start of the 3,543-mile race from Brittany, France, to the Caribbean island of Guadeloupe. With a depression working its way toward Europe, the fleet of 138 singlehanded racing yachts was scheduled to depart Saint-Malo on Sunday afternoon and sail dead upwind into monstrous waves of 7-8+ meters and breeze that topped 50 knots. In a decision that has been supported by the vast majority of the fleet, race organizers moved the start to Wednesday afternoon at 2:15 local time. When the fleet does finally get underway, they will still meet with upwind sailing and a strategically difficult departure from Europe, though in conditions that are much more manageable.
Americans Among the Huge Fleet
The 12th edition of this Transatlantic race is a record-breaker in almost every respect. For starters, 138 is a record number of entries. Among those 138 entries is a fleet that includes a who's who of solo offshore sailing, and many brand-new and cutting-edge boats. The largest fleet in the race is the Class 40 fleet, which has a staggering 53 entries, including the race's only two Americans. San Francisco Bay Area native and Singlehanded Transpacific Race veteran Alexander Mehran is sailing his Class 40 Polka Dot. Newcomer Greg Leonard from Texas entered his Class 40 Kite.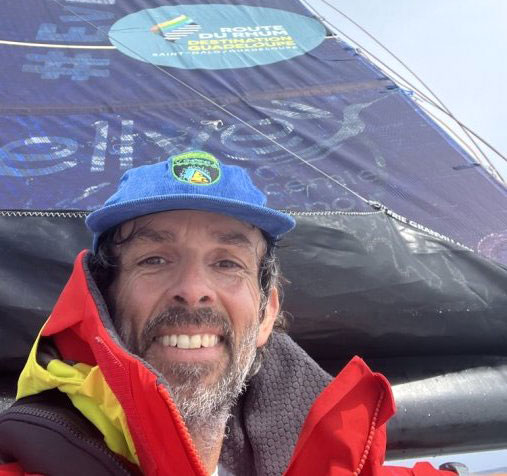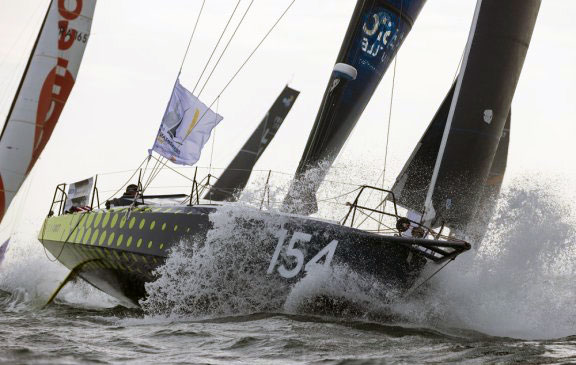 Maxi Trimarans
The first boats across the finish line will almost surely be the incredible Ultime trimarans. They have seven entries, including a much-awaited first major engagement between the fleet's newest two boats — François Gabart's SVR Lazartigue and Armel Le Cléac'h's Banque Populaire XI — and the current fleet benchmark Maxi Edmond de Rothschild, now skippered by Charles Caudrelier when in solo mode. These 100-ft foiling monsters are simply the fastest and most extreme oceangoing sailboats ever built. This year's Route du Rhum heralds the beginning of a new era of ocean racing, where this new breed of fully foiling record-breaking boat has come of age.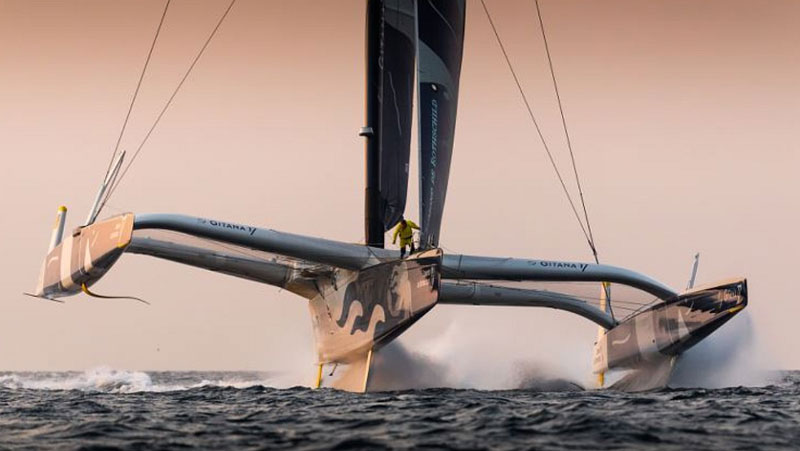 IMOCA 60 Division
With 37 entries, the IMOCA 60 fleet is also a record-setter. As each edition of the Vendée Globe continues to get bigger, so do the qualifying races, of which the Route du Rhum is by far the biggest and most prestigious. This year's race promises to be a spectacle of epic proportions, with a number of new boats. More than three dozen modern 60-ft monohulls, mostly equipped with lifting foils, will square off against one another across the Atlantic. The current fleet benchmarks — Charlie Dalin on Apivia and Thomas Ruyant on LinkedOut — will have their hands full with a number of their top rivals debuting new boats in this race, including Jérémie Beyou on Charal 2, Samantha Davies on her new Initiatives Coeur, and the new Malizia with German Boris Herrmann.
Follow the Route du Rhum on their website, www.routedurhum.com and social media channels. We'll post updates as the race progresses.
Receive emails when 'Lectronic Latitude is updated.
SUBSCRIBE