Yesterday, the Santa Cruz 50 Bay Wolf — a charter boat operated by Captain Kirk San Francisco Sailing — was returning to Sausalito from San Francisco after dropping off their guests at Pier 40, when they heard a call on Channel 16. They were about a half mile to the north of Alcatraz when a commercial vessel, the Blue & Gold ferry Oski, described an overturned dinghy on the windward, southwest side of the island.
Captain Dogen Hannah, along with crew Natasha Pyle and Joe Ording, changed course to investigate. Earlier, they'd seen a few small boats sailing downwind on the weather side of Alcatraz as they motored toward Sausalito.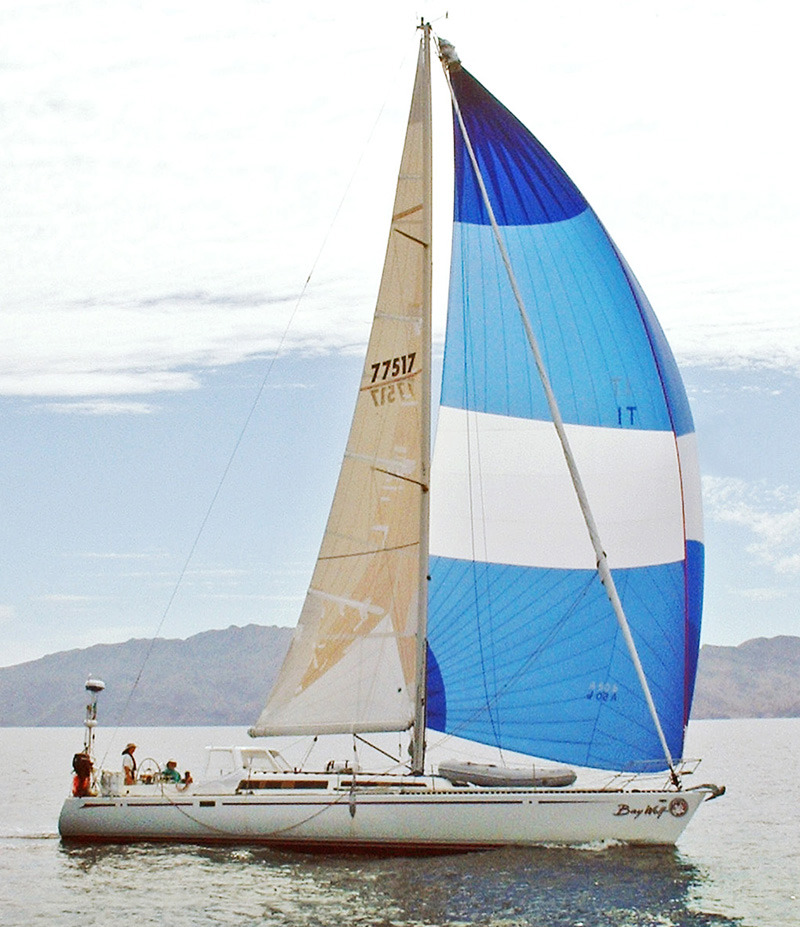 Through binoculars, Ording spotted a small boat hard on shore, and saw someone clinging to a mark half in the water. Ording also saw another person climbing up the shore on the steep windward face of the island. Captain Hannah and crew maneuvered to weather and upcurrent of the sailor clinging to the buoy and, with the aid of a Lifesling, were able to pull him aboard.
They found Holt Condon, who'd been out sailing with crew Harrison Turner aboard their 5o5 when they dismasted while dousing the spinnaker. They got separated from the boat — Holt made it to the buoy while Harrison made it to shore on Alcatraz. Harrison was later airlifted to safety by a Coast Guard helicopter.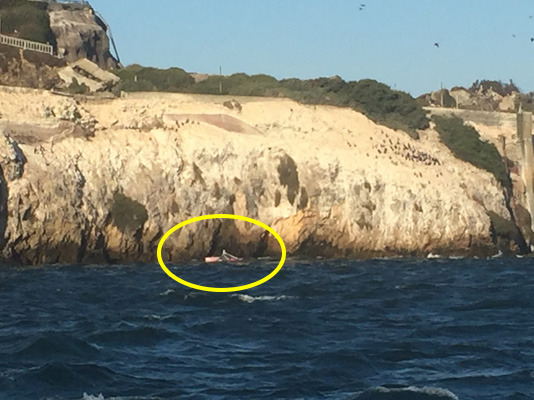 Fortunately, both sailors were wearing wetsuits and PFDs, and both were in good shape, without any signs of hypothermia.
Captain Hannah expressed his thanks to the ferry Oski for making the initial call when they saw something suspicious. He also noted that at least one other recreational sailboat and up to six commercial vessels came to assist. It's a reminder for everyone to monitor Channel 16 to listen for potential calls for help.
It was a typical sunny, breezy, flood-tide day and we're sure an awesome spinnaker run down the windward shore of Alcatraz — until it wasn't. We're glad to hear that there were alert boats on the Bay, proper attire on sailors, a skilled crew on the Bay Wolf and plenty of mariners ready to respond.
Receive emails when 'Lectronic Latitude is updated.
SUBSCRIBE