The Rebuilding of 'Mahina' Hits Prime Time
In our July edition, Debra Taylor wrote a story about her and partner Jeff Gable's ambitious restoration of John Neal's classic Albin Vega 27, Mahina. Debra recently gave us an update on progress and let us know they're adding primer coats as it's nearing time to paint.
Somehow, August is behind us and Mahina looks bigger and brighter by the day. It's a strange phenomenon how a totally empty shell of a boat begins to take on size and girth the more one adds to the interior. With all bulkheads installed, interior structure added and space compartmentalized, the space seems to expand with every addition. Painting the ceiling a bright off-white makes all the difference.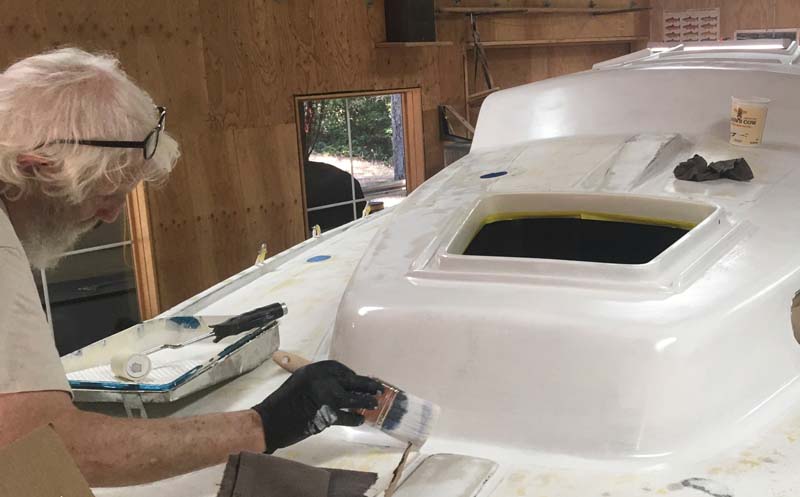 Many hours have been spent filling gouges, dings, and holes with goop. Then sanding. There are 85 stainless steel bolts (not counting U-bolts) around the perimeter of the boat securing the deck to the hull. These all had tiny round pieces of tape cut to cover each one during the taping process before painting could begin. Today Jeff started taping off the nonskid areas on the deck and priming the house. The warm weather caused the paint to dry so quickly that it had to be done with a brush instead of a roller. We've finally decided on exterior paint colors, and the paint has been ordered (by special order) so there will be no more waffling. The hull color will be light blue (with a trim of gold in the cove) and the topsides (including all nonskid areas) will be Hatteras White, which is an eggshell or ivory color. The bottom paint on the hull remains black with a teal boot stripe.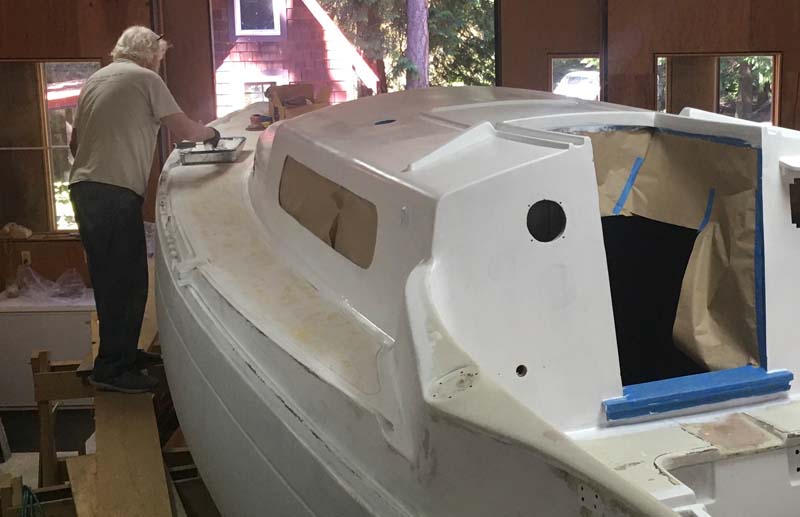 The interior is just about finished, including all built-ins, drawers, cabinets, doors, hatches, covers, handles and hardware. Most electronics are installed and electrical work is complete; all plumbing has been installed and many storage compartments added. There will be two water options for the galley sink, both fresh and saltwater. Some of the cushions and covers for the V-berth are also finished in a navy dotted-Swiss fabric by Sunbrella. Our focus now will be shifting back to the exterior in order to take advantage of the remaining warmer weather, and to paint before we begin on the rigging.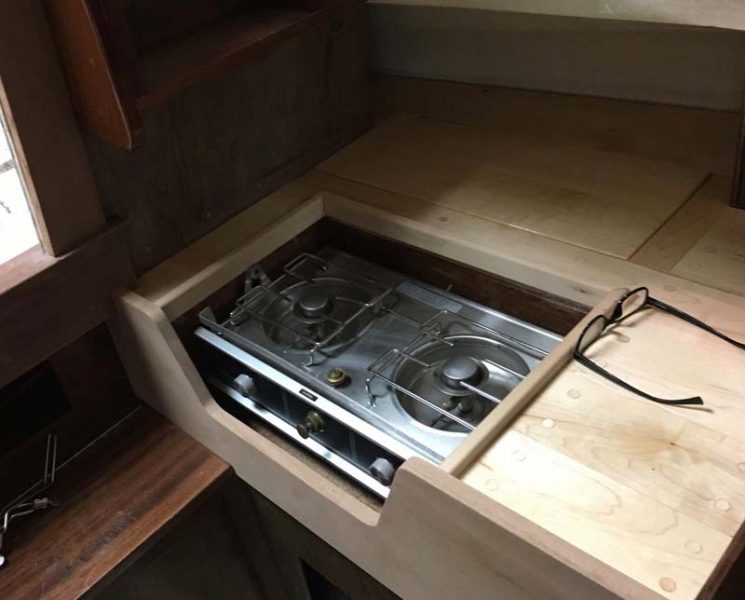 We seem to be accumulating interesting Craigslist experiences. A fellow boat nut in Burlington found an old Vega to salvage for parts. We were able to acquire both bow and stern pulpits (Mahina's had been badly worn and bent) as well as a set of six stanchions with fittings (all original) for only $150. The stanchions alone would sell for around $100 each, without the fittings, which are unobtainable. These parts were all manufactured by the Albin Marine company of Sweden, which is no longer in existence. It was a huge find and a great relief. After Jeff got finished polishing them up, they look like new!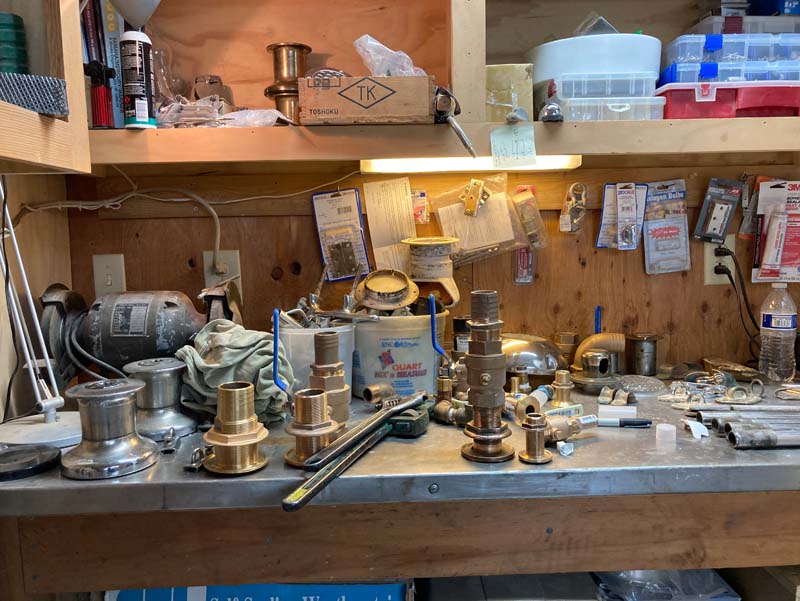 Our Mahina endeavor began back in June 2021 (as you may remember) while we were looking for a trailer for our 11-foot sailing dinghy. This week we came across (yet another) Craigslist offering that launched us into an adventure to Big Lake, just east of Mount Vernon, where we met Dick and Becky Walsh, fellow PNW adventurers who had some great stories and experiences to share. Dick showed us some of his beautiful watercolor paintings and various projects du jour. After, we were pleased to find that his trailer would indeed work for our sailing pram AND (as seems to be our karma), it came with a dandy little 14-foot sailboat, a C-Lark that would now find a new home (somewhere!) in our growing boat menagerie. We are now full circle with our trailer search, with an extra sailboat or two to boot. Be careful what you wish for…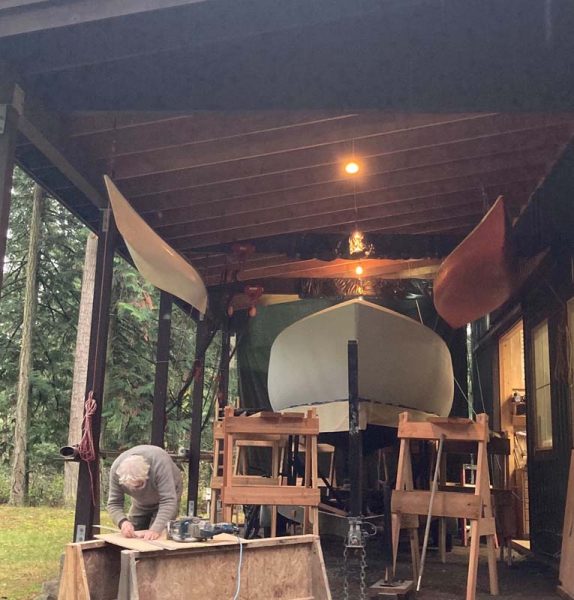 We heard from John Neal this week. He was asking about Mahina and hopes to be able to visit sometime in late September before beginning Leg 9 of his continuing sailing adventures. We're all looking forward to the long-overdue reunion and will keep you apprised of the exciting event.
Receive emails when 'Lectronic Latitude is updated.
SUBSCRIBE