Randall Reeves and Harmon Shragge Near Homer, Alaska, and the End of a First Leg
"After three years biding her time in a San Francisco Bay marina, Moli took her departure from the Golden Gate Bridge at 4 p.m. on August 31. Destination: Homer, Alaska via a westerly rounding of the North Pacific High. Aboard: two crew, Randall, as one might expect, and Harmon."
And after more than 20 days at sea, vacillating winds, the minor mending of equipment, clouds and sunsets, multiple blogs, excellent food and a few days spent thrashing around on a drogue during multiple gales, Randall Reeves, Harmon Shragge and the 41-ft aluminum sloop Moli are nearing Homer, Alaska, and the conclusion of the first stage of their "wrong way," multi-leg circumnavigation of the Americas.
After completing the Figure 8 Voyage in 2019 — which was preceded by an aborted attempt but full circumnavigation starting in 2017 (and which is still the name of Reeves' blog) — there is something quite comforting to those of us here at Latitude 38 knowing that Moil is once again eating up miles daily, and that Reeves' prose is once again on the internet. (Shragge has his own blog as well, and it's fantastic.)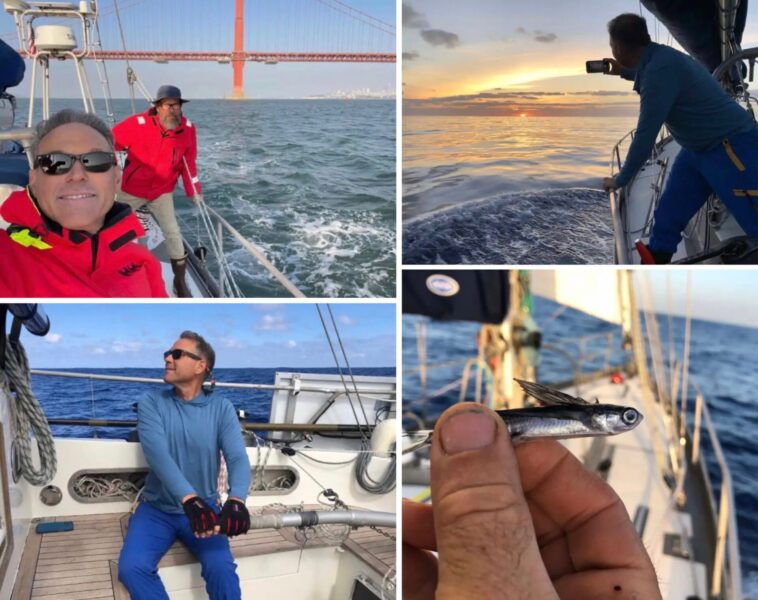 Reeves wrote on his blog that for months, he'd planned to "run in the NE trades to about the longitude of Kauai — not the latitude, not that far south, but likely that far west — followed by a slow transit around the outside of the North Pacific High and thence on to Homer. That was the strategy." Rather than finding a single high to circumvent, however, what lay before him, Shragge and Moli was a minefield. "There is no one High to transit. What is here is rather a collection of Highs banging around the middle of the Pacific like squabbling minor gods." Moli weaved her way through windless blobs, motoring often.
Around September 7, about Day 8 of the passage and "abruptly at 10 a.m., a cloud wall ended in a terminal squall, a leaden explosion of atomic proportions, and with that the day cleared and the wind filled in. We sailed close reaching to the west for two hours, Mo almost bounding, but the day couldn't take the pressure and our wind collapsed by mid afternoon."
Break out the swim trunks.
"Having brought Mo to a standstill, I suggested we go for a swim," Reeves wrote. "I have never had the courage to take the mid-ocean plunge when alone, but Harmon needed no prodding, and when he was back aboard, I followed. Water temp: 72. A bracing splash and then delicious floating atop 15,000 feet (height of Mt. Whitney) of clear-blue glass. Two zebra striped fishes rose from beneath Mo's mighty protection to see if I bore treats and then hurried back into her shadow. I swam around Mo for a time … but not too far, home port being some 900 miles to the east."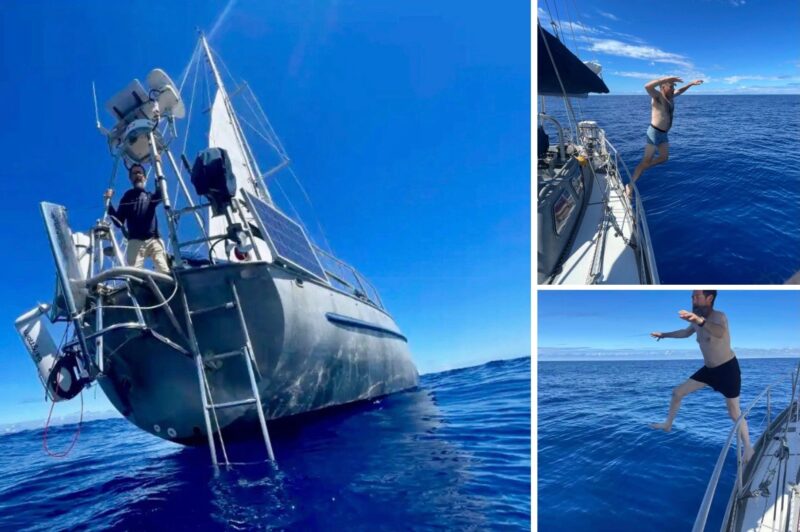 By Day 10, as they were seeing 25-30 knots of wind and three reefs, the dichotomy of Moli's crew revealed itself. "[Harmon's] ocean crossings have been with Clipper races and a Fastnet aboard a Volvo sled, boats that are driven to the max at all times. 'How do you know when to reef?' asked Harmon. Apparently, the boats he's sailed have strict protocols; at X knots, reef. I shrugged. You feel it. You can feel when a boat is over pressed."
Reeves and Shragge met through the Farallon Patrol (and the nonprofit Point Blue), the volunteer flotilla that ferries scientists and supplies to the marine sanctuary. "Harmon and I got to talking about future projects at a Farallon Patrol dinner. His was to circumnavigate the Americas, but he lacked the right vessel. I said I knew of a vessel that might do, but that I'd been around the Americas. 'What about going the other way around?' he asked.
"And so here we are, pounding into a North Pacific head sea."
Pounding away at seas and on the keyboard, Reeves wrote on September 11, "There is a truism in passage making that it — where 'it' is a place holder for trying weather-related moments of all kinds — only happens at night. That this is a truism should not dissuade of its veracity." That night saw winds drop and reefs reluctantly and belatedly shaken out, shortly before the wind and reefs returned.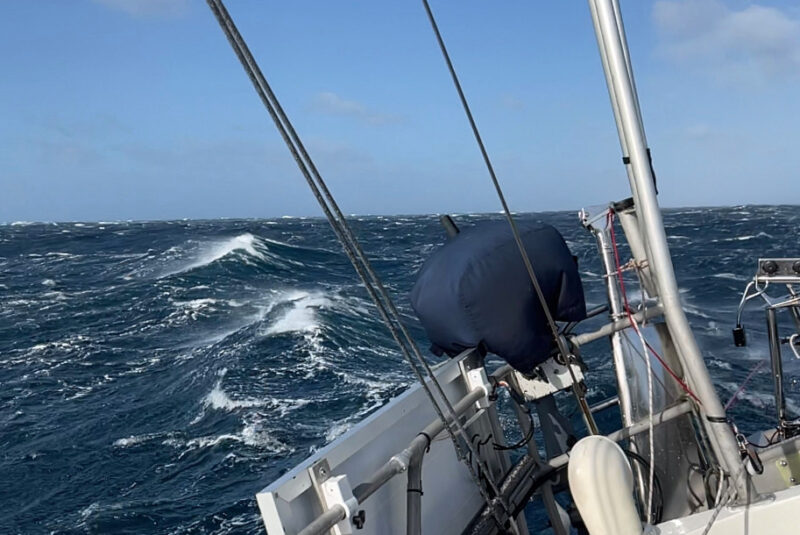 Moli nearly lost her Watt&Sea hydrogenerator, which has since been repaired and replaced. Around Day 16 of the passage (about five days ago), a dark-colored blob apporoached. "'About five years ago our fall weather started getting worse and worse,' Adam, a professional fisherman friend of mine from Homer [said]. So then it seems only right that we would see at least one good blow."
Prior to then, the wind had been good. "Strong SW winds gave us a run of 164 very wet, very rough but very happily accepted miles. The day before, 150 fast, close-reaching miles. Today [September 14] I've budgeted for 140 miles but am betting on 150+, close hauled. This will put us within about 140 rhumb-line miles of Kodiak by the time [a] low arrives. That may be the closest we get."
Break out the drogue.
"There is something disquietingly final about riding a drogue. You are, in a sense, anchored to the sea, and like being anchored to a good holding bottom in a storm, you are there for the duration. For the JSD [Jordan Series Drogue], duration is usually when winds come back down to 25 knots or less. So, there is no escaping the drogue until the event concludes, except that it be cut free, an expensive proposition."
After some adjustments (and the catastrophic loss of a pan of quinoa and a chocolate cake with a pudding center), "Mo rode well. In the thick black of night, I could feel the braking of the drogue as she was pushed forward by a sea. She felt solid, steady; yet any movement in the cabin required two hands and planning or else one was thrown around mercilessly."
And that's where we must leave this particular update. Reeves' last post was on Sunday, and Shragge's was on Tuesday. "The conditions for these gales were not that bad," Shragge said. "Waves rarely got over 20 feet, and the cross swell was manageable."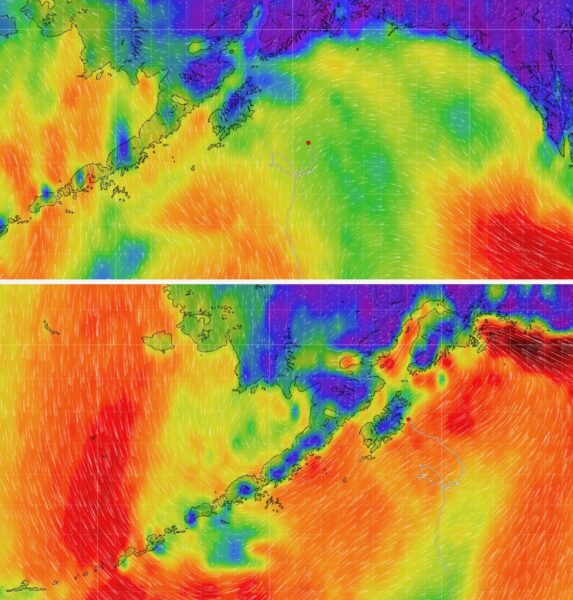 About deploying the drogue, Reeves wondered, "Did the strategy work? Yes. As of this writing, we are a mere 35 miles from our position at noon on Saturday; compare 160 if we'd run off. Was it worth it? The cost has been high: a solar panel modulator and probably a single side band radio lost to wet; the dodger, blown out by the pooping sea. Not to say that sailing would have been cost free."
We will update you once the duo has reached their Leg 1 destination of Homer, Alaska.
Receive emails when 'Lectronic Latitude is updated.
SUBSCRIBE