If variety is the spice, then the fifth annual Race To Alaska — the first segment of which started today — is a veritable jambalaya of waterborne fun. With the only rules being "no motor, no support," pretty much anything that floats and can be motivated by wind or muscle power is going, including modern sailboats, an ancient sailboat (a 52-ft, 12-ton gaffer built in 1903), a variety of rowing craft, two stand-up paddleboards, and a "self-designed boat made from Hobie parts."
If they all made it, 46 teams answered the starting gun at 5:00 this morning. The first short leg takes the fleet from Port Townsend, 40 miles across the Strait of Juan de Fuca to Victoria. The main action starts at high noon on Thursday. From Victoria, the next stop is Ketchikan, 710 miles up the Inland Passage, where the winds are as variable as string theory, and the currents make San Francisco Bay look like a still-life painting.
The teams with the best chance of actually winning the $10,000 first prize are on sailboats, all of which have been fitted with some sort of manual propulsion, be it rowing stations, paddles, pedal-driven propellers or, for all we know, swimming ahead of the boat with a rope in your teeth.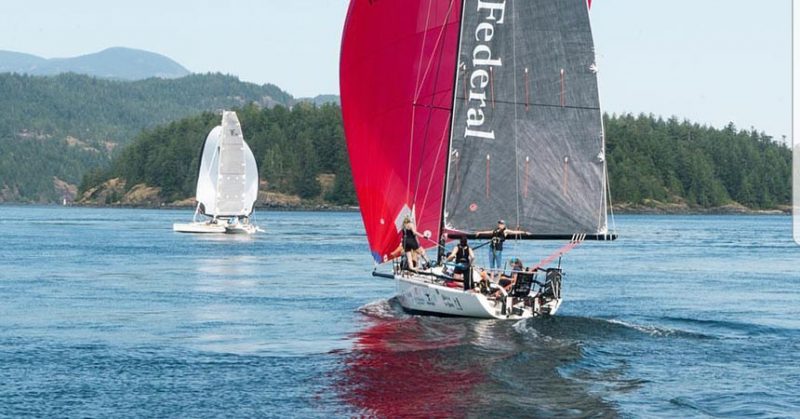 Most racers hail from the Pacific Northwest — Canada or Washington — but this year there are also entries from Pennsylvania, South Carolina, Wisconsin, Idaho, New York, Tennessee, Maine, Australia and the Netherlands.
For the first three years of the R2AK, multihulls won. The course record of 3 days, 20 hours, set in 2016, is still held by one. Last year, a monohull won. The all-woman Team Sail Like a Girl kicked everyone's butts sail/pedaling their Bainbridge Island-based Melges 32. They are back this year to see if they can make it a two-fer. There are also three entries from the Bay Area with a decent chance at a win: Team Shut Up and Drive (Beneteau 33, San Francisco), Team Givin' the Horns (Corsair F31, Goleta [near Santa Barbara]) and Team High Sea Drifters (Olson 30, San Rafael).
The second-place prize is a set of steak knives. Really. But they're nice steak knives. Everyone else has to settle for surviving.
We'll be posting 'Lectronic Latitude updates on the R2AK as it progresses. In the meantime, check out the lead Sightings article in the June issue, and/or the race website itself, www.r2ak.com.
Receive emails when 'Lectronic Latitude is updated.
SUBSCRIBE