Phaedo3 Breaks Jamestown Record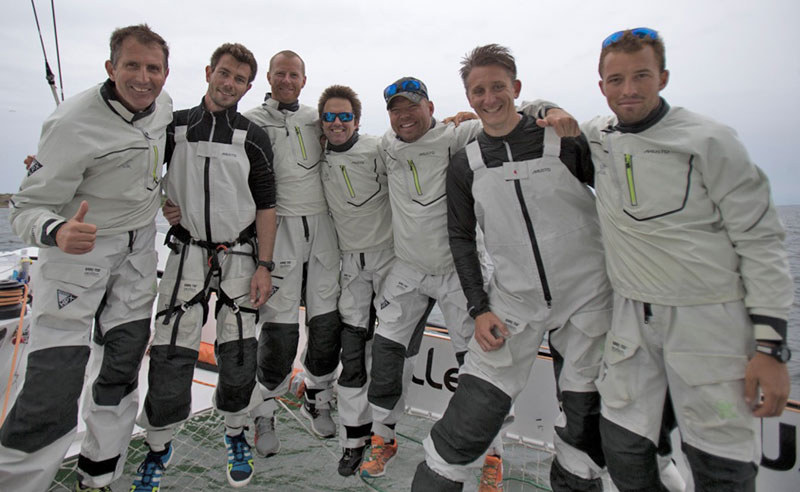 They start the Transatlantic Race on July 5, but, hey, no reason to just hang around Newport in the meantime. So Lloyd Thornburg, Brian Thompson, Miles Seddon, Sam Goodchild, Warren Fitzgerald, Sam Bason, and Pete Cumming took Thornburg's MOD70 trimaran Phaedo3 for a quick lap around Jamestown (in Rhode Island's Narragansett Bay) on Saturday. Their circumnavigation time of 56 minutes and 36 seconds just happens to improve upon the previous Mount Gay Rum Around Jamestown Record of 00:58:31, set by the GC32 foiling catamaran Argo last October.
Phaedo3 sailed the course around the island to starboard, sailing south from the start off Fort Adams at 5:30 p.m. EDT, with an easterly breeze of 10-15 knots on the start of an ebb. This was the crew and boat's first time sailing around Jamestown.
Skipper Thornburg said, "We had been planning to attempt the record as practice before the Transatlantic Race start, and we had been told it's very hard to beat the record in the summer as the prevailing winds don't give you the opportunity. But, with an easterly forecast, this was really the only day to attempt it.
"We had a smashing start, flying the center hull going approximately 30 knots," he reports, "but the wind was fluky and light on the backside and we never saw more than 15 knots of breeze. Once we got to the northern tip, the navigator said to us if we're going to break the record we need to average 20 knots from here on in and we were going 14 at the time. I have to give credit to the guys because they really put their heads down and made it happen, but it wasn't until we finished that we knew we broke the record."
Sailors have until October 31 to attempt to break the new outright record. If no other team in any division beats Phaedo3's outright record time by then, the MOD70 will secure the outright record. When asked what he would do with all of the Mount Gay Rum if the record stands through the end of the year, Thornburg replied, "If the record holds, I think we'll take the rum, share it and have a party."
Regular readers of Latitude 38 will recognize the distinctive green trimaran as the cover girl of this year's May issue.
Receive emails when 'Lectronic Latitude is updated.
SUBSCRIBE