Oyster Cove Marina Liveaboards Have Been Told to Evict on Short Notice
In mid-June, notices of eviction were posted on the roughly 110 boats remaining at Oyster Cove Marina in South San Francisco, where a number of liveaboards reside. The 50-ish acres immediately upland of the marina are in the midst of an expansion of a biotech campus, but the company managing the marina has told slip holders that, at present, there are absolutely no plans for the 220-ish-slip marina itself.
It is not clear why there's a rush to evict slip holders.
The June 16 eviction notices gave Oyster Cove Marina (or OCM) residents just two weeks to sign a document agreeing to leave by October. If they sign the contract, residents will receive four free months of rent; some residents were also offered $10,000. The original deadline to sign this agreement was June 30; after an outcry from residents, who reached out to South San Francisco city officials, the deadline was eventually extended to July 31 to those who hadn't yet signed.
"We are trying to get some relief to our Oyster Cove Marina residents, and advocating for more grace and humanity from the marina's management company and property owners in the form of more time and economic assistance with the displacement," said Lucia Lachmayr, who has a 39-ft custom-built trawler at OCM, and stays on her boat a few nights week.
Oyster Cove Marnia residents have hired a lawyer, who has asked to extend the eviction date to February 2023, citing the difficulty of finding liveaboard slips in the Bay. The residents are also advocating to the Bay Conservation and Development Commission, or BCDC, to lift the 10% cap on liveaboards at other Peninsula marinas to help the OCM residents find nearby slips.
The impending closure of Oyster Cove Marina raises larger questions about public access to the Bay, recreational boating infrastructure, the small quota for liveaboards, and housing in general. In the Bay Area, and the West Coast at large, boats play a significant role in what has been called a "naturally occurring" affordable-housing ecosystem.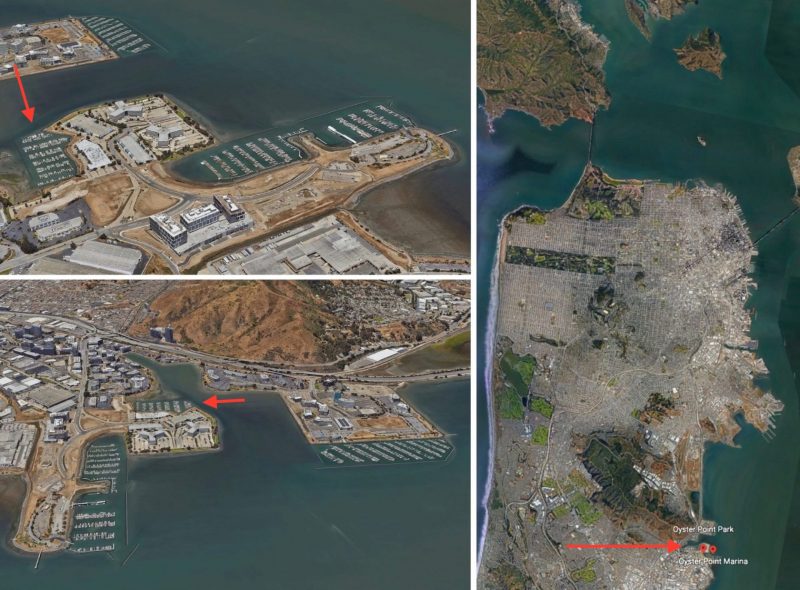 It is not clear how many people currently reside full-time on their boats at Oyster Cove Marina — it may be as many as 30, but only 14 liveaboards are recognized as "permitted," and were offered the $10,000 relocation payment. Eleven residents have reportedly signed the agreement; some people described feeling pressured or even panicked to sign within the short timeline given.
Sources have told us that many residents at OCM who had a valid contract with the marina as permitted, full-time liveaboards, and who paid appropriately higher fees for that status, were later pressured to accept reclassification as "extended stay," and have not been offered the $10,000 relocation payment, though they have been offered the four months of free rent. The attorney representing the slip holders believes this "forced reclassification" of liveaboard status is likely an unfair business practice based on a bad-faith breach of contract.
The majority of the liveaboards have been described as "elderly," or over 60; some have lived at OCM for decades.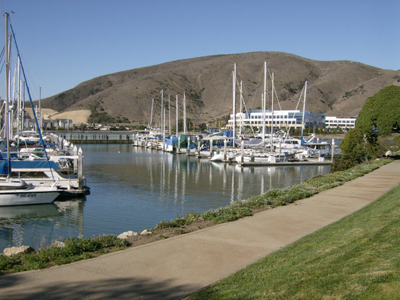 On June 15, Sausalito-based Tideline Marine Solutions (TMS) assumed management of the Oyster Cove Marina, which is owned by Southern California-based Kilroy Realty Corporation. Neither group would comment for this story, or offer clarification for the long-term plans for the docks. At some point after Kilroy bought the upland property in 2018, OCM stopped accepting new tenants, so the marina is presently about half full. Several residents have said that once Kilroy bought the property, they were led to believe that slip holders would be able to remain, including liveaboards.
On their website, TMS describes themselves as a subsidiary of Tideline Marine Group, a "small-scale ferry and on-demand service on behalf of the Port of San Francisco." We think it's safe to assume that this will be a service provided for the growing tech industry on the shores of Oyster Cove Marina.
"Both myself and the slip holders are impressed with Tideline — they were very polite and professional in their initial meeting with slip holders, and fully heard them out," said Alison Madden, the attorney hired to represent OCM slip holders. Madden also represented liveaboards at the former Pete's Harbor — several of whom ended up moving to Oyster Cove — as well as Docktown, where she still has a houseboat. "We want their venture to succeed," Madden said of Tideline. "We just see no reason to fully evict and clear a public-trust marina when there are no plans for the subsequent use."
Madden said that it's "heartless" to evict long-term tenants, many of whom are at-risk, when there are no stated plans for OCM at all. "The notices and time frame are as bad as what happened at Pete's and Docktown, if not worse," she told us.
"Why do so much harm to so many vulnerable people?" Madden added, pointing out the number of elderly, low- and fixed-income and disabled people who currently reside at Oyster Cove Marina. (There is also at least one Vietnam veteran residing at OCM "who was forced off permitted liveaboard status under the threat of eviction, and who is not being offered the relocation benefit," Madden said.)
Madden described the "at-risk" designation is for becoming homeless if the October deadline is not extended, and said that the compensation being offered is insufficient for all slip holders. "These liveaboards are unlikely to find local, comparable liveaboard slips on such short notice. Every slip holder currently residing at OCM should be treated as similarly situated for purposes of relocation benefits, as they all rightly believed they were properly leased under the BCDC permit."
Lucia Lachmayr said that there's a strong possibility that some OCM liveaboards will become illegal anchor-outs.
While Oyster Cove Marina is a private facility, Madden told us that all marinas are coupled with various public-trust commitments, such as ensuring public access to the water — a BCDC statute requires all developments to have the maximum public access possible. Closing any marina immediately reduces access, and also eliminates "an opportunity to leverage this category of naturally occurring, low-impact, low-income and affordable living spaces," Madden said.
"This benefits all cities and counties, and can satisfy at least some part of the housing element of their General Plans, and meet some of their regional housing obligations," Madden told us.
Receive emails when 'Lectronic Latitude is updated.
SUBSCRIBE