Orange You Glad You're in Marina del Rey?
Brian Mullen brought his Bay Area-based J/70 Orange You Glad (#607) to California Yacht Club in Marina del Rey in March. The club will host the 2021 J/70 Worlds on August 7-15, rescheduled from 2020 at the same venue. "We brought our boat down for the season," explains Brian. "The SoCal J/70 fleet will host a seven-event series leading up to Worlds."
Brian grew up sailing Lasers in the St. Francis YC Junior Program in the early '90s under coaches such as Pat Andreasen and Morgan Larson. "Our program had Krysia Pohl, Will Benedict, Pat Whitmarsh, Forest and Rowan Fennell — all in that same era." In college, Brian raced at Cal in 1995-1999. He and his brother, Kevin Mullen, then campaigned the J/24 Blue J, and later the J/105 Cuchulainn. "From 2010 to 2017, I became one of those sailors who disappeared from the scene when we had kids. I miraculously showed up one day, like, five or six years later with two kids in elementary school and a bunch of free time on my hands." Brian bought J/70 #607 in 2017. "It's been lots of learning ever since, as we get ramped up in this class.
"Sailing with us on Orange You Glad are myself (Brian Mullen from San Francisco YC and St. Francis YC), Jessica Chase (St. Francis YC) and John Fracisco (California YC). Our fourth that weekend (March 20-21) was Chris Snow, longtime pro from North Sails, who recently went out on his own on a new venture with The Favored End, a coaching/training/program management business. We've known Chris from our days back in the J/24 fleet, where he was multiple-time US champion and a central figure in the J/24 and Etchells scenes for many years."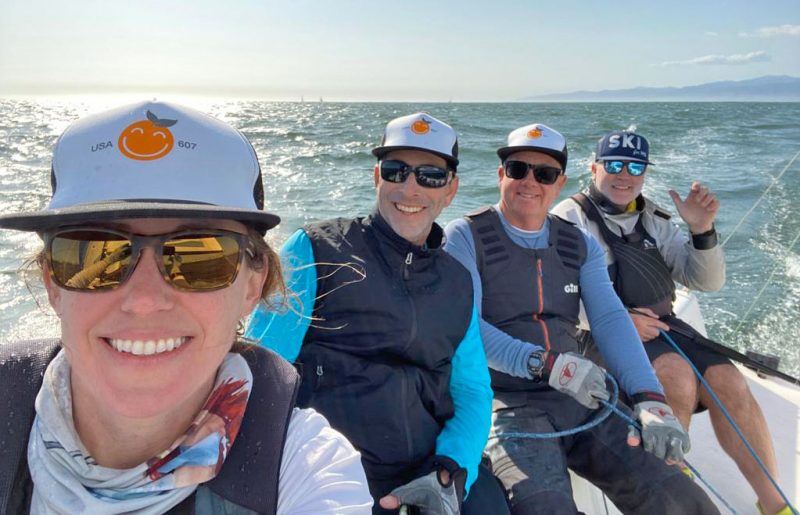 "We had 15 boats for this regatta at Cal YC. The J/70s originally planned to sail the San Diego NOOD. We even had our Airbnb and crew flights all booked and paid for. The 2020 SD NOOD was rescheduled several times during the pandemic, first from March to September 2020, then to late September a few weeks later, then canceled altogether and scrapped for the 2020 year. We were planning to be in SD for the 2021 NOOD.
"Then about two weeks prior to the NOOD, we got word that Long Beach Race Week 2021 was canceled. With that news, the SoCal J/70 fleet decided to pull out of SD NOOD (which would be void of all social activity, one of the big draws for teams). Bruce Cooper (Ullman Sails Newport) and Jim Murrell (Fleet 4 captain) rallied the fleet and created the 'NORR' (aka NOOD Replacement Regatta), an independently run event held at (but not hosted by) California YC. Owners tossed in a private entry fee to pay for an independent race committee, marks, lunches, etc. With that plan, Bruce and Jim got 15 boats on the line from up and down California.
"The weekend of racing was excellent, competitive and star-studded." Beyond Chris Snow, other pros included Dave Ullman on Minor Threat; J/24 and 5O5 legend and two-time college sailor of the year Ryan Cox on 3 Big Dogs out of Santa Barbara; and match-racing star Ally Blecher.
Over the next few months, the J/70 fleet will sail in six more weekend events in Marina del Rey, culminating in the Pre-Worlds at Del Rey YC and the Worlds at Cal YC. "Several boats from across the US and around the world will begin arriving in L.A. in the coming weeks. These events should attract top sailors in the class, including some notable and big-time pros (multi-World champs Lucas Calabrese, Willem Van Waay and Victor Diaz, plus several other legends including the McKee brothers, Glenn Darden and Travis Odenbach)."
Among S.F. Bay Area teams planning to race in the J/70 Worlds are: Harrison Turner on 1FA (StFYC), Chris Kostanecki on Jennifer (SFYC), Peter Cameron on Kangaroo Jockey (StFYC), John Bridgen on Cool Story Bro (StFYC), Thomas Kassberg on Pickled Herring (SFYC), Terre Layton on Terreaway (SFYC), Shawn Bennett on USA 32 (StFYC), Wendi Vandermeer on Kismet (StFYC), and our correspondent, Brian Mullen, on Orange You Glad (SFYC/StFYC).
"It should be a pretty amazing event," says Brian. "80+ boats (and counting). SoCal summer. Everyone vaccinated. Cannot ask for much more than that."
Receive emails when 'Lectronic Latitude is updated.
SUBSCRIBE