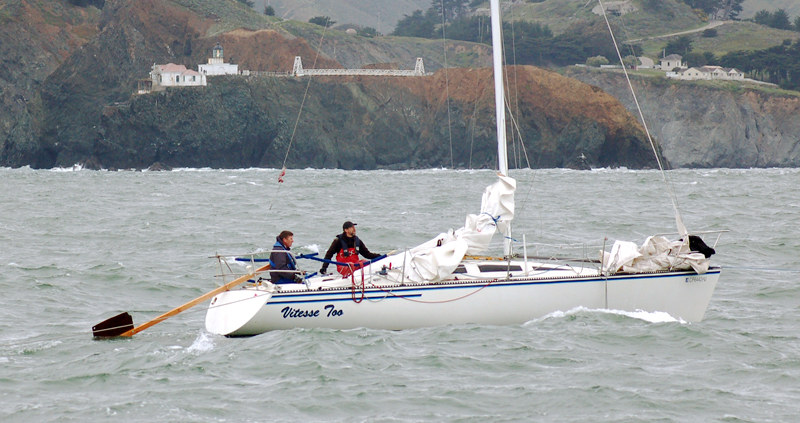 Grant Hayes and crew Bill Schwob were about halfway back to from the Lightship when they heard the dreaded 'bang'. It was a riveted piece holding the rudder shaft together on Hayes's Hobie 33 Vitesse Too. Without control, they suddenly went from doing pretty well in Saturday's Doublehanded Lightship Race to spinning into a roundup with no way to steer out of it.
Although one of the toughest and best-made ultralights out there (watch this Hobie 33 Crash Test YouTube video sometime), H-33 rudders are 'notoriously' weak in this area. Fortunately, Grant and Bill were aware of the potential problem, and were prepared. Or thought they were. Once they wrestled the sails down, they deployed an emergency rudder they carried aboard. It had worked okay during tests in calm water, but proved useless in the bumpy conditions in the ocean. Their inboard engine also proved ineffective, as the prop is offset to one side and the rudder couldn't compensate for it. But the scariest part of the whole adventure wasn't the roundup, or getting the sails down. It was that the wind, waves and windage of the bare-poles boat conspired to start it sailing north at about four knots — right toward the Potato Patch.
They called the Island YC race committee, and then called for assistance. The first tow was provided by the nice folks on the Columbia 30 Tutu, who were not sailing the race, but had been out in the channel practicing. However, despite Grant and Bill deploying a drogue made from a bosun's chair, the slippery Hobie kept surfing up to overtake Tutu. The Coast Guard took over the tow off Point Bonita and got Vitesse Too safely into Horseshoe Cove. "A big thank you to both Tutu and the Coast Guard," says Grant. "They both did a terrific job."
Happily, there was no 'collateral' damage to the boat, sails or crew. Even the rudder and lower shaft stayed attached and were unharmed. Hayes hopes to have the steering repaired in time for the SSS Corinthian Race on April 11.
Receive emails when 'Lectronic Latitude is updated.
SUBSCRIBE