Nightmare With a Happy Ending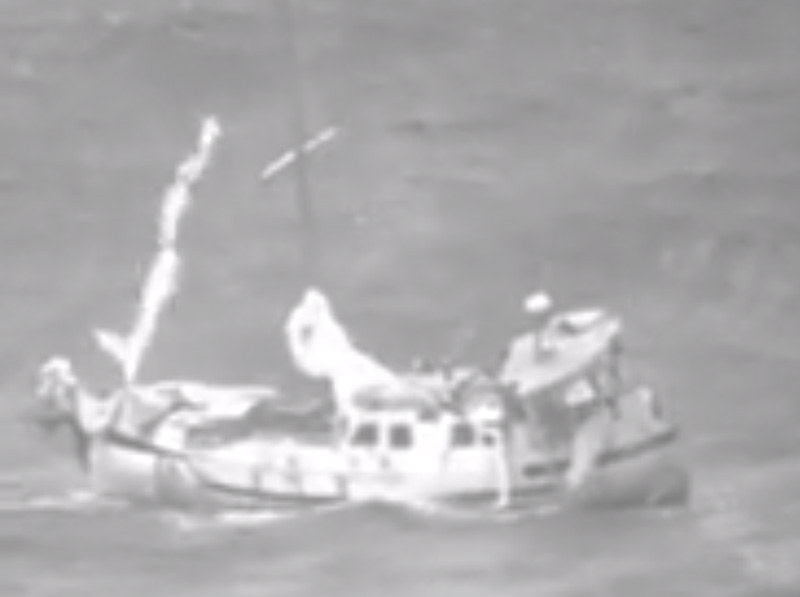 We haven't had a chance to speak directly with captain Ben Neely, 61, his son Lee, 22, or crewman Mike Vanway, also 22, but we're sure they must be elated beyond description to have been rescued from their Stockton-based double-ender Walkabout Monday, after spending 24 hours in the roiling cauldron of Hurricane Julio, north of the Hawaiian islands.
As the skipper explained in an interview with Honolulu's KITV, the three men had been aware of the approaching Category Two storm, and had tried to slow their progress toward its path, or sail away from it, but to no avail. "We were being drawn along the storm," said Nealy. "The storm was passing, and it was also sucking us with it, so we weren't getting out of it nearly as quick as I had hoped… We finally just ended up in front of it." At 7:15 Sunday morning, they put out a mayday signal via their DeLorme tracking unit, and rescue efforts were soon begun.
We have reported on countless offshore rescues but it never ceases to impress us how professional rescue personnel, such as Coast Guardsmen and PJs, will selflessly put their own lives in great danger while coming to the aid of mariners in peril. In this case, as reported Monday, a hurricane-hunter aircraft, Teal 76, flew through hurricane winds of 100 knots in order to make VHF contact with the 42-footer, which was taking on water after a hatch was blown off. Next, a succession of two Coast Guard C-130s continued recon of Walkabout, flying close to the water to avoid being sucked into its deadly winds. The second stayed on station until the 661-ft Matson container ship Manukai arrived Sunday night to rescue the three battered sailors. After several failed attempts, they were eventually successful in rescuing them — unharmed — early Monday morning.
courtesy US Coast Guard
"We arrived on scene; the situation was dire," said 1st Capt. John Bloomingdale. But winds had subsided substantially since the height of the storm the previous day, and seas were no longer the 30-ft-high monsters that had previously tossed Walkabout around like a bathtub toy. According to KITV, the massive ship's skipper was able to maneuver close enough to the sailboat so that his crew could drop a tow line, pull the dismasted sloop alongside, and retrieve the Stockton sailors via a boarding ladder. A pretty slick trick indeed.
Receive emails when 'Lectronic Latitude is updated.
SUBSCRIBE