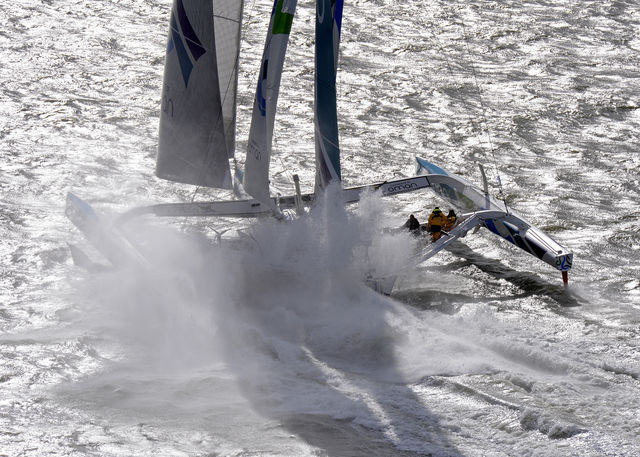 With all of the pre-race hype about incoming hurricanes, potential course reversals and broken course records, it would have been easy for this year's Sevenstar Round Britain and Ireland Race to disappoint. Fortunately, nothing could be further from the truth. With the downgraded Hurricane Bertha's eastward progression moving slower than predicted, race organizers opted to delay the start by 21 hours in addition to confirming that the course would be reversed as it was in 2010, to run counterclockwise around the British Isles.
The 28 competing yachts had no time to settle into the marathon 1,802-mile ocean sprint, as their crews were sending it downwind in 30 knots of breeze from the get-go. The fleet's scratch boat and sole multihull, Musandam-Oman Sail, set an astonishing pace out of the gate, and the Omani MOD70 is currently routed to complete the course in around three days. This would be just a couple of precious hours ahead of Banque Populaire V's 2011 reference time of 3d, 3h and 49m. If skipper Sidney Gavignet and his half-Anglo/half-Omani crew can hold on to set a new course record, the achievement will be made even more impressive by the fact that BP V was twice as long as the 70-ft Musandam-Oman Sail and left on a specific weather window, not on an organized race start.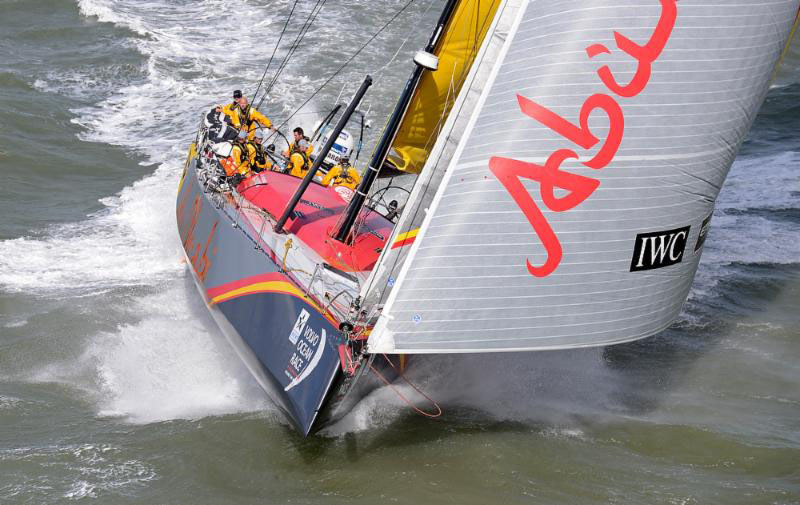 Behind the blazing tri, a half-dozen Volvo boats are settling into position on the race course in a clearly defined A fleet and B fleet. Abu Dhabi Ocean Racing's Volvo 65 Azzam has opened up a 30-mile lead over the Spanish Team Campos with the Chinese entry Team Dongfeng a further 10 miles back. The American/Turkish youth entry Team Alvimedica and the all-female Team SCA have fallen off the pace and are battling closer with the old Russian Volvo 70 than they are their one-design brethren. There's a lot of carnage to report through the fleet, including four out of five Class 40s and the legendary Sir Robin Knox-Johnston retiring. The globetrotting Ker 51 Varuna currently leads IRC overall, with the ex-Russian VO 70 Monster Project putting in a stellar showing in second.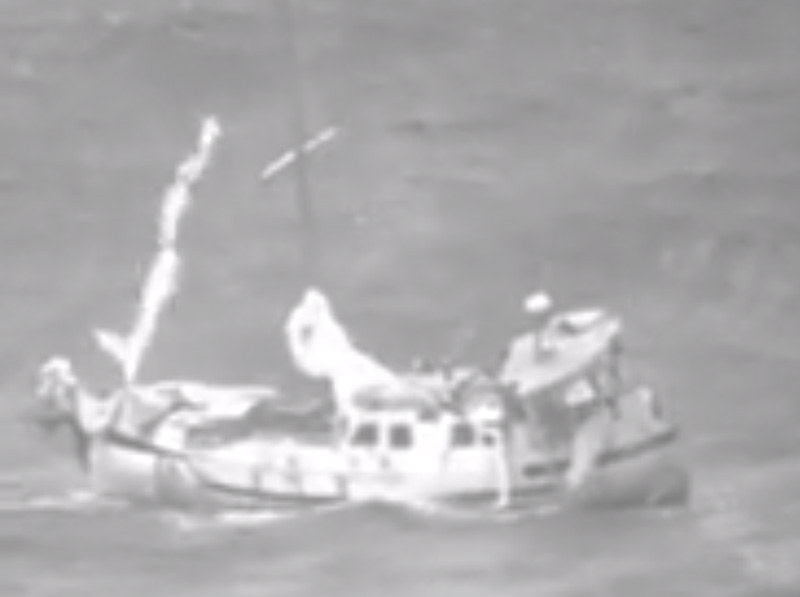 We haven't had a chance to speak directly with captain Ben Neely, 61, his son Lee, 22, or crewman Mike Vanway, also 22, but we're sure they must be elated beyond description to have been rescued from their Stockton-based double-ender Walkabout Monday, after spending 24 hours in the roiling cauldron of Hurricane Julio, north of the Hawaiian islands.
As the skipper explained in an interview with Honolulu's KITV, the three men had been aware of the approaching Category Two storm, and had tried to slow their progress toward its path, or sail away from it, but to no avail. "We were being drawn along the storm," said Nealy. "The storm was passing, and it was also sucking us with it, so we weren't getting out of it nearly as quick as I had hoped… We finally just ended up in front of it." At 7:15 Sunday morning, they put out a mayday signal via their DeLorme tracking unit, and rescue efforts were soon begun.
We have reported on countless offshore rescues but it never ceases to impress us how professional rescue personnel, such as Coast Guardsmen and PJs, will selflessly put their own lives in great danger while coming to the aid of mariners in peril. In this case, as reported Monday, a hurricane-hunter aircraft, Teal 76, flew through hurricane winds of 100 knots in order to make VHF contact with the 42-footer, which was taking on water after a hatch was blown off. Next, a succession of two Coast Guard C-130s continued recon of Walkabout, flying close to the water to avoid being sucked into its deadly winds. The second stayed on station until the 661-ft Matson container ship Manukai arrived Sunday night to rescue the three battered sailors. After several failed attempts, they were eventually successful in rescuing them — unharmed — early Monday morning.
courtesy US Coast Guard
"We arrived on scene; the situation was dire," said 1st Capt. John Bloomingdale. But winds had subsided substantially since the height of the storm the previous day, and seas were no longer the 30-ft-high monsters that had previously tossed Walkabout around like a bathtub toy. According to KITV, the massive ship's skipper was able to maneuver close enough to the sailboat so that his crew could drop a tow line, pull the dismasted sloop alongside, and retrieve the Stockton sailors via a boarding ladder. A pretty slick trick indeed.
Receive emails when 'Lectronic Latitude is updated.
SUBSCRIBE