New Storm Threatens in Wake of Rene
"We took a direct hit," reports Joel Stern, who rode out category 2 Cyclone Rene in Tonga earlier this week aboard his San Diego-based Vagabond 47 Paradise Bound. "Rumor has it we had 90 knots steady with gusts to 143 knots. It was a huge storm; at least 600 miles wide. It traveled at about 12 knots and we were in the eye for almost 2 hours."
With his Portuguese water dog, Tender, by his side, Stern spent eight hours on deck motoring into the wind-driven waves.
"When the storm first arrived, the winds were out of the east. After the eye they were out of the north. That was when I had problems." There was plenty of fetch from that direction, causing Paradise Bound and other boats to drag. After sliding 440 yards, the mooring she was on eventually grabbed again, however, and the boat was unharmed.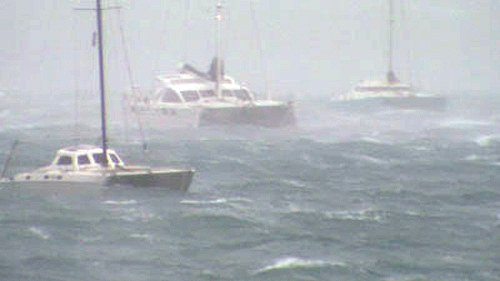 The boat Lighten Up broke loose and hit another vessel, Stern reports. It then dragged to the opposite shore and went aground, but was later pulled off with only minor damage. "Another boat dragged out to the point and then grabbed," he says. "But when the wind reversed, it dragged back again like nothing had happened!" Despite the good luck of these and other sailors, there was, of course, extensive damage ashore.
Today, as cruisers and islanders lick their wounds and make repairs, another ominous threat looms in the distance. Tropical Storm Sarah is now near latitude 10°N and longitude 160°W. "The isobars are really packed close together," notes Stern. "There were 17 isobars showing on the weather maps the other day, while Rene only had around 9 isobars." Stay turned for further updates.
In the meantime, check out Steven Gates' video of Rene, shot from aboard his Brown Searunner 37 tri Manu-O-Ku. (Courtesy Manuoku Productions / www.manuoku.com)
Receive emails when 'Lectronic Latitude is updated.
SUBSCRIBE