New Battle over Largest Sailing Yacht
A few years ago there was a hotly argued debate over which was the largest privately owned sailing yacht in the world. The contenders were the 289-ft Maltese Falcon, owned by Tom Perkins of Belvedere; the 292-ft Athena, owned by Jim Clark of Silicon Valley; and the 310-ft Eos, owned by Barry Diller and Diane von Furstenburg of New Yawk.
While Eos was certainly the longest, there is a good argument that Falcon, the shortest of the three, was actually the largest. That argument was presented in Wikipedia: "According to the San Francisco Bay Area sailing magazine Latitude 38, the Eos is longer overall than her nearest rival, the Maltese Falcon. However, much of the length of Eos is in the bowsprit, and although she is slightly beamier than the Falcon, the Maltese Falcon is 14 feet longer on deck and over 20 feet longer at the waterline.
"Which one is bigger? Well, it depends on how you measure it. If the bowsprit counts (and it usually does), then the Eos wins," opines the YachtPals website.
"However Latitude 38 begs to differ. They 'consulted with sailing experts from around the world at the Le Select Bar here in St. Barth,' who explained that the length at the waterline and length on deck are 'the real measure of size,' making Maltese Falcon the largest sailing yacht."
However, the argument of the big three mentioned above became moot when Andrey Melnichenko launched his 465-ft — no kidding! — yacht a few months ago. Some observers, the Wanderer included, argued that A should be disqualified from any consideration based on the fact that she is as hideous-looking as his previous boat, the 300-ft motoryacht (also named) A, was beautiful and innovative.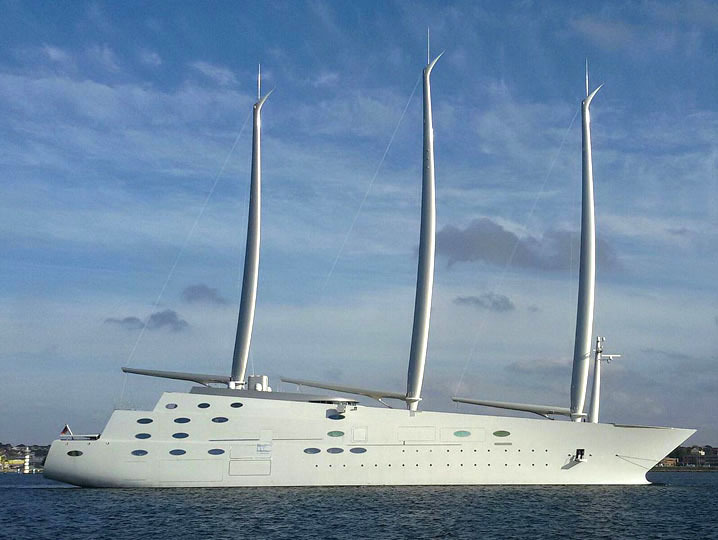 But with the recent launch of Oceanco's 347-ft Black Pearl, the argument against A has gotten more traction. The reason is that when A was launched, she was self-described as being "sail assisted," not as a sailboat. On the other hand, Black Pearl, like Maltese Falcon, is equipped with the unique Dyna-Rig on which Tom Perkins gambled about $10 million developing, and the Pearl will really be able to sail. Plus, she's gorgeous.
So does A qualify or is Black Pearl the largest? We'll be swinging by the Le Select this afternoon and let you know the official decision. But we'd like to hear your opinion, too.
Receive emails when 'Lectronic Latitude is updated.
SUBSCRIBE