'Namaste Klay' on the Bay: The Secret to the Warriors' Winning Ways
After the Golden State Warriors defeated the Boston Celtics in Game 4 of the NBA Finals one week ago, the Dubs' all-star shooting guard Klay Thompson took a splash in San Francisco Bay, somewhere in Marin, and posted this photo on his Instagram: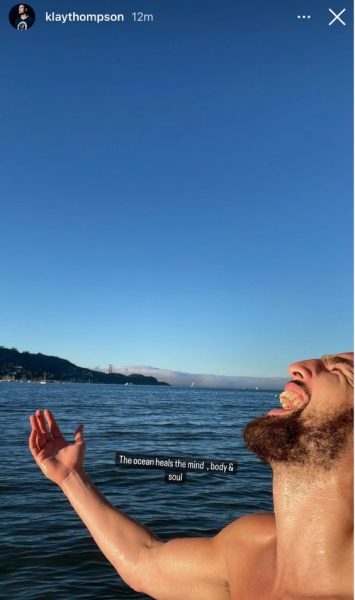 After the Warriors' Game 5 win over the Celtics on Monday, a reporter asked Thompson about his social-media post. Klay seemed delighted with the query.
"Man, that's a great question. It doesn't matter what time of year it is — I make it a point to jump in the ocean. I just think the ocean has healing properties that a pool might not have, or a cool tub. To be immersed in nature like that, it really makes me happy. Your whole body feels great. You just feel a little closer to God when you look up at the beautiful skies. I'm an Aquarius, so I've loved the water my whole life."
Last night, the Golden State Warriors beat the Celtics to become NBA champs again — it's their fourth trip to the mountaintop in the last eight years.
After missing more than two years with a torn ACL, which was followed by a torn Achilles tendon, Klay Thompson made his triumphant return to the Warriors' lineup on January 9 — known as 'Klay Day'. I can think of few times in sports when there's been such excitement and celebration simply over a player's return to regular-season play.
During his long, arduous rehab, Thompson bought a motorboat — the Axopar 37, which may or may not be named Splash Express or Nordic Knife — and could be seen zooming around the Bay, and generally spending time in and around the water. Thompson said his boat was a key part of managing his mental state through long, monotonous days of grueling rehabilitation. This time last year, Thompson said that he could barely jog. After making five straight Finals, the Warriors were the worst team in basketball two years ago. Last year, they just missed the playoffs. The entire team has been on the mend, and returned to form.
"Perhaps no Golden State Warrior has ever appreciated living in the Bay Area quite as much as Klay Thompson," wrote SFGATE, which also coined the moniker "Namaste Klay" a few years ago. Apparently, Thompson listens to nature sounds and classical music as part of his pregame meditation.
Before last night's game in Boston, another reporter followed up on the dip-in-the-drink thread: "You went into the ocean before Game 5. Not sure if you have done the same, here, for Game 6?"
Thompson answered, "I have not, but I know there's a lot of beautiful waters around these parts, so I'm not ruling it out." (After being the punch line in a presidential debate in the late 1980s, the water quality at beaches around Boston Harbor has improved.)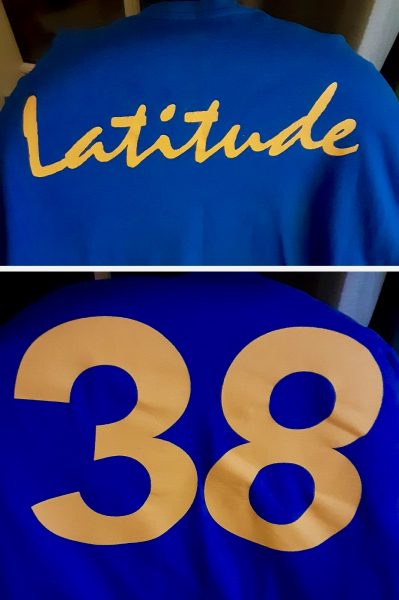 I was at Point Isabel, my favorite spot to windsurf in the Bay, early this week, chatting with one of the regular sailors (windsurfer/wingfoiler) about the Warriors. These conversations among fans and non-fans alike are common when the local team is making a run. The sailor asked me if I'd seen Klay's post about swimming in the Bay. I had. The sailor said something like: "He gets it — he gets what we do and why we're always in the water."
Serious, random question (please comment below): Are there similarities between basketball and sailing? Is it ridiculous to try to draw comparisons? I'm not a racer, so I can't speak to the thrill of competition and victory, the excitement of beating someone, and the agony of losing.
Because I've been enjoying the Warriors so much this season, I bought a basketball. I've been playing, solo — very poorly at first, and now slightly less badly — at courts nestled around the San Rafael Canal and Bay. I was so bad that I watched a few YouTube videos on the super-fundamentals, like how to hold the ball, how to dribble, and how to shoot a free throw, and then spent a few hours on beautiful days practicing. It hasn't been very windsurfing-windy this year, so it's nice to have a backup activity not dependent on the weather that I can do alone.
When there was finally some wind this week, I was trying to pay more attention to the fundamentals, a return to form. Well, that what I wanted it to feel like, anyway. It felt good to get reps in, to practice, instead of just going sailing.
But I was just going sailing, too.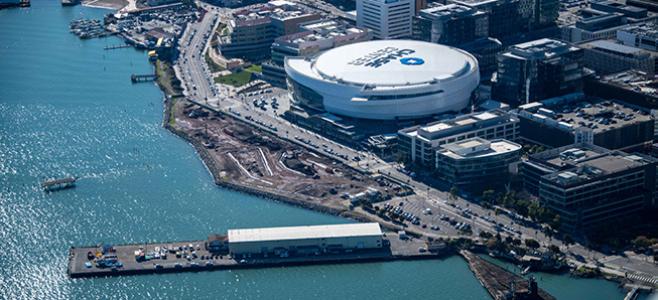 Good friends of Latitude Mitch Perkins and Jim Tull were out on the Bay a few weeks ago, before the NBA Finals began, when they stopped  somewhere in Marin. At the dock was Klay Thompson.
"Hey Klay, thanks for the win," Mitch said, referring to the Warriors' Western Conference Finals victory against the Dallas Mavericks in late May.
"Thanks," Thompson responded. "Four more and we'll have a parade."
Who's up for having a parade on the water?
Receive emails when 'Lectronic Latitude is updated.
SUBSCRIBE