Moonshine Wins Lat 38 Performance Trophy
Moonshine, the Dog Patch 26 sailed by Dylan Benjamin and Rufus Sjoberg, has convincingly won the Latitude 38 Performance Trophy for the best division finish in the 2012 Pacific Cup. Moonshine has been described as "a Moore 24 on steroids," and if Dylan and Rufus were not also on steroids, they can keep the pedal down for two weeks as if they were. The "all squalls, all the time" format for this year's Pac Cup was a perfect match for their gonzo racing style.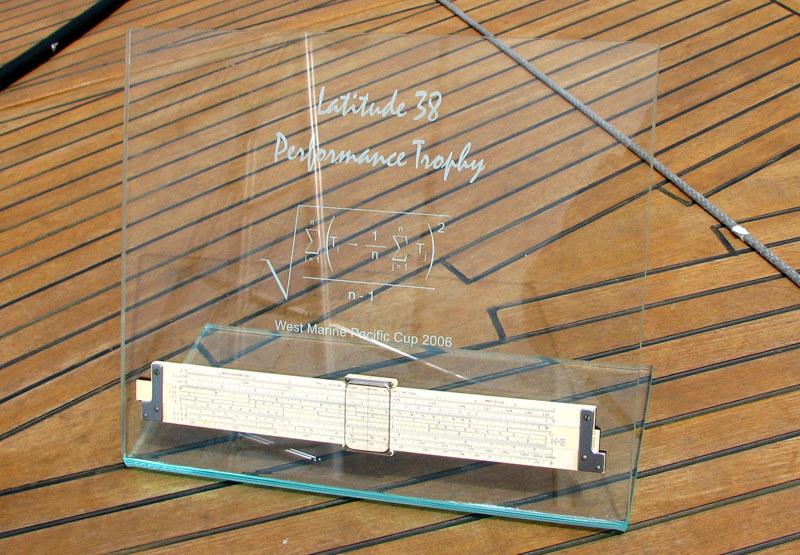 The Performance Trophy is a kind of alternative first place overall prize. As we all know, the problem with using straight corrected times to get a first overall is that different divisions start on different days and find very different weather conditions. This year, the doublehanders and crewed divisions A and B, starting on Monday and Tuesday, encountered a day or two of calm before the northerlies returned. Wednesday's start was a little better, and the big class starting on Thursday found the usual gradient wind right outside the gate. So naturally, overall standings put the div. E starters in the top spots.
To level this difference, the Performance Trophy compares the margin of victory within the division to the division average or median, with an adjustment for the distribution of corrected times within the division to account for the variable level of competition. The assumption is that a tough division will have more closely-bunched times, and an easy division will show a much wider spread.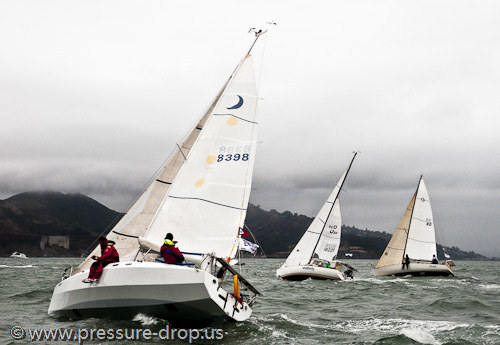 Moonshine won the Performance Trophy handily this year with an impressive 1.7 day margin over the Doublehanded 1 division median finish time. This was a particularly gratifying result for the RC, because in 2010 Dylan lost it by a small margin to Horizon in the big class, and after much back-and-forth involving the theory of "robust statistics" they convinced the Committee that "median absolute variation" would be a better method for assessing the division competitiveness than standard deviation with the trailing outliers arbitrarily dropped from the calculation.
Anyway, this year they won it clean, by either method of calculation, and even though the Pacific Cup itself still goes to Swazik, the Swan 45 that won in Division E, Moonshine can rightly claim the geeky version of overall first place bragging rights.
Receive emails when 'Lectronic Latitude is updated.
SUBSCRIBE