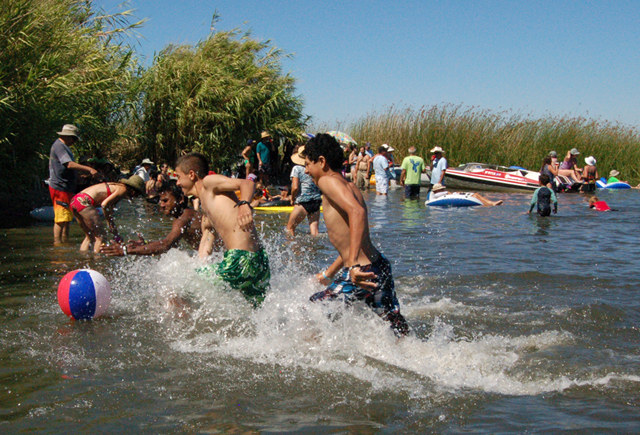 Some wise sage once said "All good things must come to an end," and Friday was the end to 'Fab 4' edition of the Delta Doo Dah, a weeklong rally from San Francisco Bay to the Sacramento-San Joaquin Delta. Everyone at the final Hooplah Party, hosted by Devery Stockon's fabulous team at Owl Harbor Marina, agreed that the event lived up to its nickname — and not just those who won Beatles-themed prizes.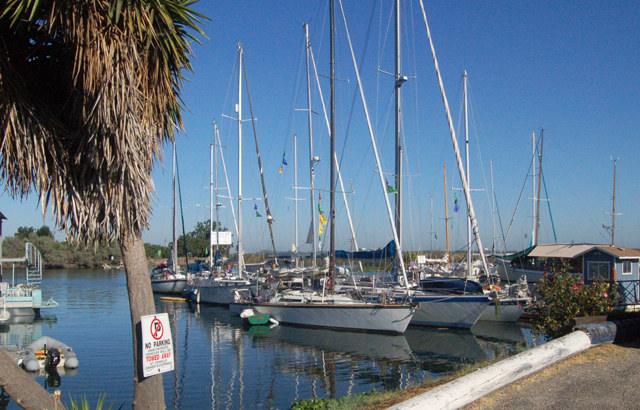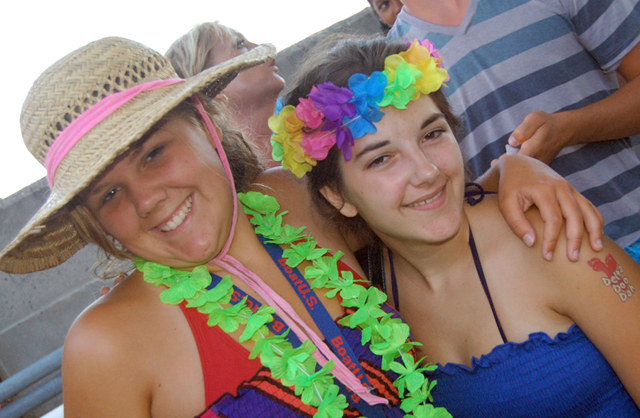 After a mid-week stop at King Island Resort, the fleet dispersed for two free days. More than half the boats made their way to Potato Slough, while a good-sized group checked out Mildred Island and more headed to Walnut Grove. The latter two groups reported having great fun — and being treated to the Delta's never-ending generosity, as evidenced by the story Eric and Brian Jones on the Glastron Spirit 28 Sizzle told of a Walnut Grove bartender giving them rides to various drinking establishments during their stay.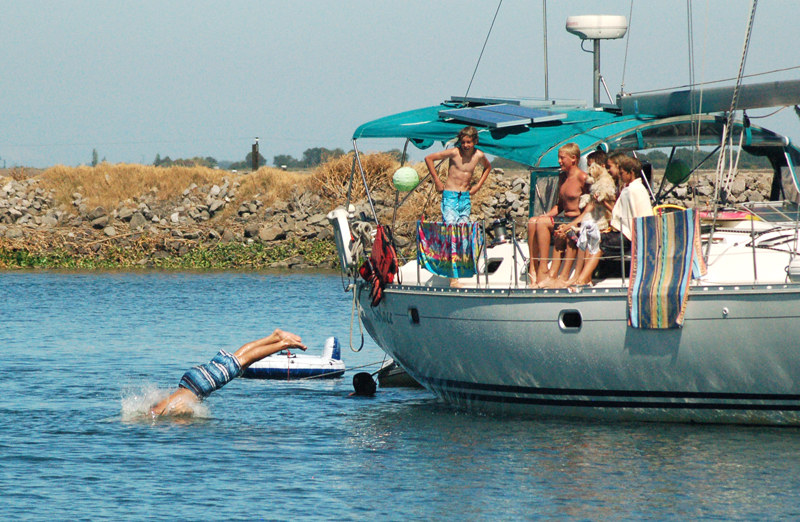 Those in Potato Slough tolerated the hot days by staying cool in the water, despite a prolific algae bloom. On Thursday evening, the tender to the Doo Dah's mothership, this writer's Wauquiez Centurion 47 Gazelle, anchored out and invited everyone to raft up their dinghies for a little sunset nosh-up/happy hour party. Mike and Lorianna Kastrop on the Catalina 30 Goose shared some song books and the good times rolled until the full moon rose over the levee and everyone headed for home.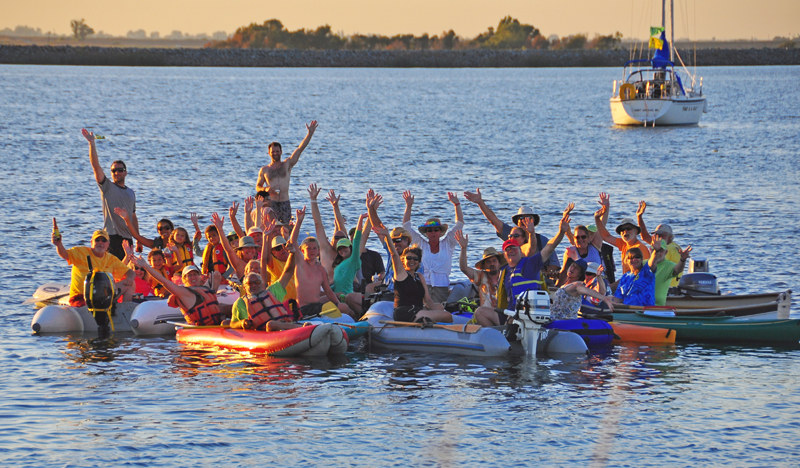 While a few entries — namely, my husband — grumbled about wanting one more free day, no one was about to miss the killer party Owl Harbor had planned for the fleet. Dubbed a "N'Owlins" themed event, anyone who didn't dress for mardi gras had their choice of masks and beads that were scattered around the tables. A big fat dinner of barbecued ribs and dirty rice gave everyone the energy to dance up a storm to Big Cat & the Hipnotics.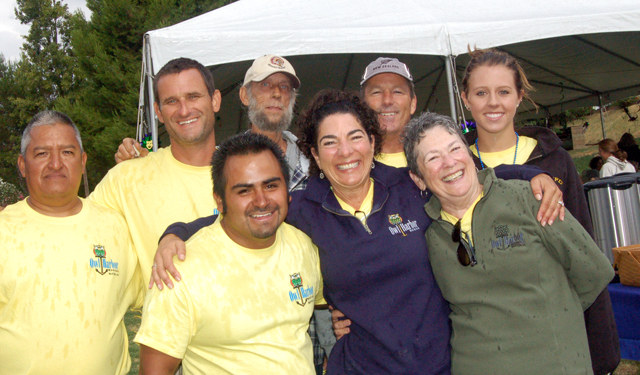 And apparently they really did dance up a storm because at Saturday morning's complimentary pancake breakfast, thunder rolled and rain started falling, causing everyone who'd decided to stay an extra day to cheer, and those who had to head back to the Bay to second-guess their decision. In the end, the weather cleared and much of the fleet left the Delta, singing its praises and trying to bribe the Doodettes into guaranteeing them a spot in next year's entry lottery. (Don't worry, they weren't successful!)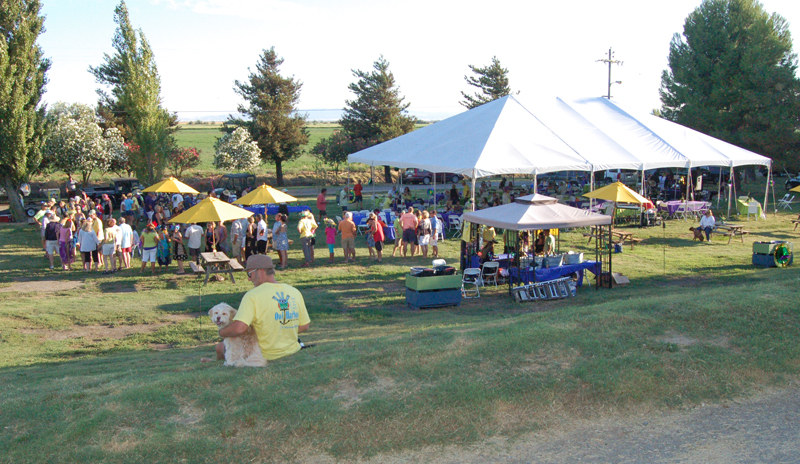 As we told the crowd on Friday night, we hope to have the dates for the fifth annual Delta Doo Dah set by the end of the year, so keep an eye on 'Lectronic Latitude for an official announcement, and expect a full report in the September issue of Latitude 38.
Moonshine, the Dog Patch 26 sailed by Dylan Benjamin and Rufus Sjoberg, has convincingly won the Latitude 38 Performance Trophy for the best division finish in the 2012 Pacific Cup. Moonshine has been described as "a Moore 24 on steroids," and if Dylan and Rufus were not also on steroids, they can keep the pedal down for two weeks as if they were. The "all squalls, all the time" format for this year's Pac Cup was a perfect match for their gonzo racing style.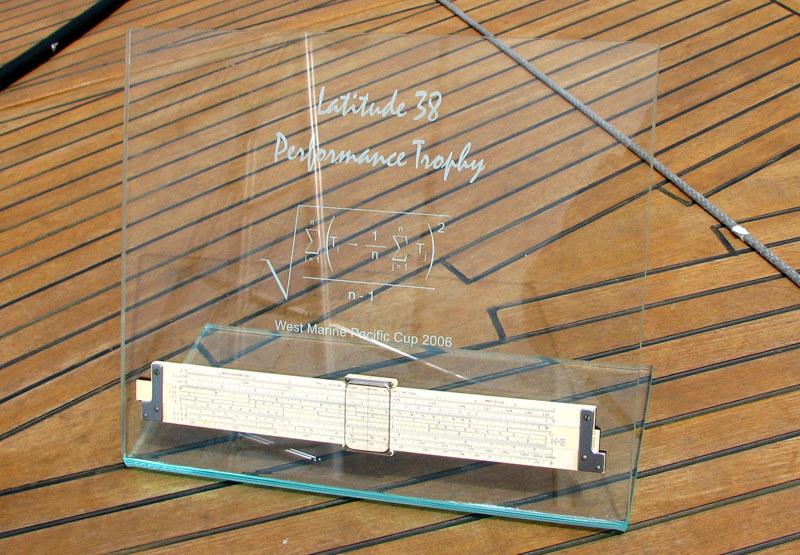 The Performance Trophy is a kind of alternative first place overall prize. As we all know, the problem with using straight corrected times to get a first overall is that different divisions start on different days and find very different weather conditions. This year, the doublehanders and crewed divisions A and B, starting on Monday and Tuesday, encountered a day or two of calm before the northerlies returned. Wednesday's start was a little better, and the big class starting on Thursday found the usual gradient wind right outside the gate. So naturally, overall standings put the div. E starters in the top spots.
To level this difference, the Performance Trophy compares the margin of victory within the division to the division average or median, with an adjustment for the distribution of corrected times within the division to account for the variable level of competition. The assumption is that a tough division will have more closely-bunched times, and an easy division will show a much wider spread.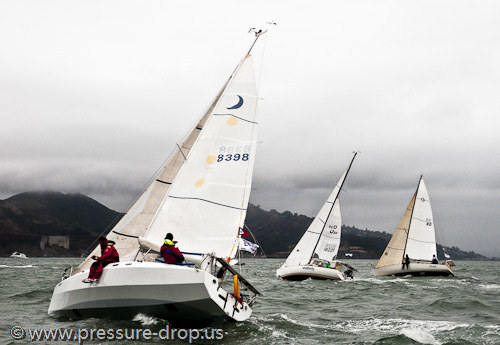 Moonshine won the Performance Trophy handily this year with an impressive 1.7 day margin over the Doublehanded 1 division median finish time. This was a particularly gratifying result for the RC, because in 2010 Dylan lost it by a small margin to Horizon in the big class, and after much back-and-forth involving the theory of "robust statistics" they convinced the Committee that "median absolute variation" would be a better method for assessing the division competitiveness than standard deviation with the trailing outliers arbitrarily dropped from the calculation.
Anyway, this year they won it clean, by either method of calculation, and even though the Pacific Cup itself still goes to Swazik, the Swan 45 that won in Division E, Moonshine can rightly claim the geeky version of overall first place bragging rights.
When we first met Howard and Judy Wang of Ventura back in 2005, they were about to set sail for French Polynesia with the Pacific Puddle Jump fleet. Little did we know then, their trip would evolve into a seven-year circumnavigation.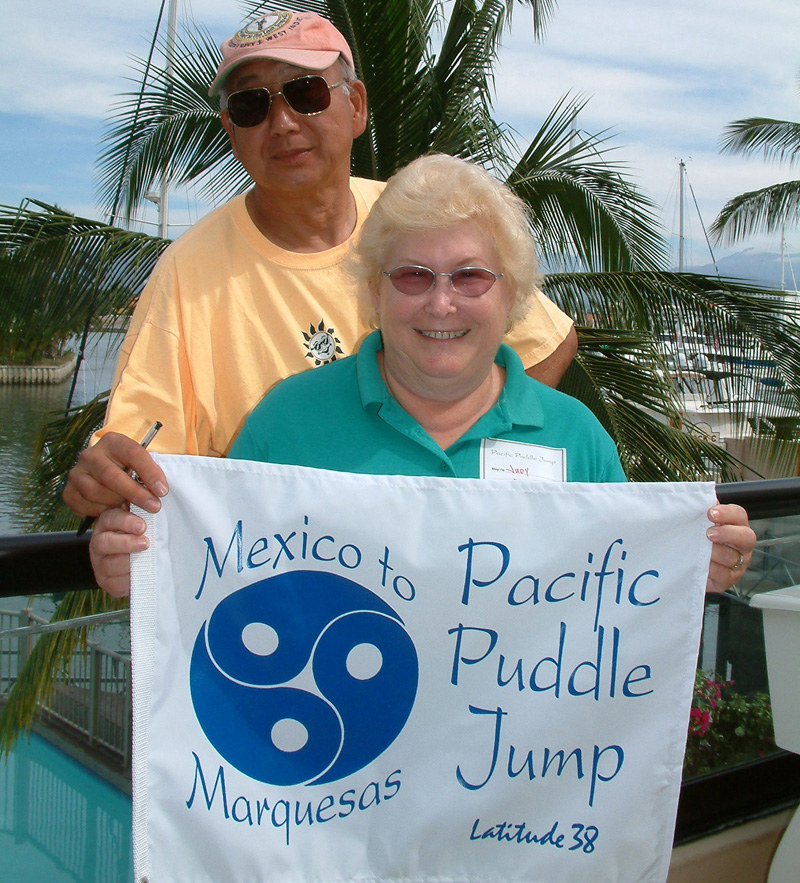 In our '05 profile of the Wangs we noted that Laelia, the 42-ft boat they'd bought two years earlier for the cruise, was one of only two Kennex cats on the West Coast. They noted that one of their inspirations had been reading Tania Aebi's 1989 book Maiden Voyage. "Hey, if this 16-year-old can do it. . ." Howard reasoned, then they could probably do a lap around the planet also.
And so they did. Having recently crossed their tracks, they're now back in San Diego grappling with the challenge of re-entering mainstream life. During their travels they visited more than 40 countries and logged more than 30,000 nautical miles.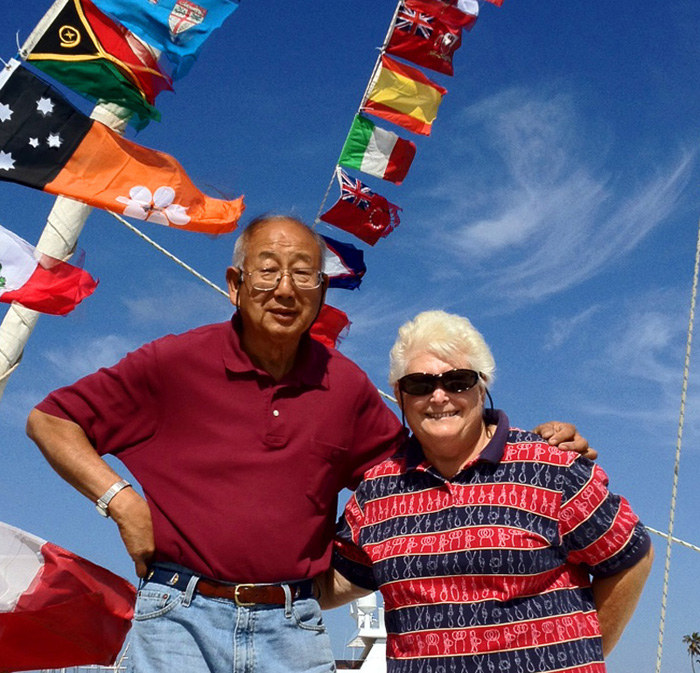 We hope to share many of the highlights of their trip in next month's Changes in Latitudes. A sampling: "The waters of Fiji taught us all we know about sailing in reef waters and Kava ceremonies. Our hearts pound as we recall the volcano in Vanuatu spurting lava as we dashed for non-existent cover. We stayed a year and a half in Australia and drove to every state and territory — and a Billabong. The primitive drum beats and the haunting rhythmic taunting of didgeridoos heard in the anchorage at Darwin evoked wild desires and irrepressible longings." Wow! Nice memories. We can only imagine how bizarre it would be to be daydreaming about dazzling nights in Vanuatu while stuck in bumper-to-bumper traffic on a SoCal freeway. In any case, welcome home Howard and Judy!
Receive emails when 'Lectronic Latitude is updated.
SUBSCRIBE