MOD70 Capsizes in Indian Ocean
The MOD70 Race for Water, while on a global environmental mission, has capsized in the Indian Ocean. On her way from Palau to Chagos Islands on Saturday night, the trimaran flipped 90 miles southeast of the Chagos Archipelago. Thanks to the assistance of the military base in Diego Garcia, the crew was rescued this morning by the Pacific Marlin, a ship from the British Indian Ocean Territory (BIOT). The crews of both the Pacific Marlin and Race for Water are currently attempting to right the trimaran in difficult conditions.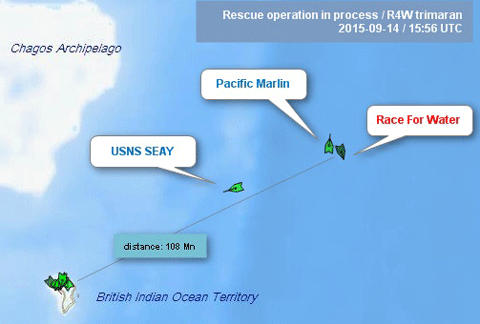 Edward Lees, Commissioner's Representative and Commander, British Forces of Diego Garcia, explained the operation: "A number of UK and US assets were deployed to assist with this complex incident; these included USNS Seay, military personnel, and the M/V Pacific Marlin. The crew is now safe on board the Pacific Marlin and discussions are on-going regarding the rendering of further assistance."
"The conditions have been really difficult for a few days, as often is the case in the Indian Ocean," says Stève Ravussin, the Swiss skipper of the expedition. "Big swell, high waves, and the fact that the crew were tired after the 32,000 miles that we have already traveled were some of the factors that triggered the unfortunate accident. We all agree that the expedition must continue. My priority now is to retrieve the trimaran."
What was a MOD70 trimaran doing in the middle of the Indian Ocean in the first place? The Race for Water Odyssey set off from Bordeaux, France, on March 15, with the goal of reaching the beaches of islands located in the ocean's five vortexes of trash, in order to conduct the first global assessment of plastic pollution in oceans and bring to light its consequences on inhabitants. The plan is to complete this voyage in less than 300 days, thanks to the speed of the MOD70.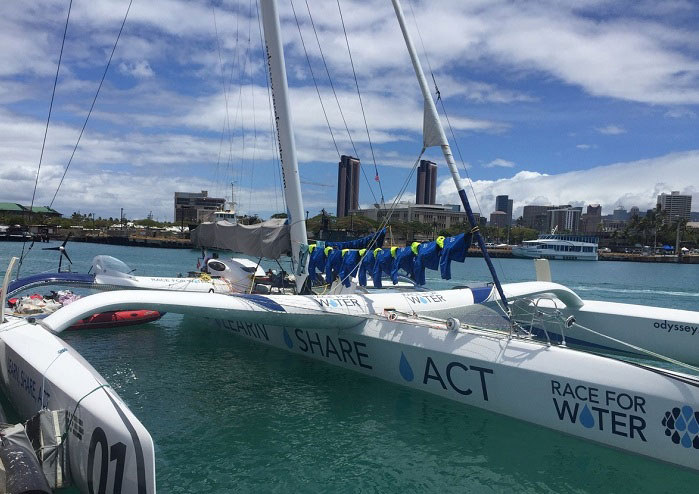 MOD70s are designed for racing; San Francisco Bay's resident MOD70, Tom Siebel's Orion, will be competing later this week at Rolex Big Boat Series, defending last year's division win. Lloyd Thornburg's MOD70 Phaedo3 has been racing in the Caribbean and Atlantic this year, with the RORC Atlantic Race on the schedule for November. Race for Water has been modified — the bows have been reinforced, enhancements have been made for the comfort of the six-man crew, and equipment has been added for the fulfillment of her mission. Learn more and follow the recovery efforts at www.raceforwater.com.
Receive emails when 'Lectronic Latitude is updated.
SUBSCRIBE