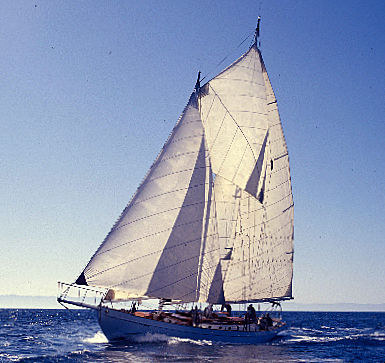 One of the prettiest classic yachts on the West Coast is up for sale, and she comes with an interesting provenance. But the 59-ft Alden schooner Mayan is more than just another cheap Stratocaster with a few rock and roller signatures scrawled on it. Not only is the 1947 boat a beauty in her own right, but Mayan is the boat that has been so much a part of David Crosby's music, life and legend.
"After 40 years of sailing and writing many of my best songs aboard, I have reached the point where I must let her go," says the 68-year-old musician, famous for his work as a founding member of the '60s rock group The Byrds and later Crosby, Stills and Nash. Crosby, who grew up in Los Angeles and learned to sail at age 11, has owned the boat since 1968. Mayan was reportedly the inspiration for many of his songs, including Wooden Ships and Lee Shore. (We'd like to think the Steve Stills-penned Southern Cross, our favorite sailing-themed song ever, was also inspired by her, but CSN wasn't returning our calls to confirm this.)
For many years, Mayan sailed out of Sausalito. She's been berthed in Santa Barbara for at least 20 years now, and has always been well cared for. The boat underwent an extensive refit in Wilmington in 2005-2006 that included replacing all of her planking and 70% of her frames.
Asking price is $1 million. See more about Mayan here.
Receive emails when 'Lectronic Latitude is updated.
SUBSCRIBE