Massive Turnout for AC World Series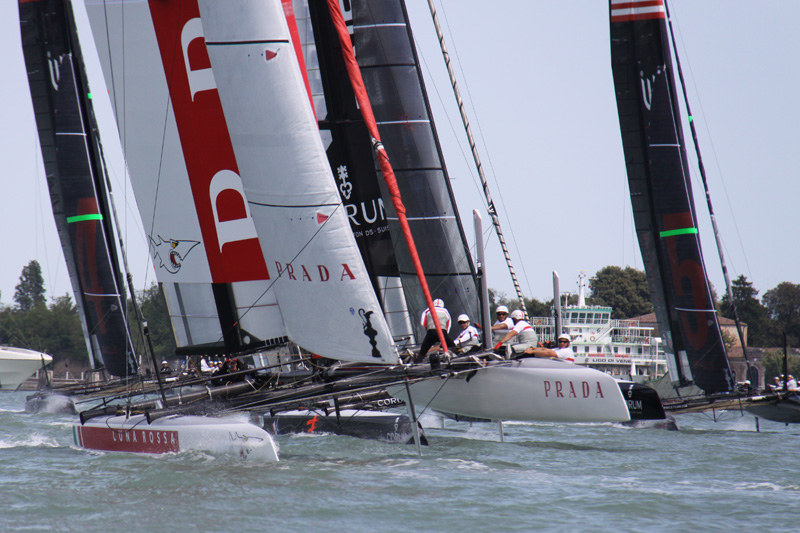 "I'm surprised that the cheers of the Italian fans didn't wake up every sailing fan in San Francisco," says roving reporter Ellen Hoke. She's in Venice, Italy this week to take in the palpable excitement of the AC World Series event there, where each of Italy's Luna Rosa (Prada) teams took a first in today's races.
As you can see above, the spectator turnout has been phenomenal. If you've ever had the good fortune to visit that unique, culturally rich city, you'll appreciate the magic of the venue: Today's races ran between the island of Lido, the basin San Marco and Punta della Dogana, with the finish line placed off St. Mark's Square — the most famous plaza in the centuries-old city. According to AC organizers, "The boundaries were so tight that crews were tacking or jibing every 30 to 90 seconds it seemed at times."
"How I do describe today?" ponders Ellen. "Great weather. Great racing. Great fans — and a great backdrop!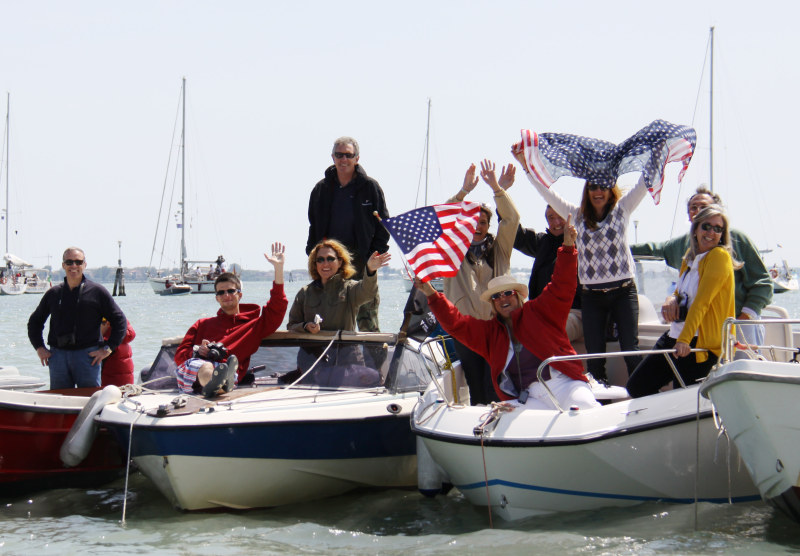 "Watching the sailing here is incredible, mostly because the fans just love it. Each time a Prada boat would go by, the fans would go wild, cheering, sounding horns, anything to make noise for their team. They lined the shore for the entire course — today was the 'inside course' which meant that they were sailing right up to St. Mark's Square. And if Italian fans couldn't find room on the shore, then the they were on the water, as there have been over 2,000 permits issued to spectator boats for this race. If that wasn't enough, there was a floating grand stand where fans were right at the 50-yard line for the racing."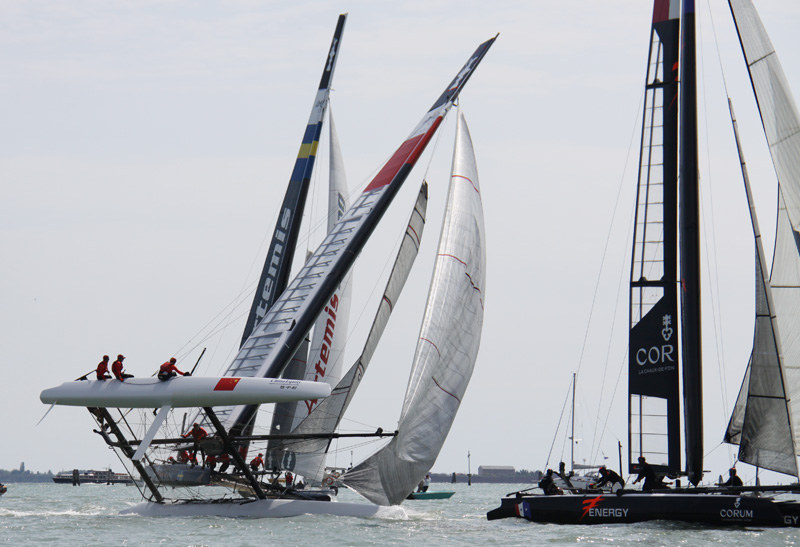 Meanwhile, the AC organization announced a major youth sailing initiative yesterday in both Venice and San Francisco, in cooperation with title sponsor Red Bull: "I think the Red Bull Youth America's Cup is one of the most exciting developments in the America's Cup in a very long time," says Oracle Team USA skipper James Spithill. Having become the AC's youngest winning skipper with his 2010 victory, he's the ideal spokesman for the innovation scheme.
The idea is to create a program that will create a "clear pathway towards competing" in AC events. Beginning this summer, young adults (19-23) can apply to be team members for the Red Bull Youth America's Cup, to be raced aboard AC45s in San Francisco Bay in August/September 2013, coinciding with the 34th America's Cup finals. Stay tuned for more details.
Receive emails when 'Lectronic Latitude is updated.
SUBSCRIBE