Duct tape comes to the rescue of mariners all the time. In this case, the mariners came to the rescue of Duct Tape.
Julia Siudyla and her husband Josh quit their jobs in 2012 to spend a year cruising Mexico aboard their Columbia 36 Sweet Cherri. The young Alameda couple were anchored off La Cruz, on the north shore of Mexico's Banderas Bay, on Saturday when they watched helplessly as the imperiled cruising sloop Duct Tape dragged anchor and fetched up on the rocks. "We witnessed one of the most heart wrenching sights a mariner can endure — another mariner in severe distress," wrote Julia.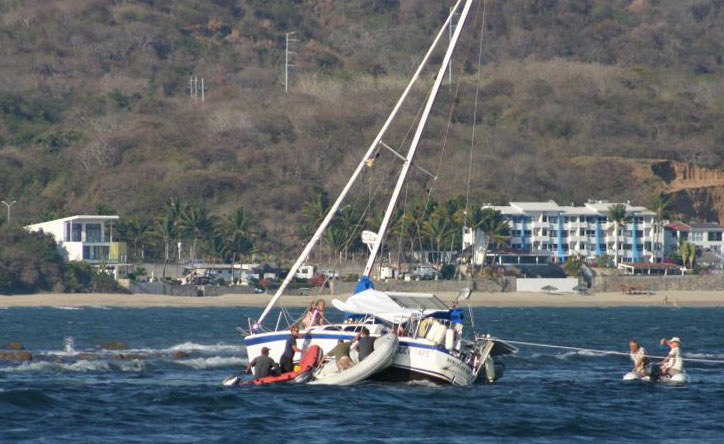 "Our neighbors dragged anchor and ran aground, getting battered against the rocks in the surf. We watched paralyzed in fear for their safety. We listened to their calls for help on the VHF radio. There wasn't much we could do, as we do not have a dinghy with a motor. The boat, Duct Tape, was swept onto the rocks in 15-knot winds on a rising tide. Almost immediately, five dinghies went to try to assist them. The Good Samaritans tried everything to pull them off the rocks.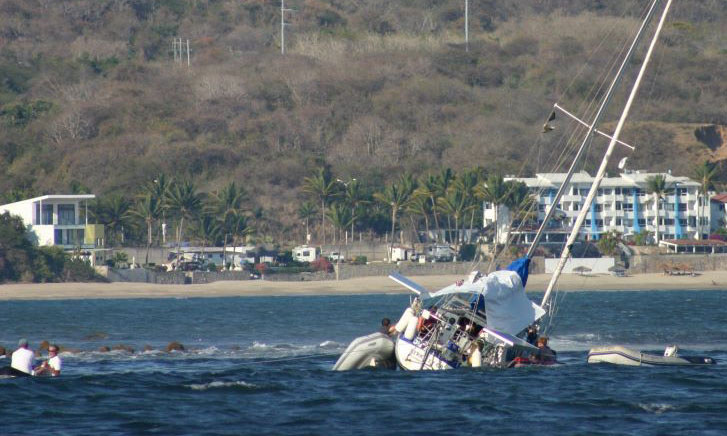 "After about 20-25 minutes of futile attempts by the sailors on the dinghies, several Mexican fishermen in pangas showed up to help. It took the boaters on the pangas and dinghies at least another 20-25 minutes of working together to get the boat freed and towed into the La Cruz Marina. Seeing everyone who could come together to save this boat, to save these people's home, was one of the most spectacular things I have ever witnessed. As they were freed, the anchorage was alive with other boaters in the anchorage sounding their air horns. I was not the only one holding my breath.
"The distress call had gone out: 'Pan pan…pan pan…pan pan…calling all mariners: There is a vessel in distress in the vicinity of La Cruz. All mariners in the vicinity are requested to keep a sharp lookout and assist if possible.' This call was answered today."
Receive emails when 'Lectronic Latitude is updated.
SUBSCRIBE