Marina del Rey 16-Year-Old to Circumnavigate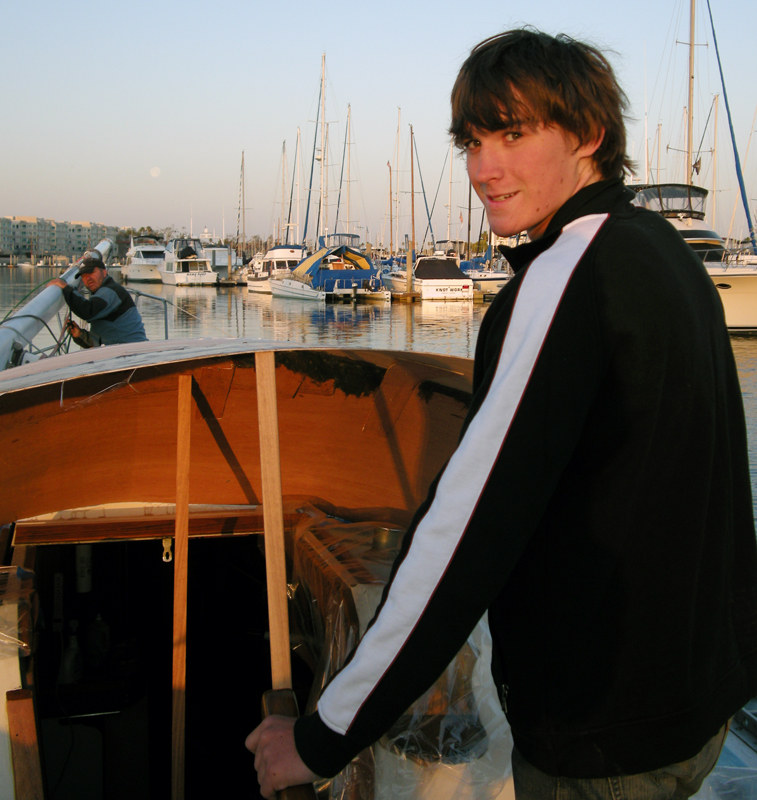 Laurence and Marianne Sunderland of Marina del Rey report that their 16-year-old son Zac, who has 15,000 ocean miles to his credit, will set off next month from Southern California in an attempt to become the youngest person to circumnavigate singlehanded.
According to Sunderlands, the Guiness Book of World Records says that the current record is held by David Dicks, who completed his circumnavigation in '96 at the age of 18 years and 41 days, thereby beating the record set by Brian Caldwell of Honolulu with his Contessa 26 Mai Vavau. Caldwell was 20 when he finished. Alas, the Guinness folks are a little behind the times, as Aussie Jesse Martin completed a circumnavigation at age 18 with the S&S 34 Lionheart. For what it's worth, he did it non-stop.
Zac, whose first home was a Tradewinds 55, has been sailing all his life, including family adventures to Australia, New Zealand, the U.K., and Mexico, the latter being a three-year cruise. The son of a shipwright, Zac is an A student, an outstanding player on the football team, and is working out constantly in preparation for the trip.
PHOTO
An Islander 36 has been acquired for the adventure, and has been undergoing a refit and reinforcements for bluewater sailing. According to the family, "the upgrades include all new heavy-duty running and standing rigging, chainplates, stanchions and lifelines, new keel bolts and a custom fiberglass hard dodger." The next phase will be yard time with all new thru-hulls and seacocks, and the reinforcement of key bulkheads. The final phase will be the installation and coordination of remaining, advanced electrical systems and electronics, alternate power source systems and watermaker.
The boat, initial repairs and reinforcements have cost over $40,000, which seems fairly reasonable. We certainly don't want to rain on anyone's parade, but the family's projection for the rest of the trip seems astronomical — $200,000! Sunderland already has a number of sponsors, but understandably is looking for more. For additional details, email Zac and his family.
The original youthful circumnavigator, of course, was Robin Lee Graham, who famously took off at age 16 aboard Dove, his Gladiator 24. But he took something like five years to finish the trip, doing the last legs aboard an Allied Mistress 33. The youngest female to sail around alone was Tania Aebi, who finished at age 21 aboard her Contessa 26 Varuna. Technically, however, neither Graham nor Aebi, who both fell in love on their trips, did it singlehandedly because they took others on very short legs. Love hits very hard during the teen years, and could be a major obstacle to Sunderland — or any other teenager — making it around alone.
Youngsters crossing oceans seems to be becoming more popular. In the last few years kids in their early teens have crossed the Atlantic singlehanded. Kids mature at very different ages, of course, but in general, we wonder if you think such adventures should be encouraged or discouraged. No matter what, here's to wishing that Zac's voyage is safe, swift and enjoyable!
Receive emails when 'Lectronic Latitude is updated.
SUBSCRIBE