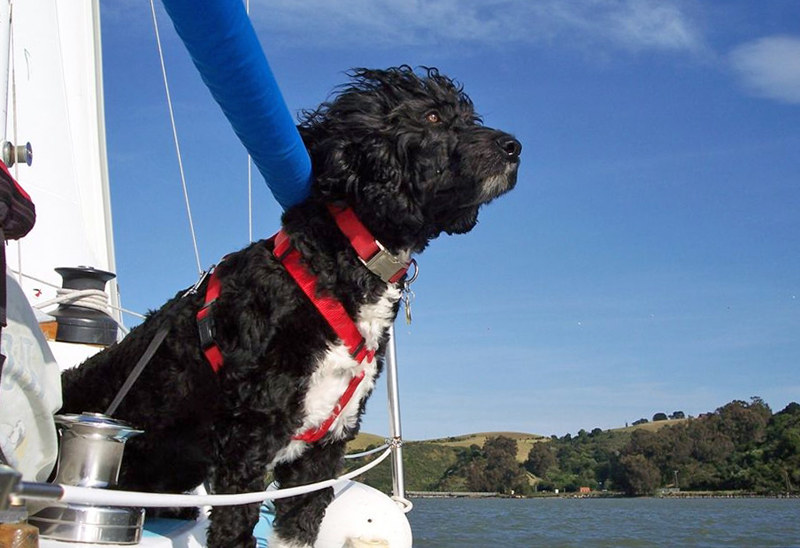 As any experienced racer or daysailor can testify, finding good crew isn't as easy as you'd think. Bribes of beer and sandwiches can be attractive to some crewmembers, but others are more particular. Bryan and Jennifer Saulsbury's crew, for example, prefers Scooby Snacks. But Bryan says that catering to Barley's discriminating tastes is well worth the effort. "Barley sits on the weather side, and is always ready to lend a paw."
Bryan reports that Barley, a two-year-old Portuguese Water Dog, has been sailing aboard the Saulsburys' Cal 2-27 Boris since he was just a pup. In fact, Bryan says that he bought Boris specifically to take Barley sailing. "We belonged to Tradewinds Sailing Club but they have a 'no dogs' policy — which we totally understand — so we bought one of their older fleet boats so Barley could join in the fun. He took to the boat right away!"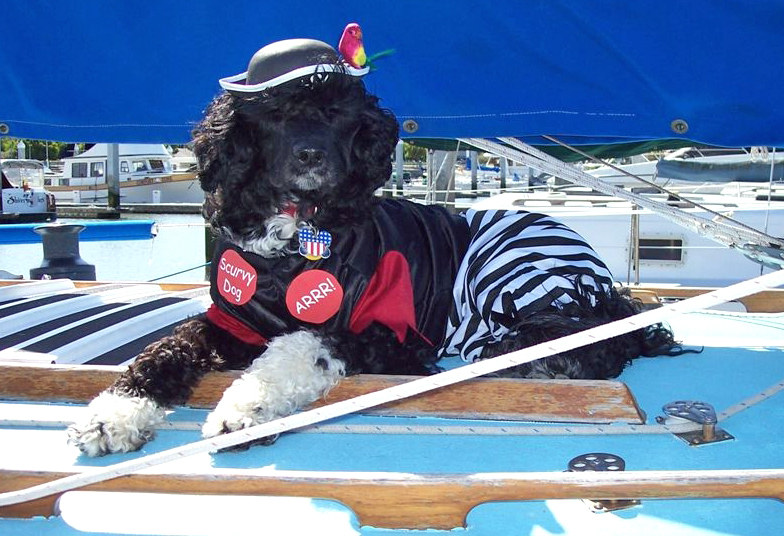 "The first time we took him out on the boat, we were just planning to motor for a short while to see how he did," says Bryan. "Once clear of the marina, Barley went to the bow and struck the Titanic pose! Since salt water runs through his veins, he didn't worry a bit about the noise or motion of the main being raised, and once we shut off the engine, he staked out his spot on the cabin top. He comes with us every time we take the boat out so he's an experienced sailor who knows (and obeys!) the rules of the boat."
Portuguese Water Dogs were traditionally bred as maritime working dogs, trained to retrieve tackle, herd fish into nets, and to act as messengers between ships. But they've also earned their place in history as companions for Portuguese explorers, as well as leaders of the free world (the current First Canine is a Portie named Bo).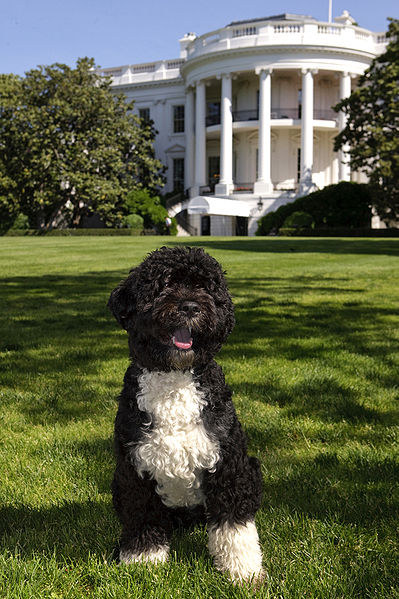 The Saulsburys caution that Porties are not the breed for everyone. "They're extremely intelligent and very active," says Bryan. "They need to be kept busy physically and mentally, or they'll invent their own forms of entertainment. Regardless, Barley's a true joy, and we couldn't ask for a better sailing companion."
Receive emails when 'Lectronic Latitude is updated.
SUBSCRIBE