Man Steals Boat, Gets Toppled by Wave and Rescued by Coast Guard, Then Walks Away
Just as a Coast Guard swimmer jumped into the icy waters off the Columbia River mouth in Oregon on Friday to rescue a man on a floundering motorboat, a set wave loomed. It was actually the Coastie's first-ever rescue, and he was swimming toward a rescuee who had stolen the boat, and — just in case the situation wasn't bizarre enough — who had placed a dead fish at the famed Goonies home in Astoria, Oregon.
Video from a Coast Guard helicopter shows the rescue swimmer approaching the boat as the man climbed over the transom and stood on the swim step, waiting. That's when the wave began to rear, then broke in earnest, sending the motorboat tumbling like a puny toy.
Miraculously, both the rescue swimmer and the man were hoisted aloft by the helicopter and brought safely back to shore. Not long after, the man, who had been wanted by police — and who the Coast Guard didn't know had stolen the boat — walked out of an Astoria hospital, scot-free.
Police had been looking for the man, identified as 35-year-old Canadian Jericho Wolf Labonte, since Wednesday, "when an acquaintance alerted them to a video he had posted on social media of himself leaving the fish at the [Goonies] house and then dancing around the property, said the Astoria Police Chief," the Associated Press reported.
The owner of the motorboat reported the vessel stolen on Friday, though it's not clear if that report came before or after the rescue.
"By the time police saw the Coast Guard's photos and video and realized it was the same person who they said covered over security cameras at the Goonies house and left the dead fish on the porch, the hospital had already released him," the AP said.
The Astoria police chief told the AP he "didn't know what kind of fish it was, but said it had been caught locally, because after the man's video from the Goonies house started circulating, another person called police to report having taken the man out fishing."
"It's been a really odd 48 hours," the police chief said.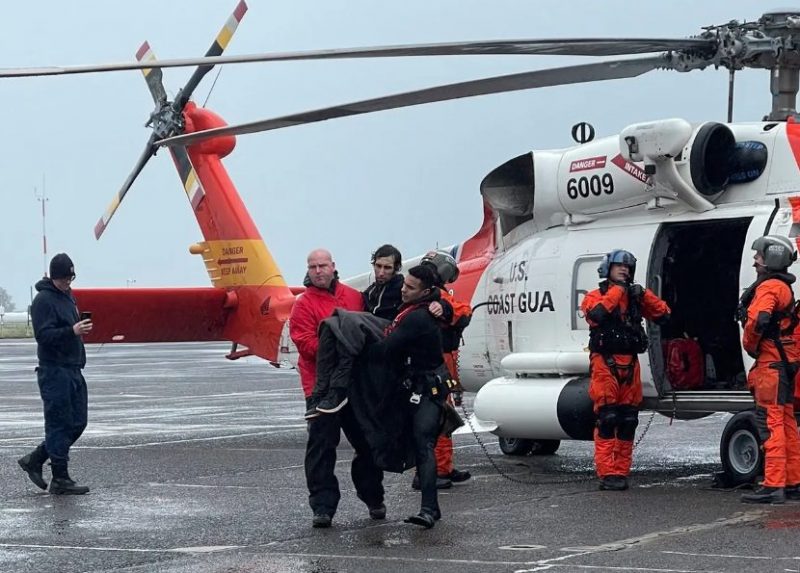 Labonte's escape from the jaws of death was improbable, but his escape from the law was short-lived — he was reportedly taken into custody in Seaside, Oregon (about 17 miles from Astoria), a few hours after he left the hospital, police said in a news release.
This detail — much like the type of fish left at the scene — is probably neither here nor there, but the Goonies house was recently purchased by a Kansas businessman who wants to "restore the abode to its 'Goonies' glory as a haven for fellow fans," according to the L.A. Times.
Receive emails when 'Lectronic Latitude is updated.
SUBSCRIBE