Live Crew Overboard Training
BAMA conducted our 2020 Live Crew Overboard Training event Saturday as scheduled. We had five boats registered. Two dropped out due to weather or illness, but we still had three that showed up.
The weather was truly miserable when I first arrived at the dock in Sausalito in the morning, but the blustery rain band soon moved east and gave way to quite pleasant conditions, with about 10 knots of breeze, filtered clouds, occasional sunshine and a few light showers. With fewer participants, we had lots of time for the event, and boats could make more than one run.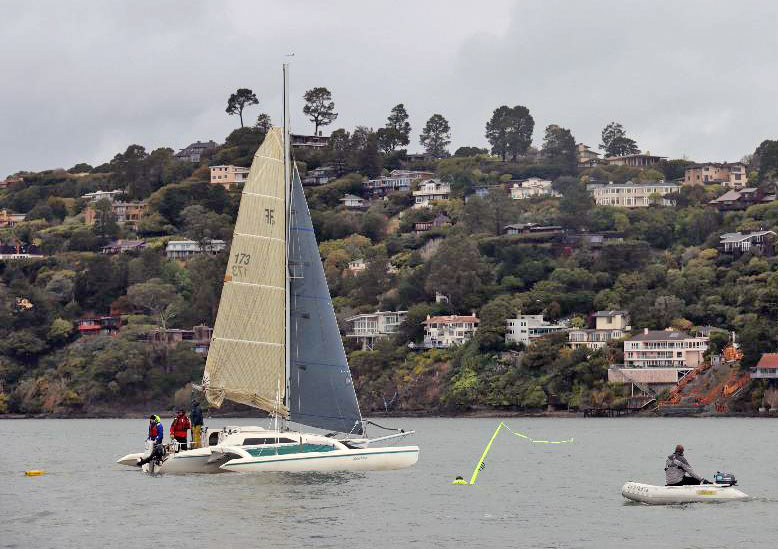 We learned a lot. Here are some of the highs and lows that we observed:
Highs
All three boats successfully recovered their overboard crewmember. Two of the boats attempted a skipper overboard, and the crew got the boats back and recovered their skippers. Good!
With Coast Guard permission and coordination, we tested live activation of an AIS crew overboard beacon. That worked really well, with accurate GPS location transmitted directly to the chartplotters of nearby boats (see picture), providing easy direct navigation to the person in the water.
Favonius (a Dehler 46 monohull with fairly high freeboard) did a very slick and quick recovery of their overboard crewmember by electric winch.
Lows
One Dan Buoy inflatable crew overboard module failed to inflate, and just sank. That Dan Buoy had worked fine during our previous COB training event last fall, and had been professionally recharged and repacked afterwards. And the Dan Buoy is obviously useless if it doesn't inflate. Not good. This skipper will be buying a traditional crew overboard pole instead.
Two boats had trouble with their Lifesling deployments. One had a tangled line, causing the Lifesling to trail very close behind the boat, making it hard to bring the Lifesling to the overboard crewmember. Another did not have the line securely attached to the boat, and the Lifesling came loose and was just drifting in the water.
One life vest failed to inflate. The cartridge was full, but had somehow gotten twisted loose and was not firmly connected, and thus didn't inflate the vest. Everyone, please make sure to check all of your inflatable life vests frequently to see that they are reporting "green"! Fortunately, unlike the Dan Buoy, the life vest was easy to inflate with the manual inflation tube, so that worked as it should have.
Things that go wrong are things that we learn from. Just like with sailing itself, doing well with crew overboard recovery is not just about reading up on it and knowing what to do in theory. It's about training, practicing crew overboard recovery again and again until the kinks have been worked out of the process, and ensuring that all crewmembers know what to do when it actually happens in real life. And it's about observing what gear and what techniques work well for your specific boat, and being prepared to handle situations where some piece of equipment fails to work as it should. That is precisely why we do the live crew overboard training.
Receive emails when 'Lectronic Latitude is updated.
SUBSCRIBE