Let the Racing Begin at the Rolex Big Boat Series
Anticipation is high as the 79 teams registered to race gather at the docks of St. Francis Yacht Club for last-minute preparations before tomorrow's start of the Rolex Big Boat Series. Three one-design classes (Express 37, J/105 and J/88), four ORC divisions, and a stately gathering of classic yachts make for an intense lineup of competitors for this 59th edition.
"Rolex Big Boat Series is a fantastic opportunity for the West Coast sailing community to end the summer sailing season on a high note. There is no better place to do it than on San Francisco Bay," said Beau Vrolyk, StFYC's commodore, and the owner of the classic Alden schooner Mayan. "StFYC is proud to support the high level of competition that this regatta draws, with world-class race management and great parties when we all return to the docks."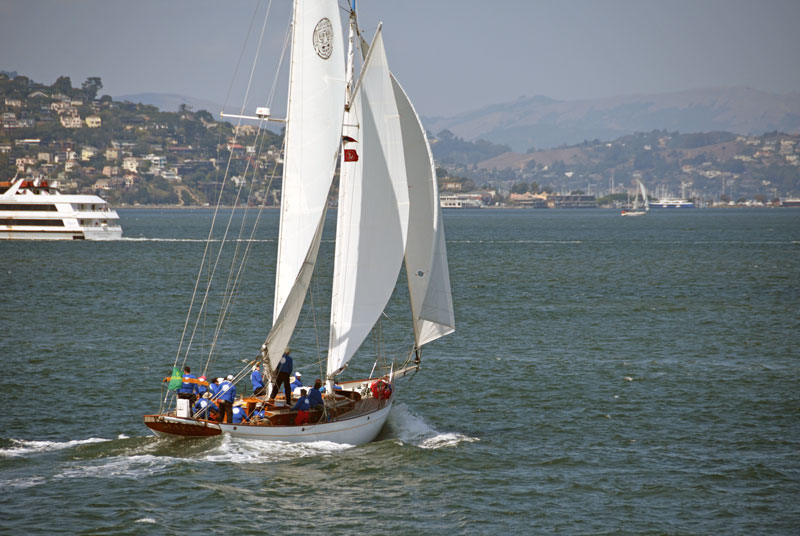 The Divisions
The Express 37s are competing in this regatta for the 33rd time. Eight signed up this year, from as far away as Orange County. The highly competitive J/105 fleet has drawn 31 entries for its 31st RBBS. The class includes seven previous winners, three of whom have won twice: Scott Sellers, Ryan Simmons and Bruce Stone. In the J/88s, Speedwell and Fly are new to the class. The 2022 winner Split Water returns to defend her title. Veterans and newcomers will be racing in the Classics and the ORC fleets. Among the newcomers, Alex Mehran's 57-ft 1941 S&S Gesture will race in the Classics Division. We're planning a profile of Gesture in the October issue of Latitude 38.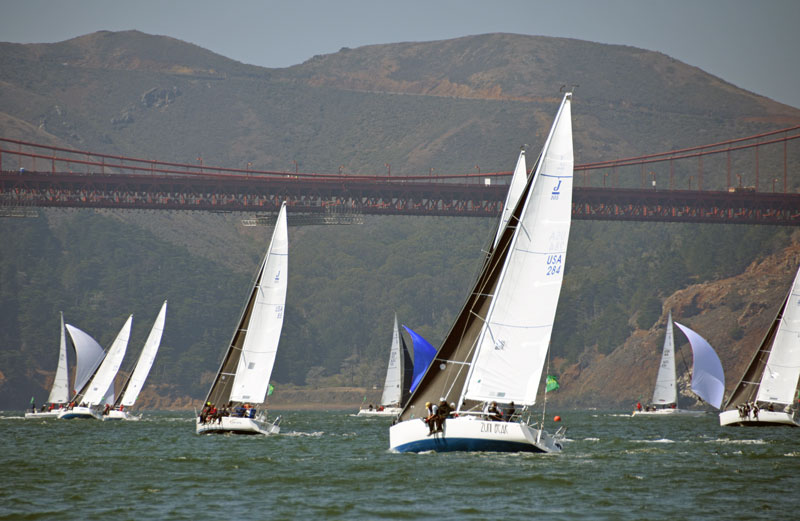 The Return of Octavia
Shepard Kett's Santa Cruz-based Santa Cruz 50 Octavia made her BBS debut in 1984, four years after she was ordered from legendary boat designer Bill Lee. (Bill is also racing this year, again aboard Mayan.) Kett's father sailed Octavia for 10 years before Shep took over in 1990. Designed for fast downwind runs to Hawaii, this SC50 has been optimized for buoy racing, switching to an asymmetrical spinnaker for easier and safer handling. Kett has sailed Octavia in three past Rolex Big Boat Series. He's looking forward to getting back on the Bay this week with a crew of 14, including StFYC's vice commodore, Chris Perkins.
"It's such a great inshore racing venue. It's probably the best," Kett said. "There is a lot of area on the Bay, a lot of variation, and so many different conditions depending on where you are and at what time of day. And, of course, the competition is strong so it's a real test for the boat and for the crew."
The Schedule and Prep
The race committee plans to score seven races for most fleets, with two races per day starting at 11 a.m. for the first three days of racing, followed by a single longer Bay Tour course on Sunday. The Classics will race once per day starting at noon Thursday-Saturday and 11 a.m. on Sunday.
"The preparation leading up to Rolex Big Boat Series is exciting and hard work. We are so grateful to our many volunteers who help make this event happen," said regatta chair Susan Ruhne. The event gathers volunteers and assets from clubs around the Bay. "The reward is so worth it when we see a fleet of almost 80 boats duking it out during four days of world-class racing on the country's best natural sailing amphitheater."
"With 79 boats and nearly 700 sailors, I'm very pleased with the entry numbers, especially in the J/105s and ORC," said StFYC's race director Felix Weidling. "Running three racecourses at the same time requires a lot of talent on the race committee. We're fortunate to have that. There are always challenges with large events like this, and it's great to rely on a strong team."
Briefings
At tonight's competitors' briefing, StFYC will announce which classes will be racing for the six perpetual trophies and two Rolex wristwatches. For the second year, the club will award the Rolex Big Boat Team Trophy to three boats from the same yacht club with the highest cumulative results. To qualify, one boat must race in an ORC class and one in a one-design class. The third can compete in any of the fleets.
Quantum Sails will host Daily Weather Briefings every race day at 7:30 a.m. Everyone can tune in for the forecast from experts at Sailflow Weather and hear local knowledge about San Francisco Bay conditions and currents from Jeff Thorpe of Quantum Sails.
Follow Along
Racing will begin tomorrow, September 14. Follow the action online @bigboatseries on Instagram and Facebook, and see www.rolexbigboatseries.com for all the details. We'll have more here on 'Lectronic Latitude, and look for a feature story in the October issue of Latitude 38.
Receive emails when 'Lectronic Latitude is updated.
SUBSCRIBE