Lending Club 2 a Thrilling Ride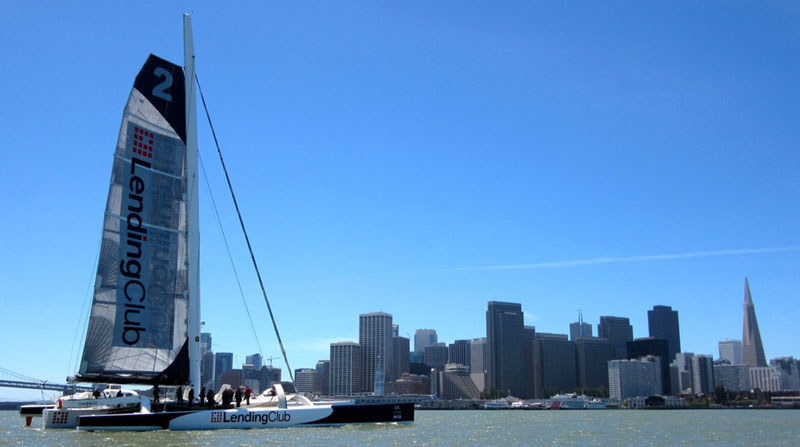 With the America's Cup packing up shop and moving to Bermuda, there's been a distinct lack of big, fast multihulls sailing the Bay on a regular basis. Fortunately for all of us, Lending Club CEO Renaud Leplanche and top American offshore sailor Ryan Breymaier have brought the 105-ft maxi-trimaran Lending Club 2 (ex-Groupama 3, ex-Banque Populaire VII) to San Francisco for five weeks of hospitality sailing to fill the void. Adopting a business model straight out of France, the forward-thinking and generous French-American businessman Leplanche has chartered one of the world's fastest and most famous racing yachts, slapped his company's logo on the sails and gone record breaking for a year. Even better, the team has embarked on an ambitious plan to share the love of sailing and spread the word about the world's largest marketplace that connects borrowers and investors by taking approximately 1,000 Lending Club employees, VIPs, sailing media personnel, and children's groups out for some high-speed sailing on the Bay.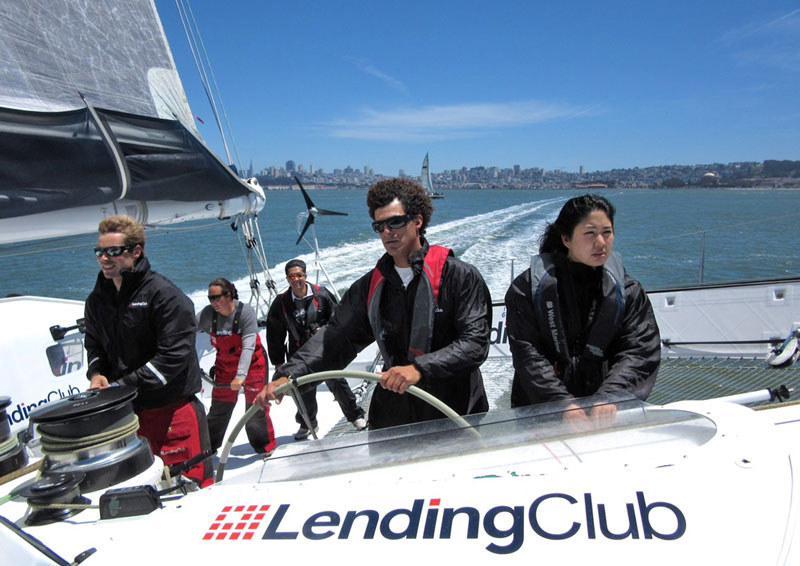 Corporate hospitality sailing is just one small aspect of the program, however, with the main focus being on crushing records. First up was the Cowes-to-Dinard record across the English Channel in which the team broke Brian Thompson and the 110-ft catamaran Maiden II's 2002 record by just 8 minutes after more than 5 hours of sailing. Just three weeks later — after a quick transatlantic delivery — the team absolutely obliterated the late, great Steve Fossett's record from Newport to Bermuda. The record had been some 38 and a half hours before Lending Club 2 sailed the iconic 635-mile course in just 23 hours and 9 minutes at an average speed of 27 knots! After a Newport to San Francisco delivery via the Panama Canal, the team will soon be at it again. During the second week of July, the team will deliver the boat south to Long Beach to make final preparations for their July 18 start in the Transpac race to Honolulu. After barely missing the record on an older turboed and lengthened ORMA 60 Lending Club during the 2013 Transpac, Lending Club 2 has returned to finish the job and finally take down Frenchman Bruno Peyron's nearly ancient record of 5d 9h 18m set nearly twenty years ago on the 86-ft catamaran Explorer.
Thanks for a heck of a ride guys, we at Latitude 38 wish you fair winds, following seas and a record-breaking passage to Honolulu!
Receive emails when 'Lectronic Latitude is updated.
SUBSCRIBE