Legends of Sailing Go at It Today
If you're in the vicinity of the San Francisco Cityfront this afternoon around 2 p.m., on land or sea, you might want to take a moment to witness some legendary sailors doing their thing. St. Francis Yacht Club is hosting the 'Legends of Sailing' in a special invitational event held in the club's fleet of J/22s — the ones with the rubber bumpers.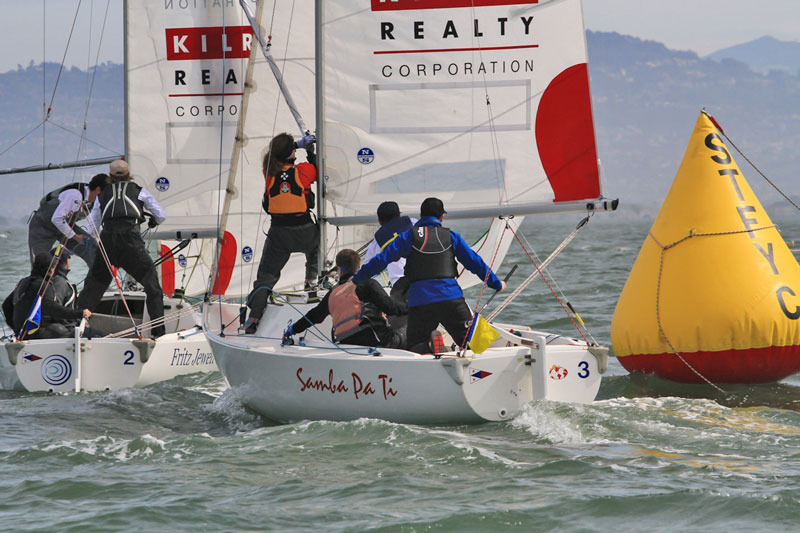 In this case 'legends' have put together teams of skippers and crew, some of whom are already legends themselves and some of whom are probably future legends. Many of the names will be familiar to our readers:
Legend Terri Anderlini's team, the Eliminators, is made up of Craig Healy (skipper), Chris Smith, Seadon Wijsen and Chris Trezzo. Purple.

Legend Paul Heineken's Team Foil is composed of Mike Martin (skipper), Adam Lowry, Joey Pasquali and Johnny Heineken. Heineken green.

John McNeill's Amazon team is all-female: Pam Healy (skipper), Jody McCormack, Betsy Weiler and Elizabeth Little. Hot pink.

Steve Taft's Wankers Away team is made up of Chris Perkins (skipper), Jon Perkins, Phil Perkins and (unknown; what — did he run out of Perkinses?). Yellow.

Jim Cascino's Solid Gold Dancers are Russ Silvestri (skipper), Mario Yovkov, John Collins and 12-year-old Ethan Sargent. Gold, of course.

Doug Holm's Holmboys are Paul Cayard (skipper), Doug Holm, Steve Marsh and Norm Davant. Black.

Cinde Lou Delmas' More Girls are Molly Carapiet (skipper), Molly Vandemoer, Helena Scutt and Juliana Testa. Orange

Sean Svendsen's Cardinal Flame Throwers are Dave Kelly, Tyler Baeder and Kieran Chung, and Svendsen himself is the skipper. Cardinal.

Bruce Munro's Red Hots are Shawn Bennett (skipper), Connor Bennett, Tom Purdy and Dave Gruver. Red, of course.

John Siegel's Flock of Siegels are Caleb Paine (skipper), Michael Menninger, Erica Mattson Siegel and John Siegel. Blue.
There, we've used up our allotment of name-dropping all in one place! The colors help sort out who's who when the game begins.
The current commodore of StFYC, James Kiriakis, chose the legends, and the legends chose their team members. "The thought is that the Legends are like NFL team owners, in charge of fielding a team and managing their play on the field," explained Russ Silvestri. "What happens when you match Knarr sailors against foiling kiteboarders? Or commodores against a chairman of the board? The answer, my friends, will be blowing in the wind at the Legends Regatta."
Receive emails when 'Lectronic Latitude is updated.
SUBSCRIBE