Laura Dekker Set to Finish
Sixteen-year-old Dutch sailor Laura Dekker is currently sailing from South Africa to St. Martin in the Netherland Antilles in the Caribbean on the last leg of a solo circumnavigation aboard her 38-ft Jeanneau Gin Fizz ketch Guppy. She's expected to cross her outboard path on about January 24, at which time she'll become the 'youngest circumnavigator', displacing Jessica Watson of Australia. Unlike Watson, Dekker has made many stops along the way, which is why it will have taken her almost 2.5 times as long for her "dream to come true."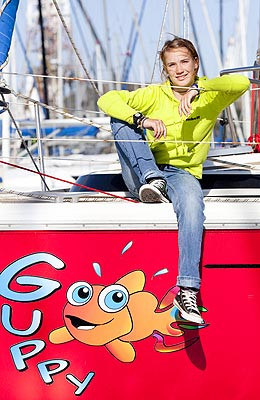 One reader recently wrote in criticizing Latitude's lack of coverage of Dekker's attempt. There's a reason. While we admire Dekker's resolve, courage and skill, and what Watson accomplished, we don't believe in youth-based long-distance sailing records. That's because we don't think mid-teens know enough about themselves, the risks involved in attempting a circumnavigation, or the value of life to come to an informed decision about making such an attempt. Particularly when visions of fame and money can cloud their thinking. As such, we don't go out of our way to encourage or glorify such youth records. For what it's worth, the Guinness Book of Records and the World Speed Sailing Record Council no longer recognize aged-based sailing 'records'.
A Dutch court only allowed Dekker to begin the voyage after she acquired a larger boat, fitted it with decent electronics, and enrolled in a special correspondence school. But that hasn't stopped the hubbub back home, and her father was even threatened with arrest by child protective services after there was a report that Dekker wasn't keeping up with her studies.
All we know is that the perception of the bar for singlehanding around the world will be lowered as soon as Dekker reaches St. Martin because it will be "so easy that even a 16-year-old girl can do it."
Receive emails when 'Lectronic Latitude is updated.
SUBSCRIBE