Latitude 38's August Issue Has Arrived!
Can you believe another month has passed? It feels as if this year is passing very quickly, but in at least one respect that's OK, because it means we get to share another issue of Latitude 38 magazine with you! Here's a preview of what's inside the August issue:
"If it were lush and rich, one could understand the pull, but it is fierce and hostile and sullen. The stone mountains pile up to the sky and there is little fresh water. But we know we must go back if we live, and we don't know why." — John Steinbeck, from The Log from the Sea of Cortez
This is the introduction to Erin Quinn and Roderick Treece's story about sailing aboard their Catalina 22, Minnie.
"The Sea of Cortez first appears glimmering like a mirage from the desert floor abutting the eastern edge of the Sierra. With sailboat Minnie in tow, we made our way south, appreciating the wide shoulders of the new road through San Felipe. Although the highways of Baja California can sometimes be narrow and rough, for trailer sailors willing to make the journey, the experience of sailing the Sea of Cortez, with its hundreds of islands, deserted beaches, abundant wildlife, and challenging sailing, is unforgettable."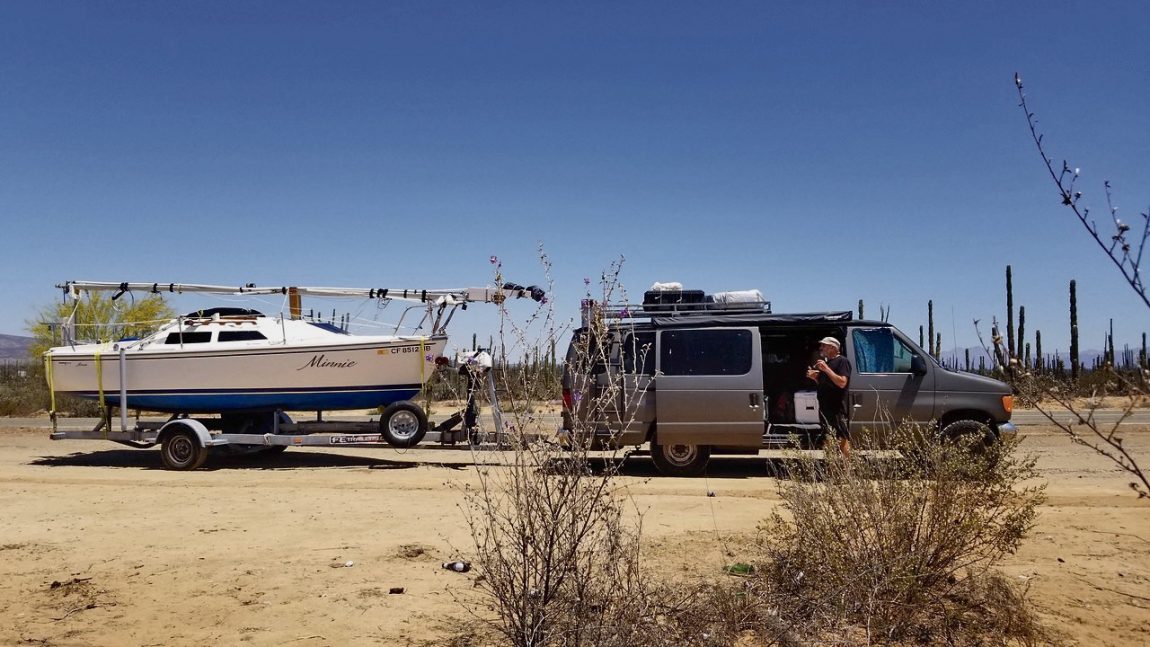 Mark Hilden (affectionately known as Cousin Mark at Morro Bay Yacht Club) and I own Janina. She is a green-hulled, white-bottomed Santa Cruz 27, hull #130. We race in PHRF out of Morro Bay, and trailer to regattas about once a year when our busy lives allow. We have always wanted to do the Delta Ditch Run and this year we were convinced, with the encouragement of Tom Jenkins (Errant Belle, Elliott 770), who has done multiple Ditch Runs in multiple different boats he has owned. We were very fortunate to receive Tom's travel tips and his Navionics route. Among those tips, he stressed that we should stay in the channel in deep water and constantly check our depth gauge. In fact, he said, that was Cardinal Rule #1.
We should have paid more attention to this advice, but we will get to that later.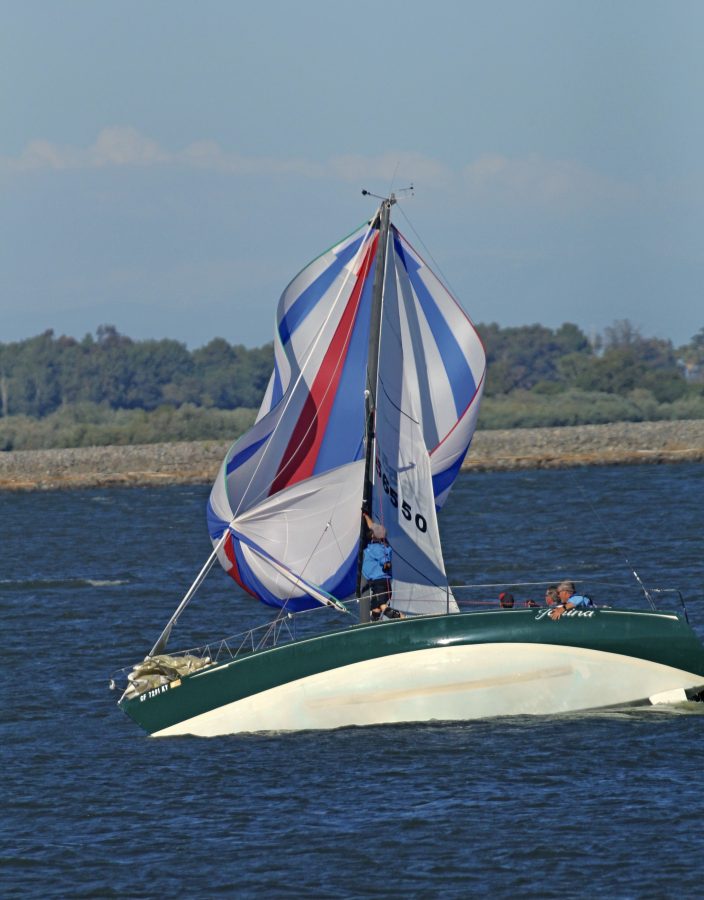 Not to question the inimitable James T. Kirk, but is space really the final frontier? For some satellite engineers with ties to Bay Area sailing and one another, space and sailing seem to go hand in hand.
Dan Newland became a self-proclaimed space nerd early on, as his Houston high school was across the street from NASA, and many of his sailing buddies had NASA associations. His daily school bus route passed by Neil Armstrong's home, and his best friend's father was Donn Eisele Sr., who flew on Apollo 7.
In addition to keeping "piles of everything NASA would send out," young Dan was also obsessed with building. Fortunately, his parents supported their son's "hobby" by providing whatever materials he needed for his various projects. "I built my first model airplane before I could read, and took my first flying lesson and landed a plane when I was 9."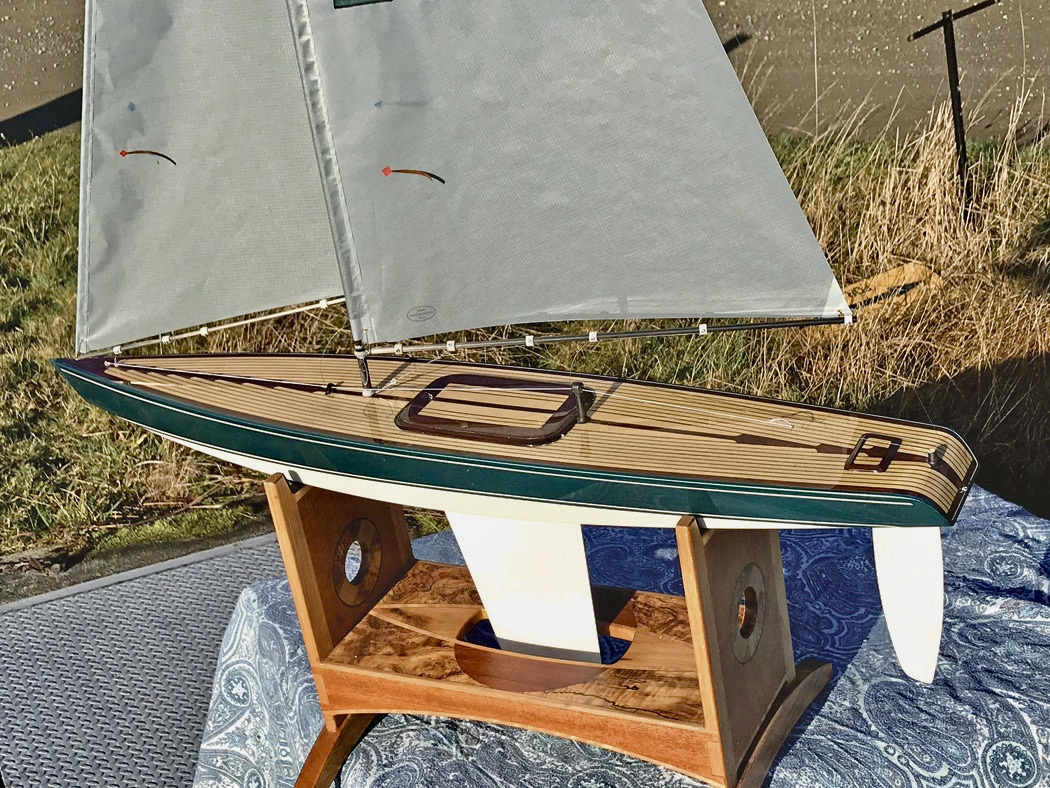 Plus all your favorite reads:
Letters: Discussions about broken and discarded boats abound  this month, along with stories and sage advice about split rings and masts.
Max Ebb: Classic Windows
"Singlehanded Transpacific Yacht Race — All Wrapped Up"
Sightings: "Heading South on San Francisco Bay"; "Teaching Beyond Sailing — Lessons Learned"; "Good Jibes"; and more.
Racing Sheet: ILCA (Laser) North Americans; Fresno YC High Sierra Regatta; and other racing.
Loose Lips, in which we announce July's Caption Contest(!) winner; and
The sailboat owners and buyers' bible, Classy Classifieds.
Pick up your copy at your nearest or favorite distributor. Or, if you haven't already, subscribe for home delivery.
Receive emails when 'Lectronic Latitude is updated.
SUBSCRIBE