Kiters Sweep Bridge to Bridge Podium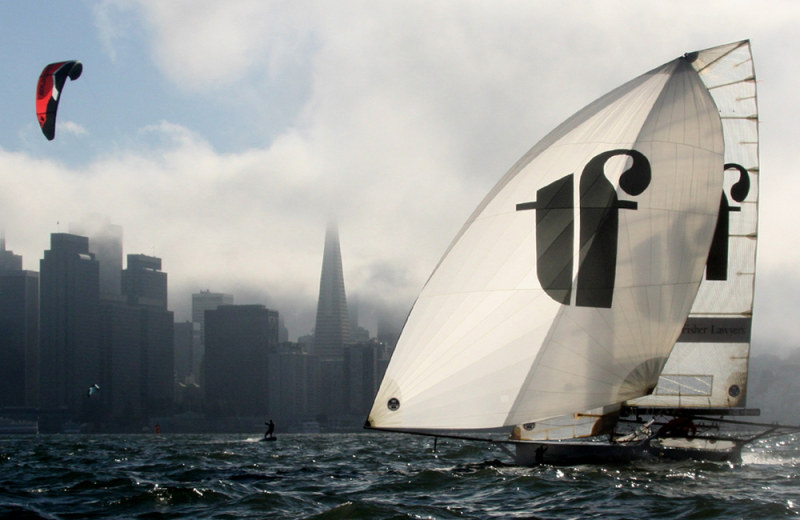 The Ronstan Bridge to Bridge Race drew 37 entries yesterday afternoon for what by all accounts was a pretty mellow 7.5-mile slide from the Gate to Yerba Buena Island. We didn't get to watch it go down, as we were unfortunately stuck in the Latitude 38 World Headquarters, but can tell you that three of the world's top kiteboard course racers maximized their power source's altitude advantage to take the top-three spots in the race. Bryan Lake, Chip Wasson and Andrew Koch went 1, 2, 3 in the race that pits kites, boards, skiffs — and just about anything else with some serious wheels — in a drag race down the Cityfront.

The first skiff to finish was Thurlow Fisher Laywers, in the return of skipper Michael Coxon, who had sat out the first three days of the St. Francis YC's 18-ft Skiff International Regatta with a nagging neck injury. The elapsed times don't appear on the results, so we couldn't tell you how close the deltas were, but we can tell you that the skiffs took all but one of the next nine places, and that a skiff sailor sailing a kite — Kevin Richards, in 6th — was the only one to break the proper boats' lock on that group.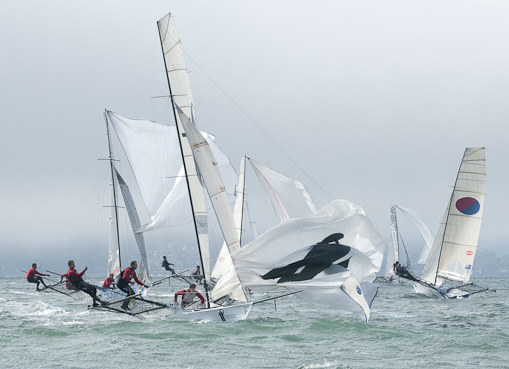 The skiffs wrap up today, and it's anyone's game with two races remaining and only one point separating the leader, Aussie John Winning's Yandoo, and CST Composites, sailed by Long Beach's Howie Hamlin along with the Bay's Matt Noble and Santa Cruz' Paul Allen. Thurlow Fisher Lawyers lurks only five points behind, two points ahead of the fifth place boat. Latitude 38 research assistant Crissy Fields says: "Head on down to Crissy Field and check it out!"
Receive emails when 'Lectronic Latitude is updated.
SUBSCRIBE