June 1-2
Today is the deadline to enter the Delta Ditch Run, as much fun as you can pack into one day (and sometimes night) of sailing on inland waters. Cruising divisions depart Richmond Yacht Club at 8:30 a.m. on Saturday, June 1; racing divisions start from a line set up south of the Brothers Islands with a 10:30 first warning. All convene at Stockton Sailing Club for a kickass party. The Ditch Run is an official Delta Doo Dah event. Hope to see you there!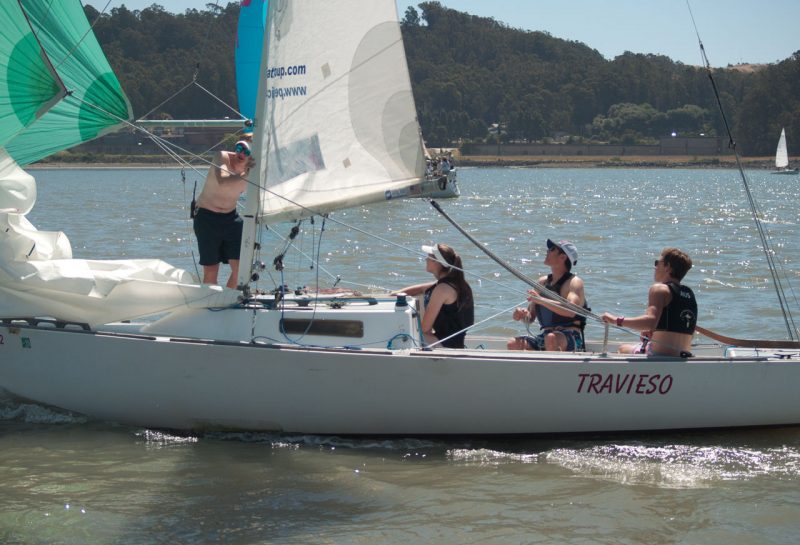 The first Chichester Around Alameda Race was held back in the '70s. "What makes this race so fun and interesting," says Laser sailor Mike Bishop, "is that the only mark of the course is the island of Alameda itself. You can go around it either way! The challenge is the three relatively low drawbridges. They are not quite high enough to sail under, so capsizing, or sailing at an extreme heel or any other method to get you through the bridges is the trick. Taking into account the current so it's with you is key. The fourth bridge (Bay Farm Island) is high enough to sail under, but the span is narrow so short-tacking takes skill and maybe a bit of nerve. Alameda Community Sailing Center is the organizing authority this year. The new format includes a short-course regatta on Saturday in Sea Plane Lagoon, a spectacular stadium-like venue for such racing. On Sunday, the Chichester Around Alameda Race will start with a broad reach to the turning mark — a SailGP-style start — before you decide which way you plan to sail the island." Sign up here for this weekend's event.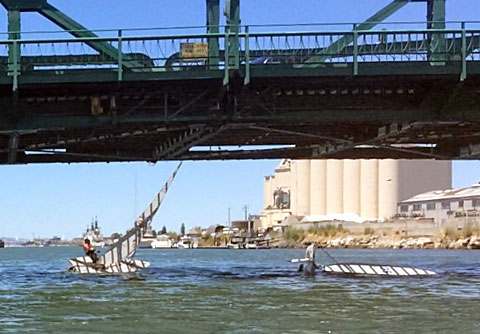 If lake sailing is more your thing, Gold Country YC invites you to Go for the Gold at Scotts Flat on June 1-2. Another alternative: California YC in Marina del Rey will host Cal Race Week and the PHRF SoCal Championships.
The 580-mile biennial Van Isle 360° International Yacht Race, a counterclockwise circumnavigation of Vancouver Island starting in Nanaimo, BC, with stops, will start on June 1 and wrap up on the 15th.
June 3-9
The fifth Race to Alaska expects 46 teams at the start in Port Townsend, WA, on Monday, June 3. Race Boss Daniel Evans points out that 16 of the crafts entered are under 20 feet. The smallest is just 14 feet. "The size of the boat alone will create exciting times for those teams."
On June 8, the OYRA crowd will venture out the Golden Gate to the Farallon Islands. Santa Cruz YC will host the 5O5 Spring Regatta, while Monterey Peninsula YC will run a Hobie Regatta on June 8-9. In SoCal that weekend, Del Rey YC offers a race from Marina del Rey to Cat Harbor back. San Diego YC will host both a US Match Racing Qualifier and the Senior Sabot Nationals.
June 13-16
On June 13-16, Optis will sail the Heavy Weather Slalom & Regatta at StFYC. PICYA's Lipton Cup will reprise last year's successful format on June 14-16. Ten yacht clubs racing will compete in StFYC's J/22s, hosted by Richmond YC. All of the spots are taken, but go out and cheer for the club of your choice: RYC, StFYC, SFYC, Berkeley, Corinthian, Encinal, Sequoia, South Beach, Tahoe, or — the defending champion — Inverness YC. That weekend, June 15-16, the El Toro fleet heads to Clear Lake for their Regionals.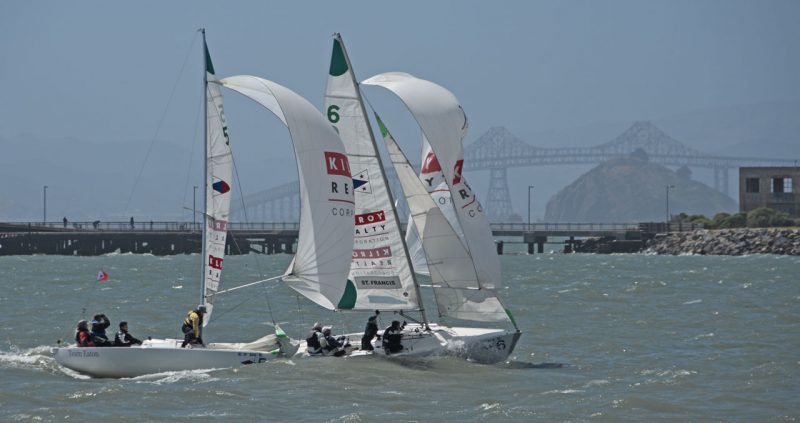 June 21-23
Tahoe YC will host the Trans-Tahoe Regatta and the Santa Cruz 27 Nationals on June 21-22. Long Beach and Alamitos Bay YCs put on Ullman Sails Long Beach Race Week on June 21-23. On that weekend, StFYC invites Knarrs, Folkboats, IODs, Birds and Bears to the Woodies Invitational. Sequoia YC in Redwood City will welcome the racers in the YRA Westpoint Regatta on June 22.
June 26-30
SDYC will host the US Youth Match Race Championship (aka Rose Cup) on June 26-30 and the Kettenburg & Classic Yacht Regatta on June 28-30. The Columbia Gorge Racing Association will open their season with the RS Aero North Americans on June 28-30.
On June 29, the OYRA fleet heads to Half Moon Bay. A bit farther south, the Little Boreas races from Monterey to Natural Bridges to Moss Landing. Those who prefer a long-distance course on San Francisco Bay have the option of Island YC's Silver Eagle Race. The South Lake Tahoe sailors can enjoy a Southern Crossing. The BAYS Summer Series for youth kicks off on June 29-30, hosted by RYC.
The regattas sampled here represent a wide variety of racing styles, classes and geography. But the calendar includes many more events not included here. Pick up the June issue of Latitude 38 on Friday to check out the much longer list.
Receive emails when 'Lectronic Latitude is updated.
SUBSCRIBE