JLVDH Takes the Golden Globe Race
After almost 30,000 miles, 12 dropouts, something like four rescues at sea (are we forgetting one?), and the most grueling singlehanded racing in recent memory, the 50th Anniversary Golden Globe has a winner. Jean-Luc Van Den Heede sailed across the finish line in Les Sables-d'Olonne, France, yesterday to claim first place. In addition to line honors, the 73-year-old JLVDH became the oldest person to win a singlehanded nonstop circumnavigation, beating Sir Robin Knox-Johnston's mark; Knox-Johnston was 68 when he sailed the Velux 5 Oceans Race in 2007.
"Jean-Luc is to be congratulated for a magnificent performance, made all the greater by the jury repairs he had to make to his mast to stay in the Race," Knox-Johnston was quoted as saying in a Golden Globe press release. "I'm sorry to lose my record as the oldest to race solo around the world, but it couldn't go to a better person."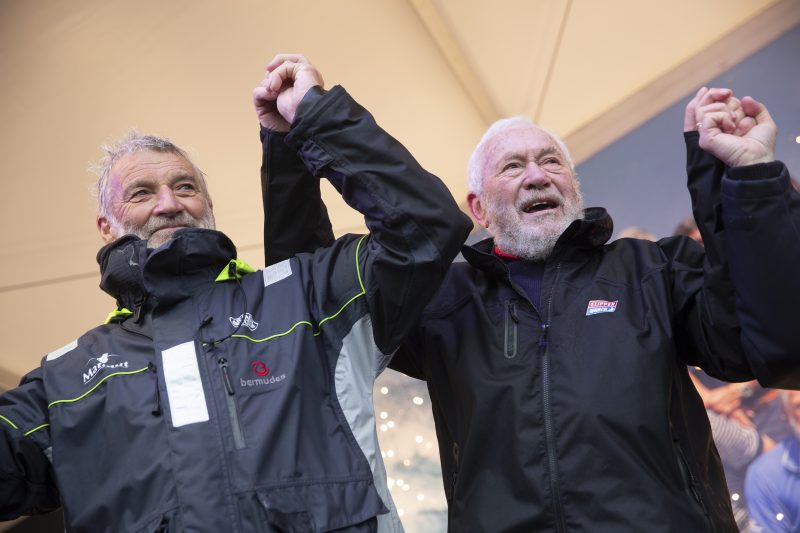 From the blast of the starting gun back in July, Van Den Heede was a dominant force in the retro-styled reboot of the Golden Globe, taking an early lead and looking untouchable around two thirds of the planet. "At one point, he and his Rustler 36 yacht Matmut had built up a 2,000-mile lead over second placed Dutchman Mark Slats, until [Van Den Heede] pitchpoled during a ferocious Southern Ocean storm some 2,000 miles west of Cape Horn," the GGR press release said. "He and his yacht survived the ordeal, but when she righted herself, Jean-Luc was devastated to find that the pressure on the bolt holding the lower shrouds had torn a 10-centimeter-long [almost four inch] hole down the mast section." After contemplating a pit stop to make his repairs, Van Den Heede eventually figured out how to repair the damage at sea.
That's when second-place sailor Mark Slats started closing the gap. As they approached the Azores archipelago off Portugal, JLVDH's lead was down to just 50 miles.
"The repairs cost me a week, which cut the lead back by 500 miles," Van Den Heede said in a post-finish interview. "Then, once back in the Atlantic, Mark Slats kept nibbling away at the distance and became a real threat. At the Azores, my one option was to go north as fast as I could, and a day after making that tack, Slats followed me. I could see from the weather forecasts that he was heading directly towards the high-pressure system there, and a day later he was cooked. He is still cooked now — and I am here!"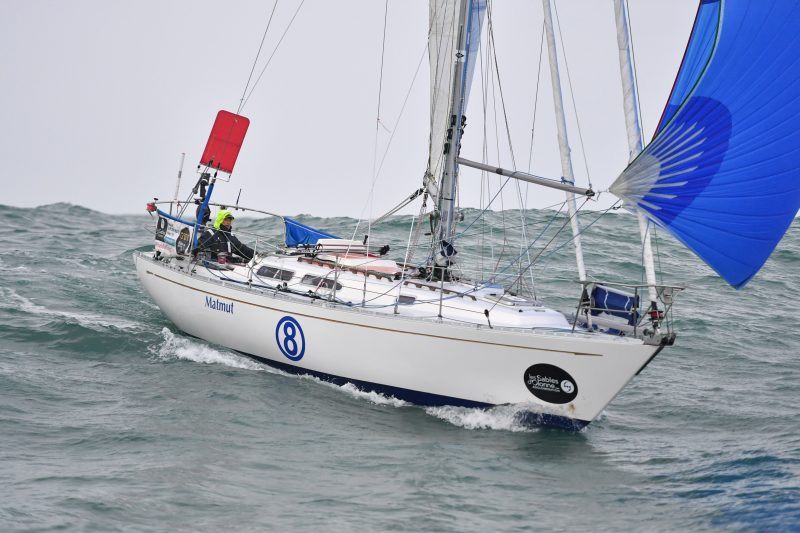 Slats is expected to finish on Friday. The Dutchman faced a time penalty on Monday for a breach of satellite communication rules in the strictly low-tech Golden Globe. "Slats [faced] a dilemma," a GGR press release said. "To run ahead of an approaching northwesterly storm and hope to reach the finish line off Les Sables d'Olonne on Thursday evening before it [struck] the Vendée coast — a lee shore; lie hove-to outside the Bay of Biscay until the storm has passed, or seek a refuge, which is allowed under the race rules, provided he does not step ashore or communicate with the outside world other than via VHF or HF radio."
Slats is currently 350 miles from the finish line. The GGR Committee has applied a 36-hour time penalty for his communication breech. The infraction "would normally be served in a penalty box at sea," a press release said. "However, because of a previous decision not to serve penalties in the Bay of Biscay at this time of the year, the penalty will be added to his finish time."
And don't forget the rest of the fleet. Estonian Uku Randmaa is still over 3,000 miles from the finish, followed by Hungarian-born American  Istvan Kopar, who has 4,000 miles to go. Rounding out the fleet is Finnish sailor Tapio Lehtinen, who has yet to round Cape Horn.
Receive emails when 'Lectronic Latitude is updated.
SUBSCRIBE