International 14 US Nationals Sail in L.A.'s Hurricane Gulch
A small yet very competitive field of eight International 14 skiffs flocked to Los Angeles Harbor to sail the US Nationals in "Hurricane Gulch" at Cabrillo Beach Yacht Club on August 26-28. Known to locals as the windiest spot in SoCal during the summer, this venue usually delivers the goods. The fleet consisted of at least four former national champions, with teams from San Francisco, Santa Barbara, L.A. and San Diego. In addition, a few newer up-and-comers traveled from as far away as Hawaii and Seattle. The three-day event consisted of nine races: eight inside the Federal Breakwater and one 15-mile Long Distance Race (a Fourteen Nationals tradition) going outside Angel's Gate and returning.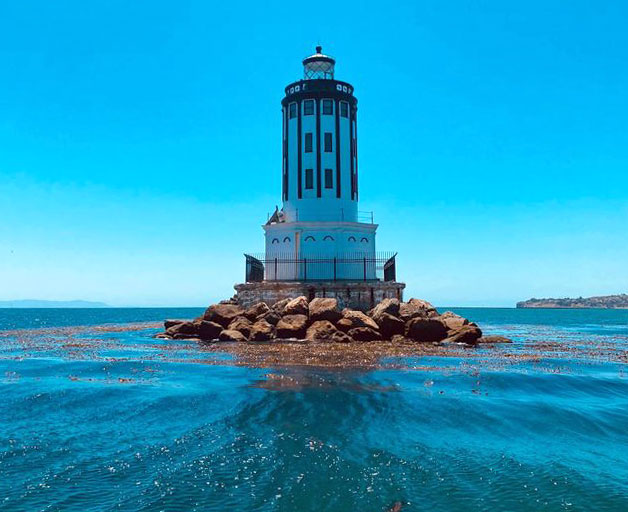 Day 1
Day 1 brought the typical Gulch breeze from the west with mid- to high teens and some stronger puffs for good measure. Two races were scheduled. Race 1 was a short warm-up sprint with Terence Gleeson and JP Barnes taking the win. Race 2 was the Long Distance to Point Fermin and back twice-around in building breeze and a stacking ebb at Angel's Gate. Gleeson/Barnes, Brad Ruetenik/Dan Kaseler, and Paul Galvez, with Bay Area sailor Dan Roberts, all traded places at the top upwind and down. By Lap 2, it was Galvez/Roberts taking the lead, never looking back, to finish first.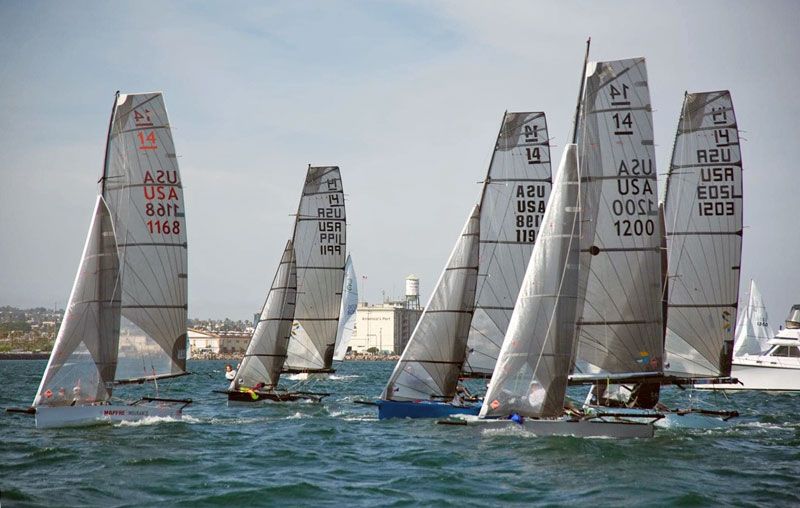 Day 2
Day 2 was forecast to be just slightly lighter, with winds out of the south. The fleet waited for it to fill in and stabilize. Race 3 started a bit on the light side but enough to double-trap. Gleeson/Barnes got the win. Galvez/Roberts and Elizabeth Campbell/Michael Leitch followed. By Race 4, the typical breeze was back on, for three laps. Galvez/Roberts took this one. Ruetenik/Kaseler started to get some pace, earning a second with their single-spreader reefed setup. Gleeson/Barnes took third. In Race 5, Gleeson/Barnes won again. Race 6, the windy last race of the day, went to Galvez/Roberts. It was turning into a nice duel, with both teams tied by day's end.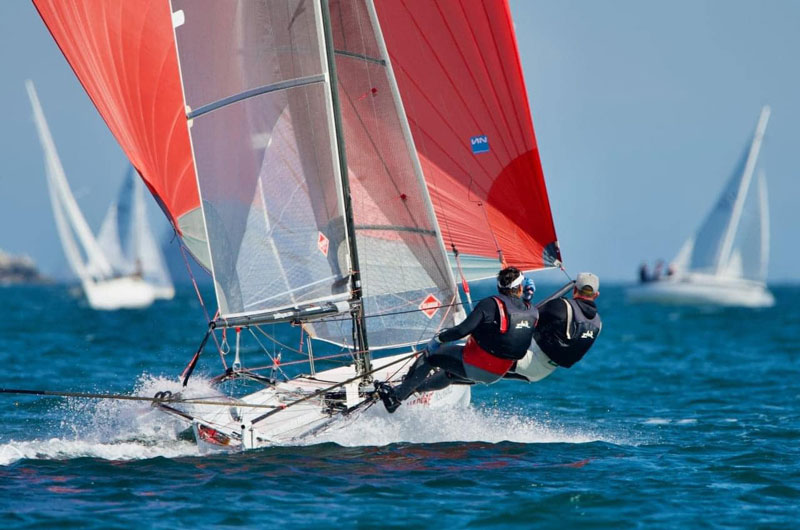 Day 3
Day 3 brought the lightest winds, some single-wiring, and two postponements in Race 7 due to 35º shifts. We started, and sure enough, the shift swung big again. Those on the wrong side were heavily penalized. Ruetenik/Kaseler get their first win with the reef shaken out. James Clarkson/Joshua Leihe followed, then Gleeson/Barnes. By Race 8, the breeze direction stabilized some but remained light. Gleeson/Barnes took this one, with Ruetenik/Kaseler second and Galvez/Roberts third. Race 9, the final race, remained on the lighter side. Ruetenik/Kaseler won, followed by Campbell/Leitch, then Galvez/Roberts. Great sailing all around.
The hard-fought weekend mixed with some great camaraderie in the evenings on 6th and 7th Streets. Thanks to all the teams who made the trip, and a big congrats to Terry and JP. Good to see the new boat going well.
See the results at https://cbyc.org/regatta/fhBZWSfhFn/results.
Receive emails when 'Lectronic Latitude is updated.
SUBSCRIBE