Can You Help Locate This French Sailor From the '70s?
We came across an interesting situation yesterday, in which a woman is trying to locate her mother's sailing partner from the '70s. She reached out to social media, and we're reaching out to you, our readers. We know the '70s were a pretty wild decade for many, and of course there is the possibility that some of those many don't really remember those years, but perhaps something here rings a bell and someone can add some light to the mystery at hand.
The sailor in question is Joël Bernard, a French sailor who was in San Francisco at some time in the '70s. It's estimated that he would now be aged somewhere between 67 and 74.
The story is that together, the mother and Bernard sailed through Hawaii and French Polynesia. He is described as "about 5'4″-5'6″, skinny, with blue eyes." Of course, this being 40 or so years ago, his physical appearance may have changed somewhat.
The daughter writes, "My mom thinks maybe he isn't alive anymore, but I was thinking it would be cool if we could find him and they could reminisce [about] their sailing adventures. She told me she never believed in God until they were out on the open ocean with 40-foot waves and they had to tie down. I'd love to hear stories about her from his perspective too."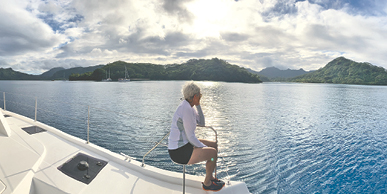 The request has already generated numerous comments, some merely offering support, and some putting forth a crumb or two. So far, it seems, none have resulted in the prize. Though one person did ask about the boat, which in turn produced another clue. It is now believed the boat was "the yacht Sundowner, built by a designer named Dreamer in Costa Rica.
"I know this is vague, but it would be really neat to reconnect. My mom is not in good health and it would be bittersweet to find her long-lost sailor boyfriend ??"
We agree, it is vague, and even more so because we've omitted the woman's name. But we've done so out of respect for her privacy (and yes, we realize there is no privacy on social media; we're merely trying to stem the flow).
If you have any information or recollections that you think may be relevant, please let us know in the comments below, or drop us an email at [email protected], and we'll put you in touch.
Receive emails when 'Lectronic Latitude is updated.
SUBSCRIBE