We take our hats off to the many readers who manage to get down to the waterfront to pick up the latest issue of Latitude 38. We've also been sending some hats (or T-shirts) to lucky readers who've come across our 'Lucky Day' flyer, which — like a Golden Ticket — we occasionally tuck into a few copies of the magazine. We just sent a t-shirt to our latest winner, Diane Hayward.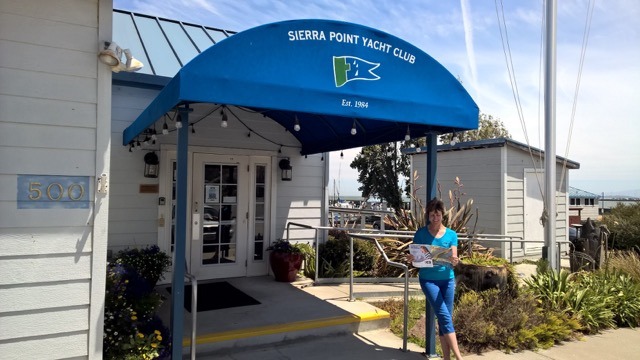 Diane wrote in to say, "Ahoy! I picked up the latest Latitude 38 at Sierra Point Yacht Club and lo! A card fell out saying I won a T-shirt or a hat! Here I am at the club entrance. Sorry for my delay in sending; I've been out sailing on Pegasus, which is where I'll be wearing my new T-shirt!"
We asked Diane for a little more on her sailing life and she filled us in. Her current boat is the Sabre 42 Giselle, with a hailing port of Half Moon Bay but berthed in Brisbane. Back in 2016, Diane and her husband "were walking the docks and poring through Latitude as we refined our search for the right boat. Victims . . . er . . . 'beneficiaries' of boat creep, we went from the low to mid 30-footers that just weren't quite right, and then found a beautiful Sabre 42.
"Needing to fast-track our education (we're not exactly young), we sailed her all that torrential winter, then attended the spring Latitude 38 crew list party in hopes of getting experience on other people's boats. One of those 'others' was Rich Morse from Pegasus, a wooden, 51-ft Alden ketch, and part of The Pegasus Project out of Berkeley, which — under the tireless enthusiasm of Peter Hayes — is a nonprofit that takes disadvantaged school groups to experience the beauties of sailing. Most of these kids haven't ever been to the Bay or ocean. Seeing their reactions to being propelled over the water by the wind is a wonderful thing. Our motto is 'No Child Left Ashore!'"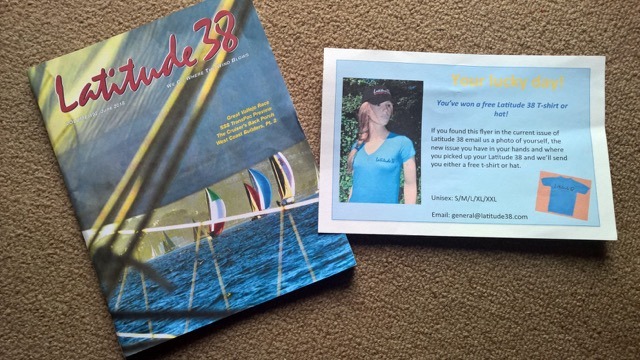 "The Pegasus Project relies on an all-volunteer crew and spends a lot of time training. Learning from the experienced crew has been invaluable. This year, I went to the Spring Crew List Party, only this time as a representative of The Pegasus Project to introduce her to other enthusiastic sailors.
"For the last two years, I've crewed on Pegasus in the Master Mariners Regatta. Being surrounded by these magnificent vessels is awe-inspiring. I was given the helm this year for the last two marks and the finishing leg. It was an amazing experience, and something I would have never done had it not been for Latitude and its support of all sailing. Pegasus is now training me for the position of Mate, and I love the challenge. I still rely on Latitude for inspiration with stories, letters and write-ups of activities on the Bay. Thank you so much and keep up the awesome work!"
Diane, thanks for the note and for the 'work' (sounds like fun) you do on Pegasus — nobody should live in the Bay Area without going sailing.
Look for a flyer in the upcoming July issue. The next winner could be you!
Receive emails when 'Lectronic Latitude is updated.
SUBSCRIBE