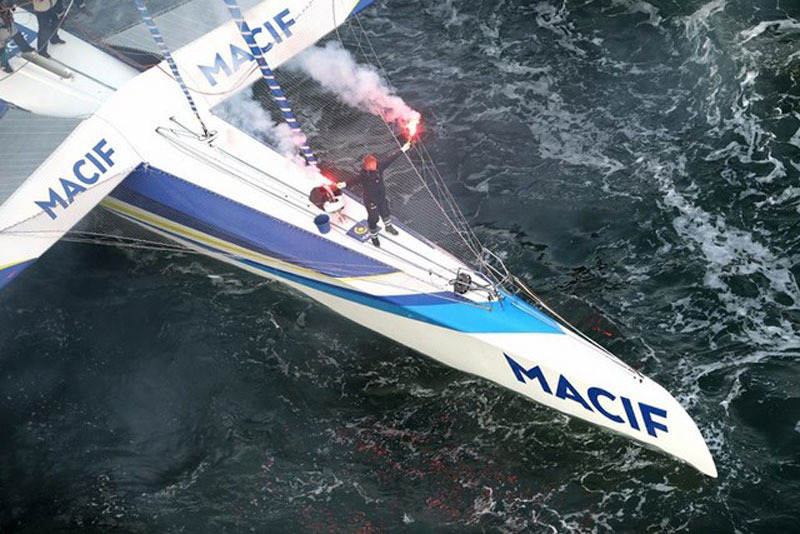 Yesterday afternoon, after 42 days, 16 hours and 40 minutes at sea, 34-year-old sailor François Gabart shattered the solo round-the-world record, knocking nearly six and a half days off countryman Thomas Coville's already impressive record from last year aboard Sodebo Ultim'. Even more impressive than setting a new solo record in such decisive fashion, Gabart has come within less than two days of setting a new outright round-the-world record, logging the second-fastest circumnavigation ever, solo or crewed. On his first attempt, with a minimum of drama, François exceeded even the loftiest expectations and made it look easy as only he can do. With a victory in the Vendée Globe (2012-13) on his first attempt, as well as the Route du Rhum, the 'Golden Boy' has now tasted success at each of the very highest levels of the sport of solo ocean racing, arguably supplanting Michel Desjoyeaux as the greatest of all time.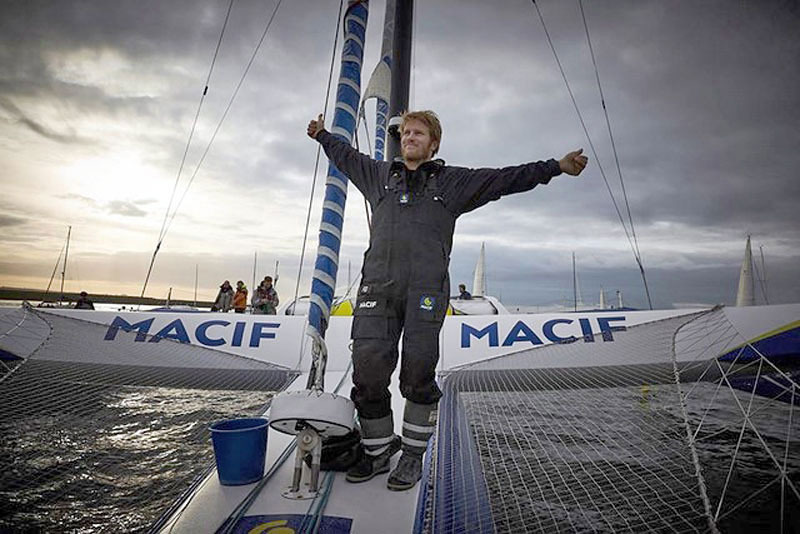 After a blindingly fast, almost perfectly sailed lap of the globe, Gabart and his 100-ft trimaran Macif arrived back in Brest, France, to a hero's welcome on Sunday. Escorted back to the dock by hundreds of spectator boats, François was humbled by the welcome that he received. "I have been literally swept off my feet by the emotion, by their presence, which helped me keep going to the end. To see all these people, all their energy, makes you feel so good, after seeing so few people in the last 42 days. It's a little hard at first. It takes you by surprise, but it's wonderful."
Since beginning his record attempt on November 4, Gabart has passed many milestones and set a number of records. When descending the Atlantic, Gabart hooked into a well-placed low-pressure area with an area of high pressure in front. With strong breeze and flat water ahead, Gabart had a wide open race track to push Macif to the limit, registering a 24-hour record of 851 miles, a staggering figure that added nearly 100 miles to his own solo 24-hour record. Shortly thereafter, he set a new outright reference time from the starting line in Ouessant to the Cape of Good Hope of just 11 days. 20 hours,10 minutes.
While he didn't have the quickest time or shortest conditions across the Indian Ocean, due to a lengthy detour to avoid a weather system coming off the African continent, he did across the Pacific, beating out every crewed boat in history to set an outright record of just 7 days, 15 hours and 15 minutes from Tasmania to Cape Horn. Once past Cape Horn, another well-timed low-pressure system allowed François to travel much of the way up the South American continent at a rapid clip, allowing his lead over Coville's time to balloon from two days to nearly five days.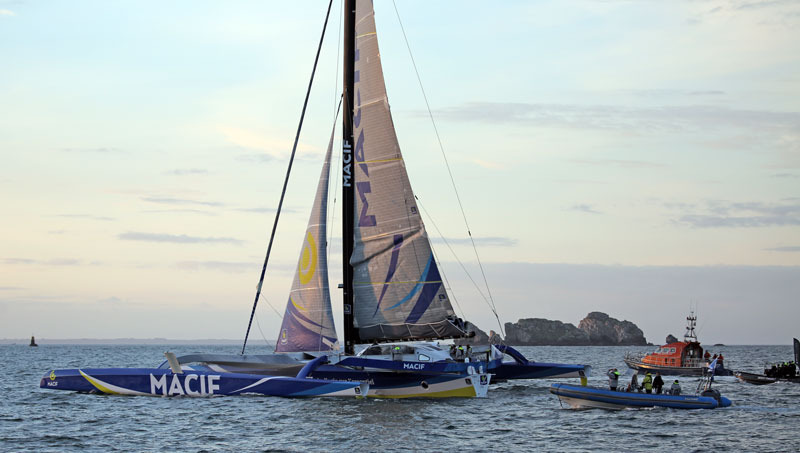 Reflective of his journey, Gabart commented on his weather window: "Perhaps there was only one window to set off on this year, on 4 November between 8 and 11 a.m. This window was not necessarily brilliant at the start, but it turned out to be, and I was guided by my lucky star."
One can only wonder what the 'Golden Boy' will do next.
Receive emails when 'Lectronic Latitude is updated.
SUBSCRIBE