From the Bay to the Channel Islands
I'm sure that most people looking out on Cuyler Harbor on San Miguel Island feel some version of awe at how they can be in a place that feels so isolated, but is in fact just 40 miles from the densely packed shores of Southern California. Turn around and look east, and there's a blurry strip of land, full of humanity and all its tensions, clinging to the horizon.
Anchored in Cuyler Harbor in October 2020, I imagined that San Miguel — with its towering peaks, white-sand beaches, turquoise shallows and howling, freezing-cold winds — could have been somewhere off remote South America or New Zealand. Before humankind knew better, it would have been easy to think that beyond San Miguel, the ocean plunged off the flat surface of the Earth.
Humans have inhabited the Channel Islands for some 13,000 years, and each island has culture and history that has already come and gone. Families have sailed to the islands for generations, starting in their 20s in 20-something-ft plastic classics, and arriving now with bigger, fancier boats and grandchildren.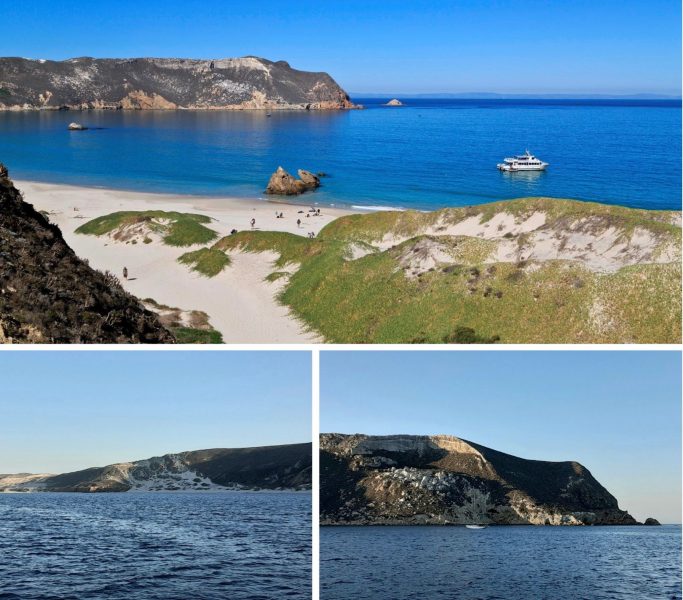 As sailors slowly migrate south and are bound for Mexico, San Miguel, Santa Rosa, Anacapa or Santa Cruz islands to the north, and Santa Barbara and Catalina islands to the south, might be on sailors' radars as possible layovers, or just pass as digital blips on a screen, coming into and going from view. We will take this seasonal moment to contemplate the Channel Islands, and the mainland cities near them, as if we were back in 2020 when the "staycation" offered sailors self-isolated silver linings at local destinations.
We will refer you to Destination Channel Islands in the August 2020 issue for a thorough breakdown of practical information such as anchorages, prevailing weather, shoreside destinations, and strategies for making passage from either Northern or Southern California. (You can also listen to the article on our Good Jibes podcast.)
This series of stories is a full navel-gaze appreciating the spontaneity of jumping onto a boat at the last minute and suddenly finding yourself at anchor at a place like San Miguel, as well as any number of unexpected destinations.
When Asked, Don't Hesitate
"We need help bringing the boat down south. Are you available?" asked Mitch Andrus, whom I'd met years before through Latitude. Mitch and Quincey Cummings, now both licensed captains (who are currently en route on a delivery from Ventura to Florida), were having their going-away party in Berkeley in October 2020 in preparation for their move to Ventura aboard their Kelly Peterson 44 Esprit.
My answer was absolutely, positively, unhesitatingly: hell, yes.
Just six months into the pandemic, we talked about the "COVID winners and losers" throughout the trip south. Clear losers were plans of any sort. In fall 2019, Mitch and Quincey invited me to do the destined-to-be-canceled Baja Ha-Ha XXVII. Another loser was the loss of full-time work, but an unexpected winner was free time. A spontaneous sailboat trip would have been impossible for a full-time editor, or would have had to revolve around anchorages with good Wi-Fi.
There was a looming wind event in the forecast when we motored under the Golden Gate on October 24, though it seemed easy to avoid. With strong, dry winds forecast from the northeast, the "event" felt like an encore to what had been an early, miserable and slightly terrifying fire season, during a year that was full of social tension, a plague, and a contentious election looming.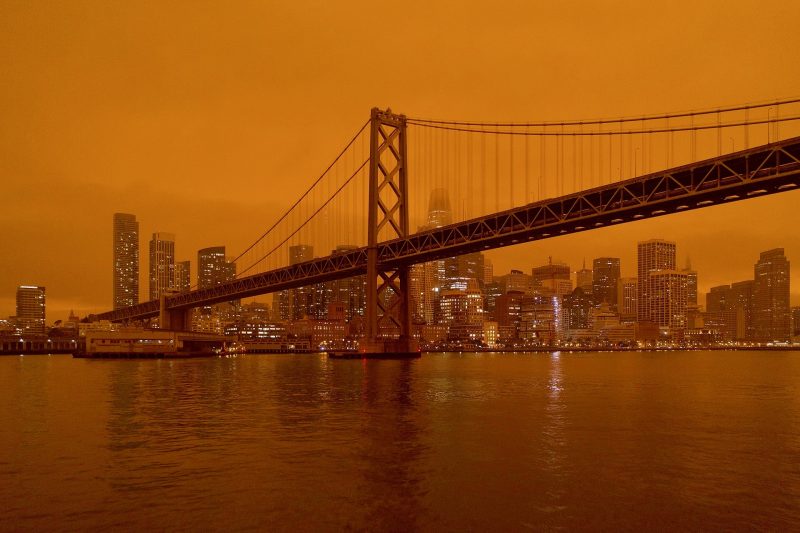 Also onboard was Brian Cline, an experienced sailor who had sailed with Mitch and Quincey after they purchased Esprit in Panama and sailed her to the Bay a few years prior. Also onboard was Panda Cat.
The conditions were exceptionally calm and mellow outside the Golden Gate, and we settled into the slow, easy motion of the trip. Off Monterey, hundreds of birds fed at dusk and paid us no mind. We found our bunks, set alarms for watches, and sat in the cockpit in the middle of the night under a waxing gibbous moon that would be fully full in one week, on Halloween. I'd brought a stack of New Yorker magazines, and the next day — our one full day at sea — everyone read, snacked, chatted about articles, and dozed. On the afternoon of October 25, we saw whales breaching about half a mile away. Whitewater erupted, with one whale jumping so high that a stream of emerald-green water gushed into the sky.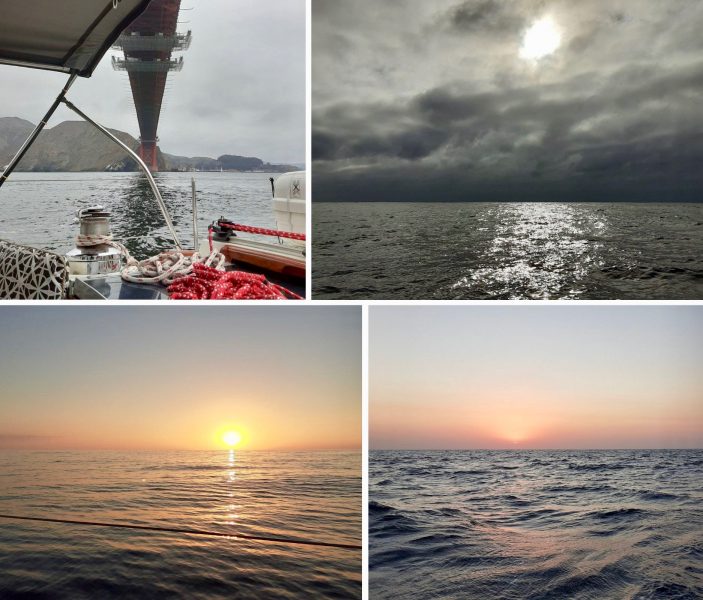 With the wind event manifesting in earnest, the decision was made to stop in Morro Bay for about 12 hours while it passed. With four people, we did three-hour watches, with two people the first hour of your watch, then one hour of solo time, before the next person came on to start their watch during your last hour. Favorite. Watch system. Ever. I was doing my hour of solo time as the red lights on the stacks of the shuttered power plant in Morro Bay flashed in the night. We had maybe 10 knots just aft of the port beam, and I watched the moonlight sparkle on the back of the quarter wake as I listened to music.
We arrived around 2 a.m. and departed by noon the next day. Arriving at an unexpected destination was surprisingly exciting. I went paddle boarding around Morro Bay's skinny, current-swept waterway; Brian went to shore and brought back magnificent French pastries (from La Parisienne, I believe), which we devoured as we motored past Morro Rock and back out to sea, bound for San Miguel.
There was a small, minor tragedy that befell us in Morro Bay, after we had arrived safely and gone to sleep. Stay tuned for Part 2 on Wednesday.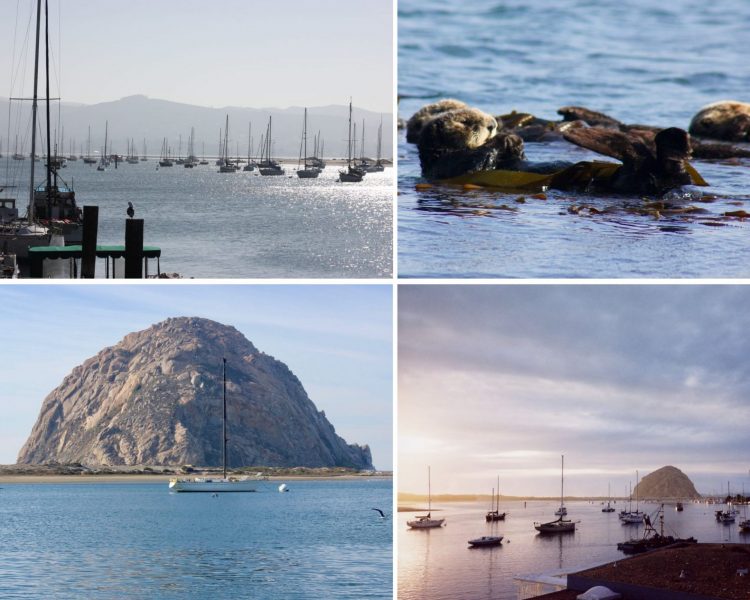 Epilogue: The End of a Night Watch
With 15 minutes left on my watch, I was imagining the warm, soft embrace of my bunk. It was approaching 4 a.m., and I forced my eyes to dart from horizon, to iPad, back to horizon, fighting off exhaustion. Breaking concentration for even a moment, I felt my eyelids ready to slam shut.
Thirteen minutes left!
Eyes from sails to the horizon to iPad: Our little blip in the pale digital sea bobbed along, our motion both imperceptible and unrelenting. I was cold, a little damp, and at the apex of my discomfort from sitting (crouching, really) for three hours in the cockpit.
My head jerked in a nod. I resumed the visual rotation of iPad to horizon. I leaned out from under the dodger and took huge gulps of breeze. I looked at my phone.
Only 12 minutes left!? Time seems to slip into a weird quantum anomaly in the final minutes of a watch, when you know that sleep is near.
Finally, 11 minutes later (though it seemed like an hour), I said good night, went below, and did the log, then shed my PFD and stripped the many layers of clothes, then peeled back the mountains of blankets on my bunk, fastened the lee cloth, and crawled into my cozy little fort.
Glorious!
I might have even been awake for almost two minutes as the boat rocked me to sleep. Soon, I'd wake up with San Miguel in sight.
Receive emails when 'Lectronic Latitude is updated.
SUBSCRIBE