Free Use of 45-ft Cat in the Caribbean?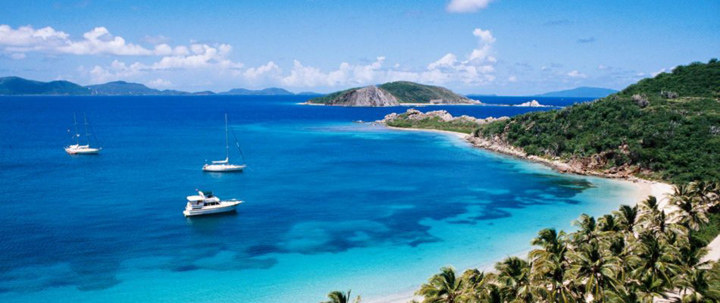 After nine years, the Wanderer's Leopard 45 catamaran 'ti Profligate is exiting her yacht management program in the British Virgin Islands on July 27. Her new home will be at Jolly Harbor, Antigua.
Because of other commitments — i.e. bringing big Profligate 1,000 miles north from Riviera Nayarit to San Diego, the upcoming Ta-Ta, the September issue of Latitude 38, the three-days-a-week 'Lectronic — it would be complicated for the Wanderer and de Mallorca to make the trip. Although we'd dearly love to do it and, if necessary, will force ourselves — ha-ha — to do it.
As such, we're looking for some very experienced, ultra responsible, always-leave-the-boat-impeccable sailors to move the boat from the British Virgins to Antigua. It's about 100 miles from the BVI base in Road Town to St. Martin. Yeah, it's across the Anegada Passage, but in early August that passage certainly isn't the beast that it is in winter. From St. Martin, it's probably another 110 miles to Antigua.
It will be warm and humid, and yes, it will be hurricane season.
There is no need to rush, so if someone wanted to take a couple of weeks to allow for stops at Spanishtown, Virgin Gorda, Anguilla, St. Martin, St. Barth and some of the anchorages at Antigua, we wouldn't have a problem with it. The main thing is that the boat be well taken care of and that she be turned over in great condition.
BVI Yacht Charters, which has always done a great job on maintenance, will be sure everything is hunky dory on 'ti when she comes out of the program. New belts on engines, oil changed, etc.
If you're interested, you'll be responsible for getting to the BVI and back from Antigua, as well as your food, booze, clearing fees and any berthing. We'll take care of the fuel.
If you're seriously interested — meaning your calendar is absolutely clear for those dates, you have at least one other very responsible person to do it with, you can afford to fly to the Caribbean and back, etc. — email Richard with your interest and a rundown of your boat ownership history and sailing experience. (When we post an offer like this, we always get a number of "I wish I could do it, but . . ." responses. With all due respect, we have way too much on our plate for those kinds of responses.)
Looking for a relatively long term — one- to three-month — rental of a 45-ft cat in the Caribbean next winter? It may be possible from November through January, but not from February to May. Very experienced sailors/boatowners only. You know whom to contact.
The accompanying photos are of Virgin Gorda and Antigua's English Harbor. It's off-season, so English Harbor won't have so many boats.
Receive emails when 'Lectronic Latitude is updated.
SUBSCRIBE