Erika and Other Tropical Disturbances
When it comes to tropical storms, oftentimes the torrential rain associated with them is more destructive than the strong winds. Such was the case with the very mountainous island of Dominica in the Eastern Caribbean on Wednesday. The 70,000 residents of the very poor island were taken by surprise as, unlike on the islands just to the north, a Tropical Storm Watch inexplicably hadn't been posted. So when Erika took a jog south and made a direct hit on them, the results were tragic.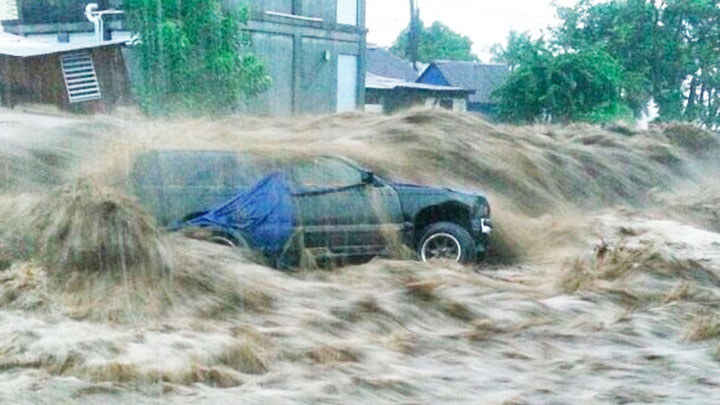 Twelve people, including an old blind man and several children, are confirmed dead, and at least 20 more are missing. Roads are few and far between on the island, and most are now impassable, so it will be days before a final death toll will be known. Car after car was washed down narrow roads lined with houses. Countless houses had their roofs ripped off. The airport was overwhelmed with mud. Eighty percent of the population has no electricity. It's dreadful.
The rain was much needed on Dominica, but not the 12 inches they got in 12 hours.
All of the islands of the Eastern Caribbean are in desperate need of rain, and residents had high hopes of getting a good dose. But only Dominica got lots of it. Both St. Lucia to the south and Guadeloupe to the north got a pretty good dousing, but not a deluge. Antigua didn't get much at all, St. Martin got a couple of drops, and as one resident reported, "the British Virgins got zilch."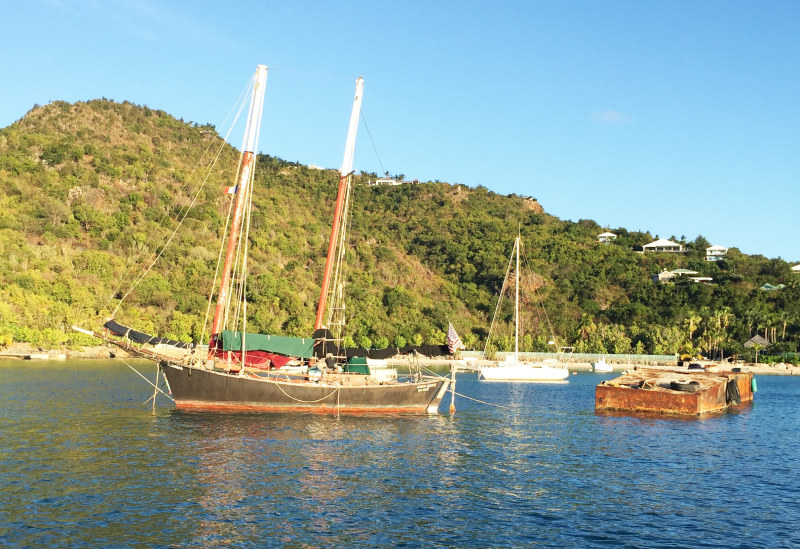 Because Erika, like Danny before her, didn't pack very strong winds, we haven't heard many reports of damage to sailboats in the region. In fact, the only one so far is that our friend David Wegman's 32-ft schooner Afriggin' Queen, went up on the beach at Coral Bay, St. John in the US Virgins while Wegman was in Maine. It's unclear if the vet of a nine-year circumnavigation, the center boat in hundreds of raft-ups, and a floating host to countless 'everybody is welcome' parties and sails, is terminally damaged. The rig is intact, so it all depends on the damage, if any, to the hull.
Latitude's Leopard 45 cat 'ti Profligate was strapped down on the hard in Antigua, so we're sure she was fine. Ironically, it was the first time in 10 years we've had her hauled out for hurricane season. The publisher's Olson 30 La Gamelle was strapped down on a trailer that was strapped down to the pavement in front of a hardware store in St. Barth, so we're confident she's fine, too. If you had a boat in Erika's path, we're hoping she did fine, also.
Erika is currently forecast to hit Florida, which hasn't been hit by a hurricane in 10 years, on Monday. But she's only expected to pack tropical-storm-force winds, so boats that are well prepared shouldn't suffer much damage.
It's currently the height of the hurricane season in the Atlantic/Caribbean, and another tropical wave appears to be headed for the Caribbean from Africa. As forecast, this has been a light year for tropical storms in the Atlantic, but the last two threatened extensive marine interests. Fortunately, they got weaker the closer they got to the islands, the reverse of the norm.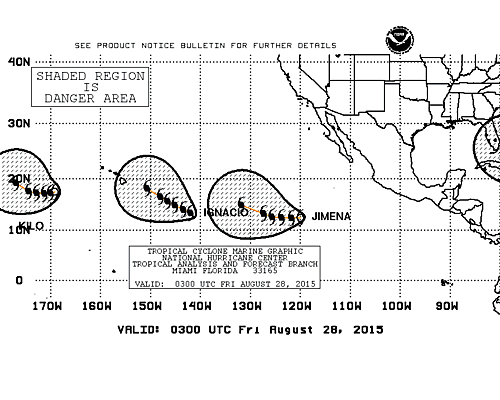 Meanwhile in the Eastern Pacific, meaning the Pacific Coast of Mexico and Hawaii, two storms are being closely watched. Hurricane Ignacio is packing winds of 90 mph as it angles toward the Hawaiian Islands. Currently 1,000 miles SE of Honolulu, Oahu, and 840 miles SE of Hilo, Hawaii, it is expected to pass north of the island chain Tuesday or Wednesday, possibly strengthening before its arrival. But meteorologists say it is still too early to make accurate predictions of its path or velocity.
Hurricane Jimena is much farther offshore (12N, 122W) with winds of 90 mph, and appears to be chasing Ignacio on a similar path to the northwest. See the National Hurricane Center for updates.
Receive emails when 'Lectronic Latitude is updated.
SUBSCRIBE