"After the great farewell party for our friends who are joining the Baja Ha-Ha, we're inspired to write about our experience in Ensenada, and especially at the marina at Hotel Coral," report Victor and Andre Satie from the Ensenada-based Freedom 36 Easy Breeze. "To begin, there is no longer any anchorage in the harbor at all, nor will there be in future. The harbor has been dredged to accommodate more and larger ships. Smaller marinas in the harbor often have slips, although there are no facilities such as showers, bathrooms or wi-fi.
"Marina Ensenada fell apart during the winter of 2007, and though it's back together again, it may present problems this winter thanks to El Niño. Baja Naval is usually full, but it never hurts to give them a call if you really want to be there. A few factors — swine flu, drug wars and the slumping economy — have spurred a price war between Cruiseport and Marina Coral. Many of us have moved from Cruiseport to Coral as a result — the price is just about the same at both places, and you get much more bang for your buck here at Coral.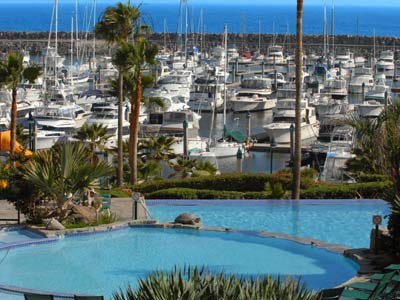 "The price is $10.40/foot, plus liveaboard fees, which entitles one to the full use of the hotel facilities, including the full gym, spa with massage and beauty salon services, two outdoor and one indoor pool, outdoor hot tub, two indoor jacuzzis, steam room and dry sauna. You're even handed a white fluffy towel when you enter to use the showers, and there is a shampoo dispenser on the wall. There's also a pool room, nice lounge and restaurant, an internet room with two computers, free wi-fi and a book exchange that always has a good supply of Latitude 38s. And if you don't have a car, many of us local residents can give you a lift. The micro busses go by quite often as well, and cost around four pesos (25 cents).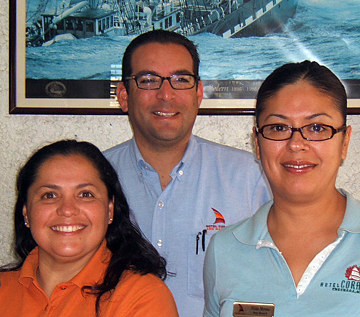 "Fito, our dockmaster, really wants everyone to have a good experience. When we asked if we could hold a swap meet on the patio, he provided tables and chairs for us. The night of the earthquake in Samoa, when a tsunami warning had been issued for the entire Pacific Coast and was then cancelled, he invited everyone to the lounge for a free Tsunami Party. When we asked if we could have a farewell party for 40 people on the patio, he surprised us with big tables and chairs to accommodate us all.
"Be sure to browse around the terrific website www.ensenadacruisers.com for the latest goings-on," conclude the Saties. "If you're coming south to Mexico this season, Ensenada — and the Hotel Coral marina — is a great place to stop."
Receive emails when 'Lectronic Latitude is updated.
SUBSCRIBE