Crackdown on Hawaii's Commercial Cats
Remember how both Southwest Airlines and American Airlines recently had to temporarily pull many of their planes out of service because of F.A.A.-mandated safety checks? It turns out that a similar thing happened in Hawaii last summer when the Coast Guard forced 13 of 59 commercial sailing catamarans and trimarans operating out of that state temporarily out of service, primarily because of "serious safety deficiencies" with their masts.
According to a March 5 article in the Honolulu Advertiser, the increased scrutiny came after two deaths on tourist multihulls in a four-month period. In December of '06, the 65-ft Na Hoku II was dismasted off Waikiki, killing a 13-year-old boy and injuring several others. Then in March of last year, a 48-year-old father of three was hit by the falling mast of Kiele V off of Maui. Several others were also injured.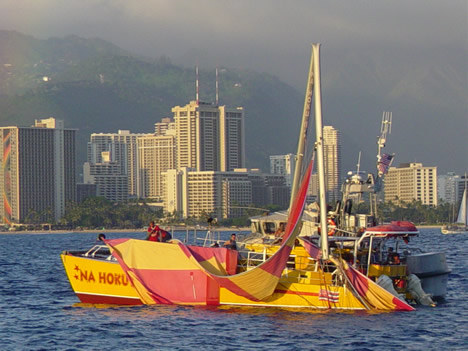 The Kiele V, operated by prestigious Hyatt Regency Maui Resort and Spa, had been dismasted twice before, once at sea in '91, and once in drydock in '96. That catamaran is no longer operating in Hawaii.
According to the Coast Guard, 11 multihulls were taken out of service last summer "for corrosion and fractures to the mast, and missing bolts in the spreaders." Three were found to have excessive sail area. (Several years ago, a Conser 47 flipped with passengers while sailing off Maui, although we're not sure if this had anything to do with a sail area issue.) Two boats had training, qualification and licensing difficulties. Two of the vessels with deficiencies removed themselves from service.
Hawaii has more commercial catamarans and trimarans operating than any other state in the nation, with 16 off Oahu, 21 out of Maui, 12 out of Kauai, and 10 out of the Big Island. The U.S. Territory of Puerto Rico is a distant second, with 30 commercial multihulls.
Would we sail a commercial trimaran or catamaran out of the Hawaiian Islands? Yes, unless the boat and rig looked to be in poor condition. Nonetheless, if the wind started hooting — and it can hoot in the islands — we'd make sure we were on the windward side and clear of any rigging that might fall.
Receive emails when 'Lectronic Latitude is updated.
SUBSCRIBE