COVID Surge in Bermuda Threatens SailGP Debut
The Royal Gazette, Bermuda's only daily newspaper, is reporting that SailGP's Season 2 opener on April 24-25 is in jeopardy. More significantly at risk is the health of Bermuda's residents and visitors. The island country is on lockdown due to a surge in coronavirus cases.
Until now, Bermuda has done well in combating the pandemic. The Centers for Disease Control and Prevention has issued a bulletin warning even fully vaccinated travelers to avoid Bermuda due to "very high" COVID-19 levels. The island's government issued a stay-at-home order at 5 a.m. on April 13. The lockdown will be in effect for at least a week. The order shut down all nonessential businesses.
Latitude 38 contributor Mark Reid, who had been planning to travel to Bermuda to cover the racing, has canceled his trip. "A few of the teams have arrived," he says. "They're sequestering in their team bases and the race village, which is closed to the public. All media coverage is remote. There are no photo boats. Press conferences will be streamed. Even Bermudians will not be able to attend, and public viewing areas are closed."
All SailGP operations at the league's headquarters on Cross Island, including work on the boats, have hit the brakes. "Sir Russell Coutts, the SailGP chief executive, confirmed last night that the facility is now off limits amid discussions between his organisation and the Government in the hope of being granted clearance to resume operations," reports Colin Thompson in the Royal Gazette.
"We've been talking to the government officials today, because clearly this situation is potentially really problematic for us," Coutts said yesterday.
Coutts says that when the league shut down after February 2020, they made significant changes to the control systems and electronics. "The teams have not had a lot of time in these boats yet. In fact only three of the teams have now sailed these boats in Bermuda, and only for a very limited number of days."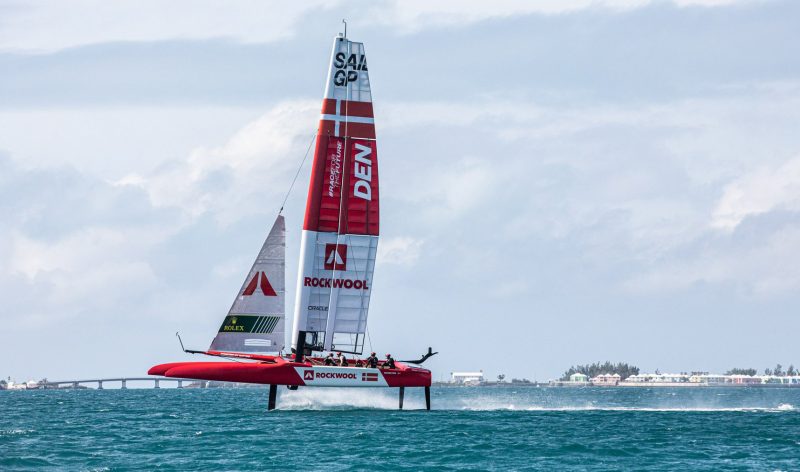 The sailors really need some sea time in the complex boats. "When things go wrong in these boats and they are doing the speeds that they are, definitely, safety is a consideration," said Coutts.
"The New Zealand boat arrived in Bermuda unfinished, because it takes considerable time to build these boats," he said. "And with the current disruption with the shipping schedule, we thought it was safer to get the boat to Bermuda and finish it here, rather than risk finishing it in New Zealand.
"If we lock our staff down for a week or even a few days, we're almost certainly not going to get that boat finished in time for racing in the event."
Weather has also limited preparations. "Worst-case scenario, if we lost too many days we would not be able to safely hold the event. We'd have to cancel, which of course none of us want to do."
Receive emails when 'Lectronic Latitude is updated.
SUBSCRIBE