'Chubby Girl' Back on the Mainland
Wil Spaul and Chubby Girl arrived in Monterey Wednesday evening, safe and mostly sound. As reported in Monday's 'Lectronic Latitude, rough conditions, thought to have come from Hurricane Marie far to the south, pounded the tiny 9-ft craft during the 70-year-old Spaul's attempt to sail the smallest boat ever to Hawaii.
Wil departed the Bay on September 27 and had made it about 200 miles out (due in part to no wind the first two days) before the damage occurred. Then, last weekend, successive big waves slammed into the boat, damaging among other things his main hatch, which started leaking; crunching his satphone so that it could only transmit (but not receive); and ultimately, damaging the rig and small mainsail. Barely a week into the attempt, and with all his clothes and bedding soaked, Wil decided to return, regroup, repair, and try again. He originally hoped to sail back to Berkeley, where he had started from, only to encounter light breeze and a southerly current set.
On Tuesday, "After realizing I will not be able to (make) Monterey and the current is carrying me down to the Big Sur coastline, I decided to contact the U.S. Coast Guard," he posted on his blog (www.chubbygirlcruising.com). At that point, he was about 70 miles due west of Monterey.
The cutter Forrest Rednour out of Los Angeles did the first tow. About 10 miles from port, Chubby Girl was transferred to a smaller craft that completed the tow into Monterey. He arrived around 10:30 p.m. Wednesday. "I cannot speak highly enough of the professionalism of the Coast Guard teams that were involved," Wil said upon arrival.
Chubby Girl was due to be trucked back today to Berkeley Marine Center, where the boat was built earlier this year. Wil plans to make repairs and modifications and beef up some things over the winter — and try again next spring.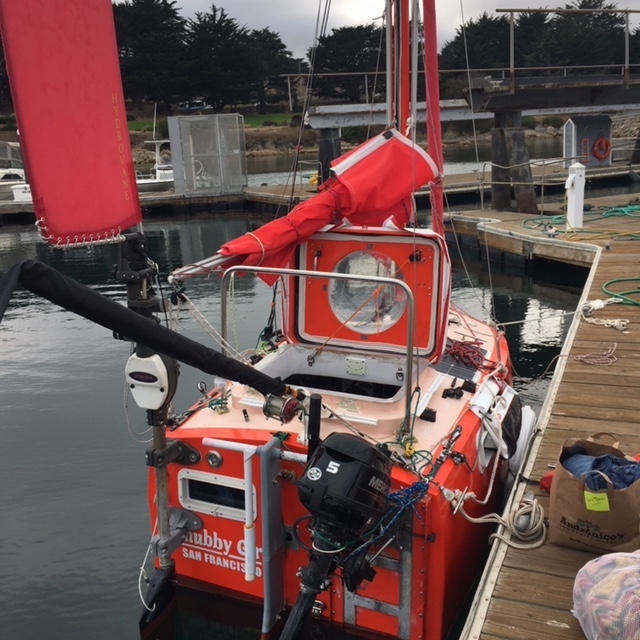 "He's learned a lot from this short trek that I think will help in his next venture west," said Jeff Canepa, who was one of a few people who showed up to take Chubby Girl's docklines. Jeff's offer to run Spaul's soaked clothing and bedding through his home dryer was gladly accepted, while Wil headed to a hotel for a hot shower and good night's sleep.
The current smallest-boat-to-Hawaii record is held by Gerry Spiess, who sailed the 10-ft Yankee Girl to the islands from Long Beach in 1981.
Hurricane Marie swerved west into the Pacific and has since dissipated.
Receive emails when 'Lectronic Latitude is updated.
SUBSCRIBE