Blue Friday Turns Into Blue Saturday
The coast was clear. At least we're pretty sure the past weekend's sailing was clear and sunny from Crescent City to San Diego, and everywhere in between on the California coastline. Winter brings its own special character to California sailing. We were determined to sail on "Blue Friday," but conflicting activities caused us to #optsailing for "Blue Saturday" — we weren't going to let this Thanksgiving weekend escape without a sail. The Thanksgiving weekend is typically a tribute to the other "sales," but luckily, here in California, just going for a "sail" is often a fabulous alternative.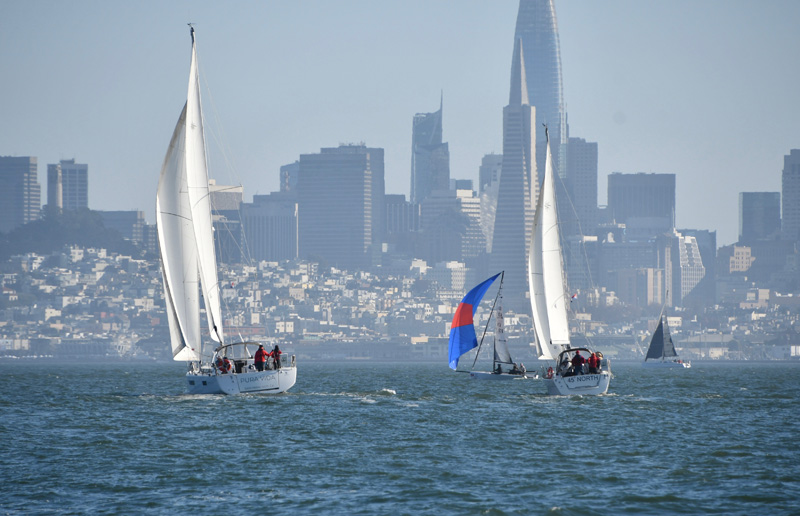 On Saturday we gathered a couple of friends visiting from out of town to join one of only two races held on the Bay over Thanksgiving weekend: the Corinthian Yacht Club's Saturday pursuit race. The other race was Berkeley Yacht Club's ritual Sunday Chowder Series. And, like all four days of Thanksgiving weekend, it was sunny, warm and beautiful. Corinthian lured out 19 boats by proposing a "lazy" pursuit race for family and friends, which is pretty much what happened.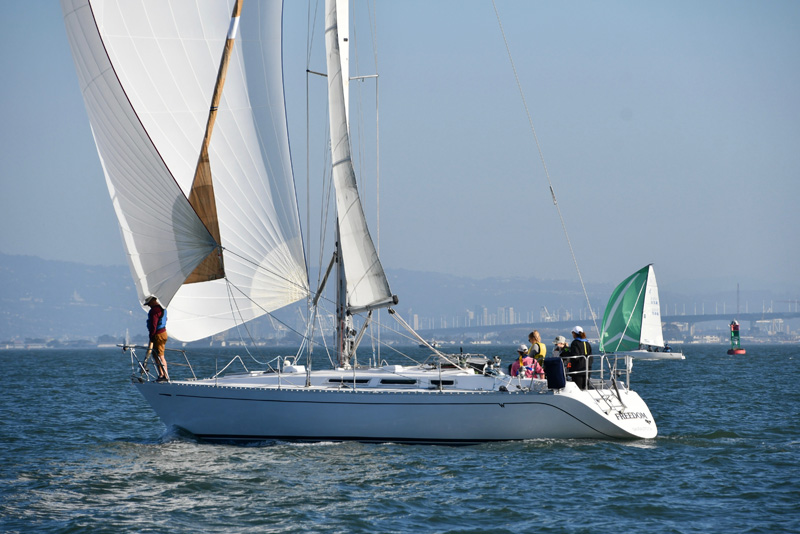 There was an exceptionally high tide, which we noted on our way to the docks; water was backing up into the street through the downtown storm drains. That means when the tide starts to run out, the current will be strong, so the wind had better be strong also. With assigned start times in the pursuit race there was not going to be a postponement, so we were starting at 13:03:09, wind or no wind. Fortunately, a reasonably solid afternoon breeze of 6-12 knots filled in and stuck around long enough for everyone to overcome that building ebb.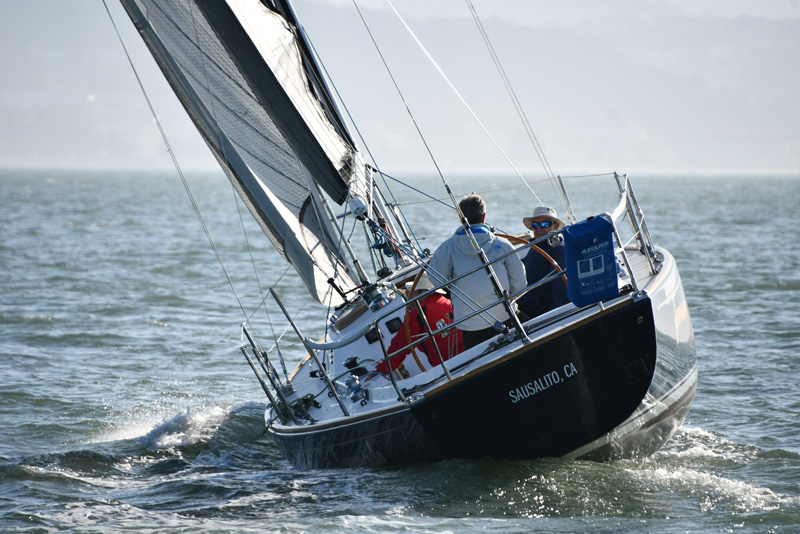 Overall, the Bay remained remarkably empty for such a beautiful day. We think one of the few places you could have easily found parking this past weekend was your marina's parking lot.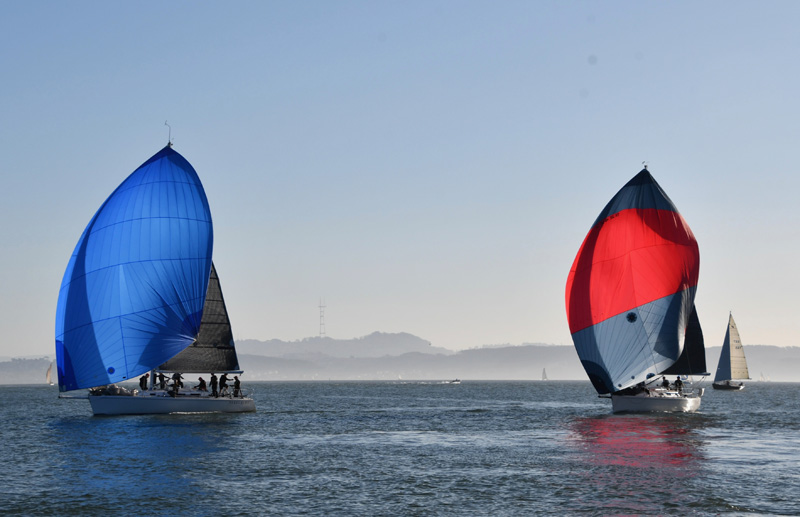 If you're looking for a more leisurely vibe to your racing, a pursuit race is an ideal option. It reduces the tension at the start by giving each boat its own unique starting time. And, at the end of the race, you don't have to check the time or wait for results since your place in the fleet is determined by the order of finish. How relaxing is that? OK, it's still a race, so if finishing well is important, there is an edge that doesn't exist in a daysail.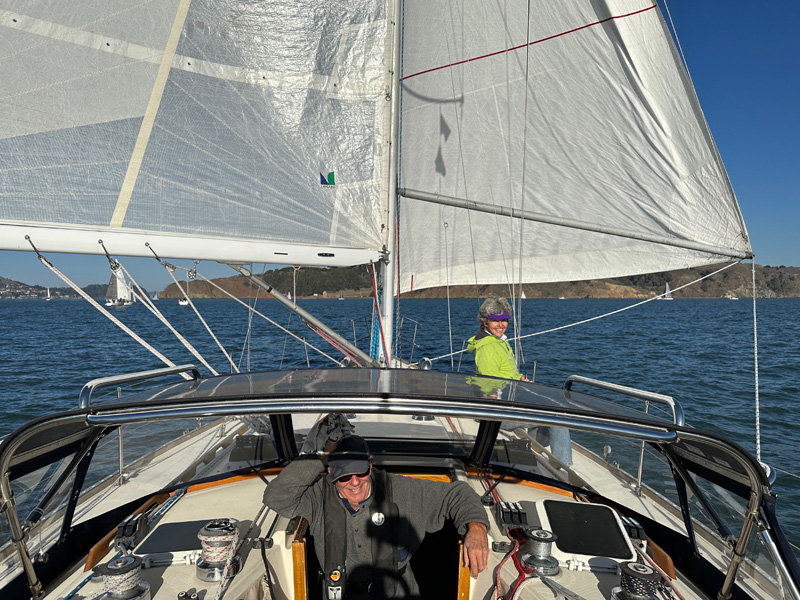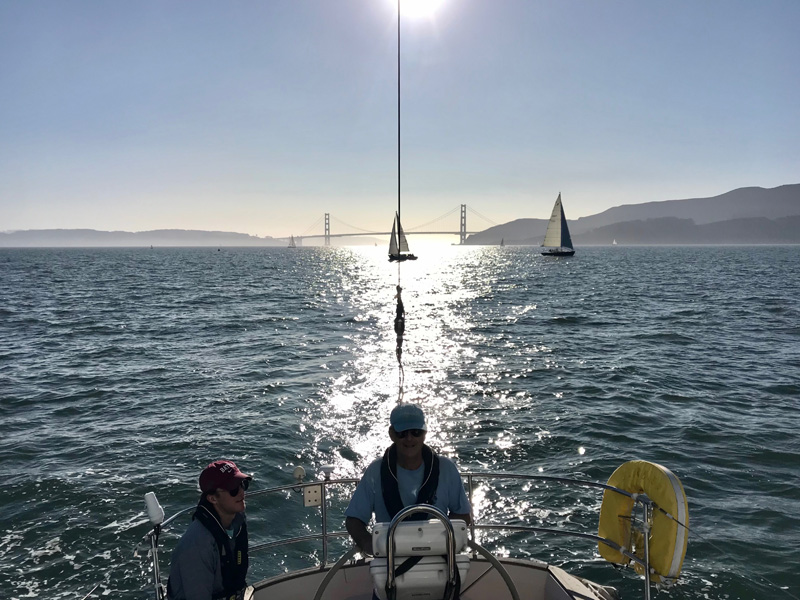 While the above photos could easily be mistaken for a casual Saturday afternoon sail, it was actually a race, so we do feel obligated to share the results. There were three classes with the usual suspects taking their top-of-the-podium positions. Scott Easom took first aboard his J/100 Eight Ball in the nine-boat Spinnaker class, Glenn Isaacson's Schumacher 40 Q kept her frequent top-of-the-podium position in the six-boat Non-Spinnaker class, and David Schumann's always-quick SeaCart 30 Bottle Rocket was at the head of the four-boat Multihull class. Complete results here. Coming in first is always the icing on the cake, but the rest of the fleet couldn't have had a nicer day.
During this gift-giving season, it's good to remember one of the best gifts you've ever received is the ability to sail, and one of the best gifts you can give is to take your friends and family out sailing on the coast and bays of California.
Receive emails when 'Lectronic Latitude is updated.
SUBSCRIBE