Bisbee Fisherman Shot During Robbery
Mike 'Kona' Meredith, a San Diego-based crewman aboard Intrepid for last week's multi-million dollar Bisbee Black & Blue (Marlin) Tournament, was wounded last Tuesday evening during a robbery attempt, according to NBC/San Diego. Meredith is currently recovering in a Cabo hospital.
In an exclusive phone interview with NBC/San Diego, Meredith reported that, after dinner at a restaurant, he was walking back to his hotel room alone when a thief came up to him and demanded his wallet. Meredith told the thief he could have his money, but not his I.D. As Meredith was pulling his wallet out of his pocket, the thief reportedly fired a shot into Meredith's shoulder with a .25 calibre pistol. When he hesitated handing over his I.D., the robber fired a second shot into his neck.
For whatever reason — an adrenaline rush or perhaps he'd had a few drinks, we don't know — Meredith didn't feel either shot, so he didn't realize he was hurt until he saw blood squirting out of his neck.
"All I've got to say is God is good. He saved me on this one," Meredith told NBC/San Diego.
Apparently Meredith feels this was an isolated and uncharacteristic incident for, despite having been shot and robbed, he said he would return to Cabo. "It's a beautiful place. People here are nice."
Inexplicably, NBC/San Diego neglected to report what time the incident occurred and at what location. We've subsequently been told that it took place near the cruise ship dock, which is away from the busy area of Cabo during the evening.
When we reported the incident at yesterday's Skipper's Meeting for the Baja Ha-Ha, nobody seemed too disturbed about it. We reiterated the normal cautions: It's safer to walk with someone or groups than alone; stay in the more brightly lit areas; don't flash wealth; going home earlier is better than going home later; and don't go looking to buy drugs or sex. With no disrespect whatsoever to Meredith, if approached by a thief, we'd recommend giving him/her whatever they wanted.
Violence against tourists is rare in Cabo San Lucas — indeed, it's rare in all of Mexico — because it's one of the two economic engines of Cabo as well as Mexico, Latin America's second largest economy. Well, except for violence on roads. Two years ago Jim Elfers, harbormaster at Puerto Los Cabos and author of The Baja Bash, told us an average of one person a day got killed in accidents in the 100 or so mile stretch of main road between San Jose del Cabo and Todos Santos. Now that's dangerous.
While at yesterday's Ha-Ha Skipper's meeting and other Ha-Ha festivities, we spoke with a number of people about violence — or the lack of it — in Mexico. Dave Crowe of the San Jose- and Puerto Vallarta-based 70-ft M&M Humu-Humu reported that he just drove from Vallarta to California to pick up a trailer of furniture and stuff that he'll drive back down to his house in Vallarta. "No, I wasn't beheaded, nor do I expect to be," he laughed. We spoke with a woman who did the Ha-Ha two years ago and liked it so much that she and her 11-year old son have taken up permanent residence in the East Cape. "We both absolutely love it down here, and don't worry about our safety." Ken Franke, former watch commander for the San Diego Harbor Police and now president of the Sportfishing Association of California told the Ha-Ha skippers that there has never been an incident between a sportfishing boat and drug smugglers. "They want to avoid seeing you as much as you want to avoid seeing them. It's narco-on-narco violence that's the problem." He also noted that four people had been shot the night before in San Diego.
Neil Shroyer of Marina de La Paz tells us life is just fine in that city, what with the humidity having dropped and their marina being booked for the season. Dick Markie of Paradise Village Marina in Nuevo Vallarta told us that, in the 19 years he's been in Mexico, he's always felt safer than he did in the States. He also wanted readers to know how good he thinks health care is in Mexico. "I've got four pounds of stainless steel in me because of a bone issue, and had a stent put in," he explained. "The care was not only affordable, it was excellent. There are, of course, some quack doctors in Mexico, just as there are in the United States. So you ask for recommedations. But state-of-the-art hospitals are being built all over Mexico in anticipation of more Americans seeking quality health care at affordable prices."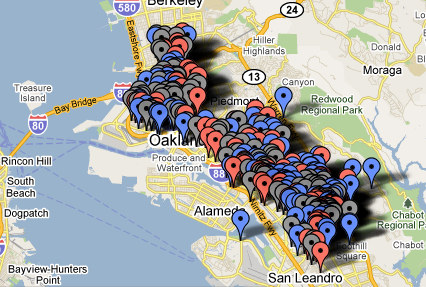 While nobody is denying there is not tremendous narco-on-narco and narco-vs-government violence in parts of Mexico, we didn't speak with one person who has cruised Mexico or lived in Mexico who felt they were at more risk of crime down there than in California. But if you're a cruiser who is a victim of crime in Mexico, by all means let us know so that we can share such information with our readers.
As for us, adios. Today is the start of the Ha-Ha.
Receive emails when 'Lectronic Latitude is updated.
SUBSCRIBE