Bill and Ron's Excellent Adventure
Long before Merlin and Imp, Blondie and Condor — and Charley, The Wizard, Morning Cloud, Santa Cruz 27s/50s/70s, Regardless, Fast Is Fun, Mirabella V, the Chicken Coop, half the Swan lineup in the '80s and '90s and, well, everything else — Ron Holland and Bill Lee were just two young guys having fun and hoping to make a career in the marine industry.
The two met in 1969. Holland, then just 22, had been sent from his native New Zealand to the Bay Area to oversee a project for George Kiskaddon. He was meeting and sailing with guys like Commodore Tompkins, Doug Peterson, Gary Mull and others — and everybody kept telling him he had to go to Santa Cruz to meet "an off-the-wall young designer and boatbuilder named Bill Lee."
So one day, off he went, making sure to bring the obligatory six-pack of beer — the price of admission, according to a sign on Lee's door.
After how-do-you-dos and a quickie tour, Bill said, "Let's go sailing!"
The boat was Lee's latest creation, Magic, which was essentially a 5O5 on steroids — 30 feet long, 2,500 pounds and carrying almost as much sail area as a new Ericson 35.
In his new book, All the Oceans: Designing by the Seat of My Pants, Holland describes what happened next.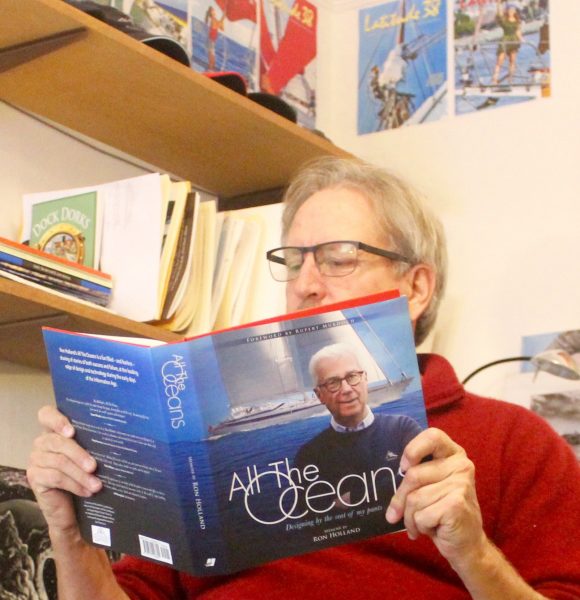 "There wasn't much wind, but we spent a pleasant couple of hours on the bay discussing yacht design. Then, with the tide falling, it was time to return to the harbor.
"'This should be fun,'" said Bill as we approached the sandbar at the entrance. With surfers all around us riding breaking waves, he fearlessly steered Magic onto the bar. Crash! We hit the bottom. 'Godammit!' said Bill. 'I though there was enough water under the keel.'"
But instead of stopping dead, Magic popped straight back up and floated across the bar all by herself into calmer waters. "'The keel's come off,' announced Bill. He didn't seem too worried, but I certainly was. 'We're sinking,' I said. 'Fast!'
"Bill dove below, fired up the engine — the water was coming in so fast there was no possibility of bailing her out — and we headed for the nearest dock as fast as we could. As soon as we got there, we lashed her securely to the mooring bollards just in time — Magic was already half full of water — and stepped ashore. Bill seemed unperturbed by the incident. The next day, he dispatched a team to wade out to the bar at low tide and skid the keel back to shore."
Look for more on Ron Holland and All the Oceans in the January issue.
Receive emails when 'Lectronic Latitude is updated.
SUBSCRIBE