An Expert Ruling on This Cord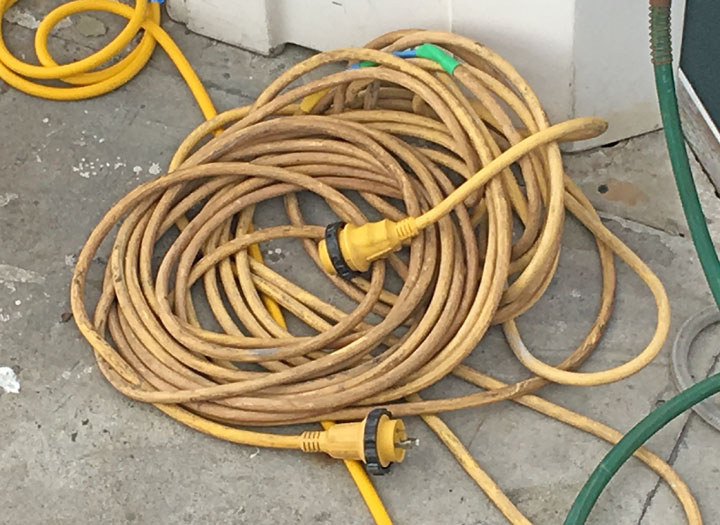 When Doña de Mallorca got to Marina Riviera Nayarit in La Cruz a few weeks ago to bring Profligate north, she observed that the two 50-ft, 30-amp shorepower cords that were connected together were on the dock and out of the water. As they should have been.
A day or so later, however, she noticed that the connecting ends of each cord were in the water and that each end showed signs of being burned. Fortunately, the circuit breaker for the battery charger on the boat had gone off, preventing what could have been a fire or other serious damage.
Being in Mexico, friends quickly 'repaired' the shorepower cords for de Mallorca by cutting off the ends where it was obvious they had been burned. They plugged the cords back in and they worked.
Based on what he'd read from experts in Latitude, the Wanderer wasn't very happy when he heard about this. For as best he can remember from those articles, once a shorepower cord goes into the water, it's damaged goods, even if the ends get replaced.
We've already replaced the shorepower cord with a new one, but not wanting to waste stuff or add to the landfill, the Wanderer would like to get confirmation that the old shorepower cords are potentially dangerous and should be chucked out. Is there some test to see if they are safe?
No matter what happens, we're not using the old cords. But if experts insist there is some way to make sure there is no danger in their being used again, we'd give them away. But again, only if it can be demonstrated that there would be no danger.
Can we get a ruling, but only from experts?
Receive emails when 'Lectronic Latitude is updated.
SUBSCRIBE