American Magic's Dramatic Foiling Nosedive
What goes up must come down.
At least that's our theory when it comes to the modern America's Cup foiling generation. That was true of the catamarans, and still holds true for the flying monohulls. A few weeks ago, Team New Zealand had one of the gentlest slow-motion crashes we've ever seen. The Kiwis have also had lots of "falls" off their foils while practicing in Auckland.
Yesterday, American Magic — the New York Yacht Club Challenge — took a serious digger while practicing in Florida.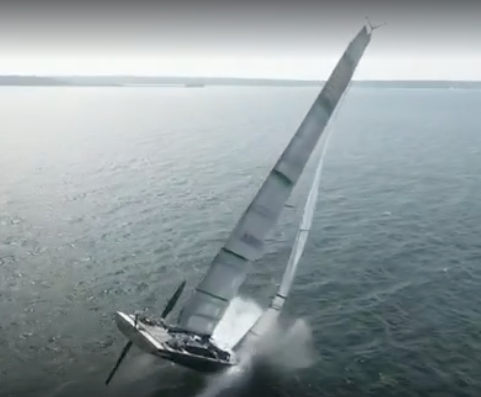 The crash took place on American Magic's 38-ft test boat called The Mule. Video of the nosedive was recently released by American Magic, according to Sail-World. "Whether the nosedive was intentional (to get test/simulator data) or accidental is not clear," Sail-World speculated. (We highly recommend clicking on the link to watch the video.)
"While splashdowns (where the bow enters the water with a spectacular splash) are commonplace on the larger AC75's, only one boat (and maybe two) have capsized, most of the foiling mishaps have occurred on the test boats."
Sail-World said there were two reasons for American Magic's crash. "First, the boat is flying very high on her foils, and second, the rudder wing breaks free of the water about midway through the low-resolution clip, and at that point the nosedive becomes inevitable. The 'phenomenon' is common to all boats that have similar foiling physics such as the AC50, F50, AC72 and AC75. In the AC50, it was reckoned that a rudder wing contributed 500kg [about 1100 pounds] of downforce when immersed in the water, and if it breaks clear of the water then that 500kg of downforce is suddenly released, triggering the nosedive."
Receive emails when 'Lectronic Latitude is updated.
SUBSCRIBE